When it comes to email marketing, getting people to subscribe to your list is just half the battle. You still have to find ways to get them to open, read, and act on your emails.
This presents an endless cycle of challenges for bloggers, especially in today's content-saturated world. 
So, what types of emails can you send to people who subscribe to your blog's email list to boost engagement rates?
The answer is simple – you need to send relevant, interesting emails that your subscribers will be eager to open.
To help you in this regard, here are six emails every blogger should send to their email list. Plus, the psychology behind the emails and why they are important.
Why you need to send different types of emails to your list
Running an effective email marketing campaign isn't just about the frequency with which you send emails.
It's also about sending diverse content that helps you maintain high engagement levels among your subscribers.
If you send out the same weekly newsletter again and again, pretty soon your subscribers will stop looking forward to your emails.
In fact, they likely won't even bother opening them at all!
The solution to this is to have a good mix of emails, including:
Value-based emails
Promotional emails
Share-worthy emails
By following the tips outlined below, you'll be able to mix things up with your email marketing – something that your subscribers will thank you for.
Furthermore, you will enjoy the benefit of increased open and click-through rates.
Types of email you should send to your subscribers
1. Welcome email
A welcome email is a message to introduce new subscribers to your email list, product, course, etc.
It's important because it gives you the opportunity to make a great first impression so that you can set up a foundation for building long-lasting relationships with your subscribers.
In most cases, your welcome email should introduce the reader to you and your brand.
Sharing your story with readers in a welcome email helps you to build trust and set up lead nurturing for your future emails.
It's also the perfect chance to set the reader's expectations by letting them know the types of emails you intend to send, as well as the frequency with which you'll send them, and so on.
Regardless of the size of your list, a welcome email is something that should never be overlooked.
And that's because, according to studies, welcome emails generate 4x more opens and 5x more clicks than regular emails.
So, obviously, this is a type of email you really shouldn't miss out on.
Below are a few things that you should include to create an effective welcome email.
What to include in your welcome email
Eye-catching subject line to encourage opens
Introduction of yourself and your brand/product/course
Thanks to the subscriber for joining your list
Tell them what to expect from you (types of emails, frequency, etc.)
Ask them to whitelist you (and explain how)
Ask them to connect with you on social channels
If you want even more insights on what to include, check out this post on how to write a great welcome email.
Here's a snapshot of an awesome welcome email from Doug at NicheSiteProject: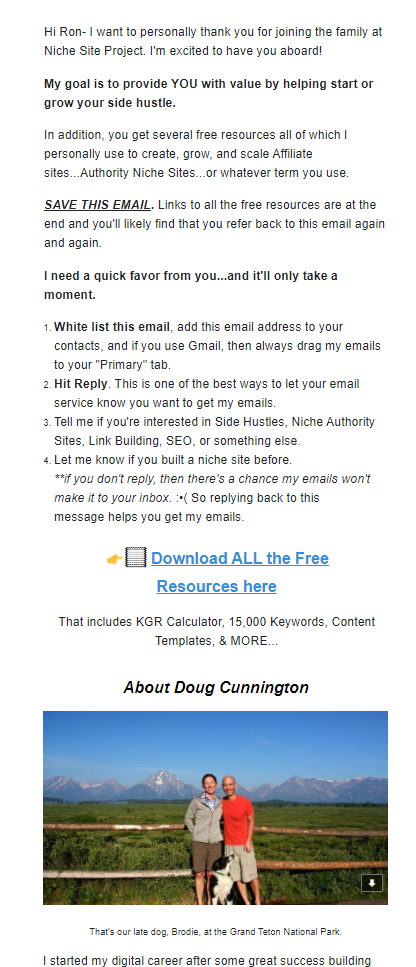 2. Weekly newsletter
A newsletter is a regular email that updates your subscribers on new things that are happening on your blog or in your industry.
A weekly email could include the following:
New content from your blog
Old content that you're trying to increase views on
A recap of popular blog posts
Curated content from popular websites in your niche
New offers on products
Announcements from your business/blog
Things that are going on in your personal life
Basically, you can include anything that will add value to the reader – and, hopefully, also help you achieve a few marketing goals, such as increasing views on your new content, building brand awareness, increasing traffic to landing pages, getting more social media followers, generating leads, and boosting sales.
How to create an effective weekly newsletter
Add immense value (helpful advice, for example) to each of your newsletters to build trust with readers
Segment your email list based on their preferences and interests so you can send more relevant content to each group
Let your personality shine through with humour or by writing as you speak so that readers can relate to you
Optimise your email design to avoid clutter and improve readability – use headings to break up sections of text and use plenty of whitespace
Ask readers for feedback and ideas so you can improve future newsletters
Use graphic design software to make the imagery in your emails engaging and appealing
3. Survey email
Also known as a "feedback" email, this is an email asking for responses to specific questions pertaining to whatever challenges your target audience might be facing.
You can take this a step further by combining a survey email with a "How can I help you?" email.
This is an email where you offer to help your audience with their biggest challenge, according to the results of the survey. For example, if your blog is about growing a business, you might offer to assist 10 of your new subscribers with a free consultation call.
To improve your survey/how-can-I-help-you email open rates, promise to respond to every single email.
This will greatly incentivise people to hit the 'reply' button and share with you the things they are struggling with.
For a blogger, these responses are pure gold because they'll help you better understand who your audience is and how to create content that caters to their needs.
Important note: if you have a small email list, don't ignore this type of email simply because of your list size.
In fact, that's an even better reason to send a survey email because small lists are usually more engaged. You have more time for them, which means you can respond to emails personally. If you grow to a point where that is no longer realistic, consider hiring a virtual assistant or adjusting your messaging altogether.
You might also consider doing an email survey every six months to keep yourself up-to-date with the needs of your subscribers.
Here is an example of a survey email from Neil Patel over at NeilPatel.com:
4. Freebie email
This is an email that many of your subscribers will be eager to receive from you. After all, who doesn't love free stuff?
But for this type of email to work effectively, you need to send your subscribers stuff that is not only free but also value-packed, extremely helpful, and targeted to them specifically.
So, what kind of stuff can you send? Here are a few ideas:
Free downloads
Free samples/trials
Brief online courses
Video tutorials
Worksheets, cheat sheets and checklists
eBooks, white papers and case studies
Content upgrades and access to gated content
Bonus email courses
If you're not sure what to send to subscribers after a welcome email, it's a good idea to create a freebie email as a way to draw them in and showcase your knowledge and expertise on a particular topic.
The more helpful your freebie is, the more it will serve to establish trust between you and your subscribers.
This will prime them for the premium products or services you will likely release in the future.
5. Lead nurturing email
There are many different ways to get new leads. But regardless of how you acquire them, once you have your leads, it's time to start nurturing them.
Lead nurturing typically takes place over a series of emails that are designed to develop an awareness of your brand and build trust with your audience.
The end goal is, of course, to make the sale, which makes this type of email crucial for any website or blog that sells products or services.
A lead nurturing email can be a great way to increase sales and boost the average value of transactions.
Over time, if you build your subscribers' trust in your brand, it can help turn readers into customers and loyal fans.
Below is a list of ways to help you create a successful campaign for nurturing leads.
Ways to create an effective lead nurturing email
Don't ask for a sale at the beginning of your campaign
Focus on building a relationship with your readers first
Share relevant personal details such as your interests, values, accomplishments, failures, and weaknesses, to help foster stronger connections
Understand your subscribers – their needs, goals, struggles, challenges, etc
Demonstrate that you have a full understanding of their pain points
Experiment and get the frequency and timing of your emails right
With your lead nurturing email you could choose to go for an email that's packed with valuable written content. Or you might consider giving subscribers a tool or some type of download that'll help them.
Alternatively, you might opt for a hands-on approach, such as speaking to subscribers on the phone directly. This allows you to learn as much as you can about your audience so you can communicate with them in a more meaningful way.
Here is a great example of a lead nurturing email:
6. Re-engagement email
A re-engagement email does exactly what it sounds like – it re-engages your subscribers. It's an email designed to reach out to inactive subscribers on your email list and get them to start engaging with your messages again. Or for when you want to move them from reading your email on their desktop to shopping on your online store.
This type of email is important because having people on your list that are not engaging can damage your email deliverability rate. If your deliverability rate goes down, it increases the chances that your well-crafted, value-packed emails will land in the spam folder.
However, rather than simply deleting inactive subscribers, it's a good idea to first give them a chance to re-engage with your brand by sending them this specific email.
After all, it's a lot cheaper and easier for you to re-engage an existing subscriber than to try and acquire a new one.
What you need to create a successful re-engagement email
First, you have to find out exactly why subscribers aren't engaging. Are your emails asking questions to get them to engage, are your subject lines getting them to open the emails, are your emails getting delivered in the first place? Once you know the reason, it will help you write your emails accordingly.
Make your re-engagement email part of a campaign. If someone has stopped interacting with you, it's unlikely that a single email will be enough to rejuvenate their interest.
Use an attention-grabbing subject line to catch that reader's eye and make them want to open your email (even if they ignored the last few emails you sent them).
Offer them a strong reason or incentive to return, such as a discount or access to one of your products or services.
Personalise the email and tailor the content to the recipient in order to increase the chances of making a connection and stimulating engagement.
For more tips, check out this step-by-step guide to running an awesome re-engagement campaign.
Here is an example of a re-engagement email from Laura Belgray, a Copywriting Blogger over at TalkingShrimp.com:
Wrapping up
Sending the same old weekly newsletter to your list over and over again is a sure way to get your subscribers to lose interest in your emails.
You need to find the right balance between offering value to your readers, selling your products, and getting your subscribers to share your emails in their circles.
The six types of email outlined above will help you differentiate your content enough to provide your subscribers with value and keep them coming back for more.
What other emails have you used as part of your email marketing campaign? Let us know in the comments below.
About the author
Ron Stefanski is a website entrepreneur and marketing professor who has a passion for helping people create and market their own online business. You can learn more from him by visiting OneHourProfessor.com or you can connect with him on YouTube or Linkedin.