Have you ever chosen to enter a restaurant full with customers over an empty one? The answer is most likely yes.
The reason is that we look at the actions of others to determine the best steps to take – especially when there are multiple choices.
So in this case, we assume that a restaurant must be good because they have a lot of customers.
We make this assumption because of a psychological and social phenomenon called social proof.
As a marketer or business owner, you need to understand how social proof works and how it can improve the performance of your marketing strategies.
Why?
Because social proof can be used to positively influence the purchasing behavior of potential customers.
So in this article, we'll learn what social proof is and how you can use social proof in your email marketing campaigns.
Let's get started.
What is social proof?
According to Wikipedia, "social proof is a psychological and social phenomenon wherein people copy the actions of others in an attempt to undertake correct behaviour in a given situation". 
The term "social proof" was first used in 1984 by Robert Cialdini in his book titled Influence: The Psychology of Persuasion. In the book, he explains the six Principles of Persuasion. Social proof is one of the six.
The other five principles are reciprocity, authority, scarcity, commitment, liking, and consistency.
Robert Cialdini explains in his book that "we view a behaviour as more correct in a given situation to the degree that we see others performing it". So what this means is that people usually take into consideration the opinions and actions of others before making decisions.
For example, if you're at a fancy party for the first time with no idea on how to conduct yourself, you look at the actions of others to define what is the right behaviour and ensure that you fit in.
In marketing, this phenomenon also applies, especially when it comes to making purchase decisions.
In a situation where there are multiple choices available, people usually decide on what to buy by looking at what other people are saying about the product. For example:
We check online reviews from other customers because they already have experience using the product. So if a product has a significant number of positive reviews, we trust that the product is good.
We look for the products that experts use and purchase these products. Since experts are more knowledgeable, we expect them to know the best products.
Types of social proof
There are generally six types of social proof. These include:
User social proof: This is when customers recommend a product or service based on their experience with it. Example: positive reviews of a product on a review site.
Expert social proof: This is when an industry expert recommends or is associated with a product or service. Example: an expert giving out a social media shoutout to a product or brand they love.
Celebrity social proof: This is when a celebrity endorses a product or service.
Awards and certifications: A brand is seen as more valuable or trustworthy when they receive a stamp of authority. This stamp of authority can be in the form of awards or certifications. Even a simple blue checkmark on a social media profile can serve as social proof.
Wisdom of the crowd social proof: This is when a large group of people endorses a brand because they love its products or services. Example: a brand having thousands of customers.
Friends social proof: You are more likely to buy a product if your friend approves of or uses it too.
4 reasons why social proof is effective in marketing
Reason #1
Social proof reassures customers that they are making the right decision when picking a brand/product/service. By providing reassurance and removing doubt, social proof brings consumers closer to a purchase.
Studies show that 87% of consumers trust online reviews. So if a product has thousands of 5-star reviews, it shows a prospective customer that the product is good quality. If the customer has any doubt about the product, they will be more likely to make the purchase after reading the positive reviews from other satisfied customers.
Reason #2
Social proof can increase traffic to a brand's website. 50% of customers say that their next step after reading a positive review about a brand is to visit the brand's website.
Reason #3
Another reason why social proof is effective in marketing is that it conveys authority. For example, displaying logos of big-name clients you've worked with shows that your business is an expert in what you do. According to Voices, placing the logos of business customers they've worked with helped to increase conversions by up to 400%.
Reason #4
Social proof also conveys trust. A website visitor will not hand over their email address or credit card details if they don't trust your business. Social proof in the form of reviews and testimonials shows potential customers that your business is trustworthy.
How to collect social proof to use in your campaigns
A question you are most likely asking is "how can I collect social proof to use in my email marketing campaigns?"
Don't worry, we've got you covered. Here are some ways to get started:
1. Ask customers for a review after they've purchased
Email a simple review request to customers after they've purchased from your website. You can send the review request as part of the purchase confirmation email or separately.
Tip: to incentivise customers to write a review, offer them a discount code that they can use on their next purchase.
2. Ask for reviews and testimonials via your website
If you have a testimonial page on your website, provide links to platforms where you have review listings so that customers can leave their reviews.
Here's an example of a testimonial page to give you an idea:
Tip: In addition to the CTA asking customers to leave a review, you should also include existing reviews on the page, such as the example below. This will motivate customers to leave their own reviews and also show them how to do it.
If you don't want to direct visitors to another website, you can create a submission form to collect testimonials directly on your website. This can be done easily with WP Forms if you're a WordPress user.
3. Ask for reviews on social media
You can ask your social media audience for testimonials or reviews. Here is an example from BREWSKI Beers on Twitter.
This example is great for two reasons. First, they shared an example of a review from another customer. It gives their audience an example of what a good review looks like in case they don't know how to get started.
Secondly, they direct customers to their Facebook page. Facebook has a review section that makes it easy for people to leave reviews of a business. If your business isn't active on Facebook, you can direct customers to the testimonial page on your website instead.
4. Search for testimonials on social media
This is a simple way to get testimonials for your business. You won't know the great things people are saying about your business on social media if you're not monitoring mentions of your brand. Just type your business name in the search tab and see what comes up.
Here is an example of a great testimonial for Panera Bread when you search their name on Twitter.
5. Create case studies to highlight customers' experience with your business
Use case studies to detail the experiences of specific customers with your product or service. In the case study, highlight the problem the customer was trying to solve, the solution you offered, and the results.
Along with the testimonial page on your website, it's a good idea to also have a page dedicated to case studies. Here is an example from VoiceSage:
To write a detailed case study, here are some questions you can ask customers when interviewing them:
What problem were you trying to solve?
Were there other solutions you considered apart from us?
What goals did you hope our product or service would help you reach?
What results did you get after using our solution?
Can you share some data that will give insight into the result?
These questions will help you write case studies that highlight the customer's experience with your business and also serve as social proof.
6 ways to use social proof in your email marketing campaigns
We have seen the different ways you can collect social proof. The next step will be integrating this with your email campaigns.
Here are some effective ways to do this:
1. Include media mentions in your emails
Media mentions are a great way to increase your business credibility. It shows prospective customers that you are an expert in your industry. This is especially important for small businesses that are not well-known.
A giant brand with millions of customers might not need to feature their media mentions in emails. However, when you are a new or small business, including mentions of your brand in the media can help build trust among customers.
You can get media mentions from local newspapers, authority blogs related to your industry, TV appearances, or podcasts.
Adding media mentions to your email adds a stamp of social proof to your email message.
Here is an example of Brooklinen adding media mentions to their product launch email: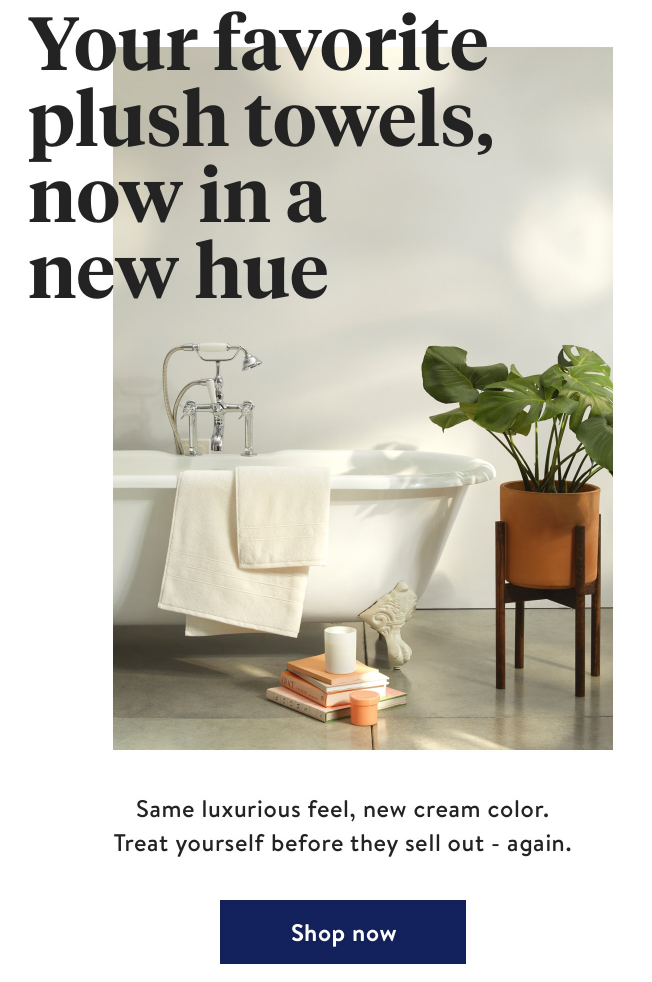 As you scroll down the email, you get to a section titled "What the critics say.". Here they include a selection of media mentions relevant to the product they are promoting.
By adding these positive media mentions from top publications, they make their product look more trustworthy.
The best part is that you don't need to get featured in giant publications before you can use media mentions as social proof in your email marketing campaigns. Getting featured in a local magazine or an industry blog can also serve as social proof.
2. Include customer reviews and testimonials in emails
When promoting a product or service to your email subscribers, include reviews and testimonials from satisfied customers.
When your subscribers see positive reviews from other customers, it tells them that the product is great.
Outdoor furniture brand Outer knows this well. So they include reviews from satisfied customers in their emails.
Outer takes it a step further by adding pictures in the email of customers using their outdoor furniture. Along with reviews in the form of text, visuals can also be very convincing.
Here is another great example from Brooklinen:
Not only do Brooklinen include reviews from customers, they also strengthen their social proof by mentioning that they have had over 28,000 reviews.
3. Take advantage of influencer endorsements
The use of influencers to promote a brand or product is nothing new. And although it is mostly used in social media marketing and advertising, you can also use influencers to increase your email conversions.
Influencers have strong persuasion power because many individuals base their decisions on buying products if someone famous is using it. So including an endorsement from an influencer in your emails will serve as effective social proof.
A good example of a brand taking advantage of influencer endorsement is the clothing brand, Draper James. In their welcome email, new subscribers are greeted with a short welcome message from Reese Witherspoon, the brand's founder.
Not all new subscribers might know that a famous person started the company. But by including a message from Reese and her photo in the welcome email, the brand increases their credibility.
Another good example is from Beauty Bay.
The brand worked with a television personality that their audience is familiar with to promote their makeup line, Origin.
The best part of the email campaign was that they used a curiosity-provoking subject line: "Guess what Olivia Buckland is wearing? 👀🔥"
Fans of Olivia Buckland will be curious to know what she is wearing, which will lead to an increased email open rate.
4. Curate user-generated content
Another effective way to use social proof in your email marketing is by including user-generated content (UGC) in your email.
Reports from Olapic show that consumers trust images from other consumers 7x more than they trust advertising content.
Not only that, but UGC also increases purchase conversion rates. Research from Yotpo indicates that customers who view user-generated content before purchasing show a 5.6% conversation rate compared to just 2.1% for customers who did not.
One of the simplest ways to integrate UGC in your email marketing is by including photos and videos of customers using your product or service.
Here is an example of using UGC in emails from MeUndies:
In this email, MeUndies included a screenshot of an Instagram post of one of their customers proposing while wearing MeUndies underwear.
To collect user-generated content, run a contest to get customers to post their photos on social media and tag your brand in their posts. To motivate customers to participate in the contest, offer them a prize. You should also inform them that the winner of the contest will be featured in your email.
5. Show authority using numbers
Instead of just telling subscribers that your product or service is popular, show them how popular it is with numbers.
Showing that you have a significant number of satisfied customers helps boost your authority and trustworthiness.
Here is an example from BarkBox:
If over two million dogs are satisfied with BarkBox, why won't your dog be?
6. Show off your awards and nominations
If you win any awards or receive nominations for awards, inform your subscribers and customers. Awards add credibility to your brand. After all, you won't receive awards if you aren't doing something right.
Here is an example of Hotel Drisco telling their email subscribers that they were nominated for an award.
Prospective customers want to do business with brands that have a solid reputation. Displaying your award in emails will show prospective customers that you are an established business that can deliver on its promises.
The best types of email to use social proof in
As we've seen, social proof can be used in your email marketing campaigns in many different ways. But there are some types of emails where using social proof can be most effective. And that's what we're going to look at next.
1. Promotional emails
Social proof works well when you are promoting a new product or service. Prospective customers are more likely to make a purchase when they see positive reviews from other customers.
One way to increase conversion further is by supporting your social proof with an incentive. This incentive can be a discount or coupon code for subscribers who make a purchase.
Here is an example from Ban.do:
Instead of just including user reviews in the promotional email to serve as social proof, Ban.do also included a discount code to serve as an incentive. This gives people even more reason to make a purchase.
2. Welcome emails
A good way to win over new contacts and make them engaged subscribers is by adding social proof to your welcome email.
Including social proof in your welcome email will further reassure the subscriber that joining your newsletter was a good idea.
Here is an example of a welcome email from Huckberry that uses social proof.
In their welcome email, they reference that they have over one million people in their community. This tells new subscribers that Huckberry is a big brand and can be trusted.
Huckberry further boosts their social proof by including reviews from satisfied customers in the welcome email.
3. Milestone emails
Whenever you hit a new milestone, share the good news with your subscribers. Milestones can serve as social proof because they give you an opportunity to show your achievements to prospective customers.
When Trello hit 10 million users, they shared the news with their email subscribers. And to further increase engagement, they gave away some free "Trello Gold". For anyone on the Trello mailing list who was not already a customer, this milestone was proof that millions of other people choose Trello. It's a good example of using 'wisdom of the crowd' social proof.
Similarly, when Grabyo reached 1 billion impressions, they shared the milestone in a thank you email.
Grabyo also increase engagement by asking subscribers – "Want to learn how we did it?". So subscribers who want to increase their impressions will click on the CTA button.
4. Lead nurturing emails
Lead nurturing emails are a sequence of emails that you send to leads/subscribers to guide them through your sales funnel and finally convert them into customers.
The reason why you nurture leads is that they are not yet ready to buy from you.
For leads to reach the stage where they are ready to make a purchase, they need to first trust your company. To achieve this, you need to send out lead nurturing emails with helpful content and social proof to build trust.
In this lead nurturing email from Duolingo, they use two different types of social proof to showcase the value of their product.
Firstly, they tell readers that they have a sizable customer base – "350,000 teachers are now using Duolingo in class".
Secondly, they also include two testimonials from teachers that have used the product.
These are two great ways you can use social proof in lead nurturing emails to demonstrate your value.
Where to use social proof in email marketing
We've already seen how social proof can be used in the body of emails. But to take full advantage, there are two other places you can use social proof as part of your email marketing strategy.
1. In email subject lines
The average email user receives 121 emails per day. To ensure that your emails stand out, you need to write subject lines that attract attention. Also, creating engaging subject lines can boost conversion rates because the more people that open your email, the more clicks you are likely to get.
And one way to make your subject line stand out is by including social proof.
Here are a couple of ways you can include social proof in your subject lines
#1: Use a testimonial
When used well, testimonials can help boost email opens and increase email engagement. For example, Beauty Bay grab attention with this subject line:
The quoted text and star emojis signify that it is a review from another customer.
#2: Promote your best sellers
You can use social proof in your subject line to promote your best selling items. Here's how Topshop does it:
Their subscribers will want to know "what everyone wants". And when they open the email, they see a list of Topshop's most popular items.
#3: Name drop celebrities that have endorsed your brand or product
Including the name of a celebrity that endorsed your brand instantly boosts your credibility. In fact, studies have shown that mentioning a famous person in the subject line of your email can boost open rates by as much as 468%.
Here's an example of Wool and the Gang mentioning British artist Dua Lipa in their email subject line.
#4: Highlight your awards and media mentions
Highlighting your awards and media mentions in your subject line can also help add credibility to your email. Here is an example from Tuft & Needle.
And here is what you see when you open the email:
2. In opt-in forms to encourage sign-ups
It's impossible to run a successful email marketing campaign if you don't have an email list. And the most effective way to grow your email list is by increasing email opt-ins on your website.
Adding social proof to the opt-in form on your website is a great way to encourage visitors to sign up.
Here is an example from Basecamp where they mention the number of people that have signed up to use Basecamp in the past week.
By using the number of new weekly sign-ups as social proof, Basecamp is actually telling prospective customers that they have a huge customer base and their product offers value. Because 3700+ people each week wouldn't sign up to use Basecamp if their product wasn't any good.
Conclusion
Social proof is an important part of executing successful email marketing campaigns. By using social proof in the form of reviews, testimonials, and user generated content, as marketers we help customers make a decision while feeling confident about their choice.
When used effectively, social proof can significantly boost email open rates, engagement and conversion rates.
So for your next email campaign, use the tips in this article and add a splash of social proof, whether to your subject lines, your sign-up form or the body of your email.