Black Friday is less than a month away. The day, best known for fights over cut-price Televisions in Walmart is increasingly moving online. In 2016, over $3bn in online retail sales were made on Black Friday and this year that will only increase further; if you aren't already planning for the last weekend in November, now is the time.
Knowing how to structure your messaging and stand out amongst the crowd certainly isn't easy, that's why we've looked at hundreds of email marketing campaigns and come up with an email marketing guide to Black Friday (and Cyber Monday).
In the guide give examples of:
How you can stand out in a very crowded inbox

The best of last years promotional emails

Fun examples of brands which opted against discounts and their messaging

How you can start your campaign now
Being seen among the noise
This Black Friday will likely break records for the number of emails sent, with it being almost certain that your subscribers will each be receiving hundreds of promotional emails on 24th November. In order to stand out in the inbox, it's worth spending time on your Subject Line and Pre-Header (the little text below/next to the subject line).
Emojis are one way to stand out in the inbox. This example from Topman last year was hugely attention-grabbing and quite witty to go along with it.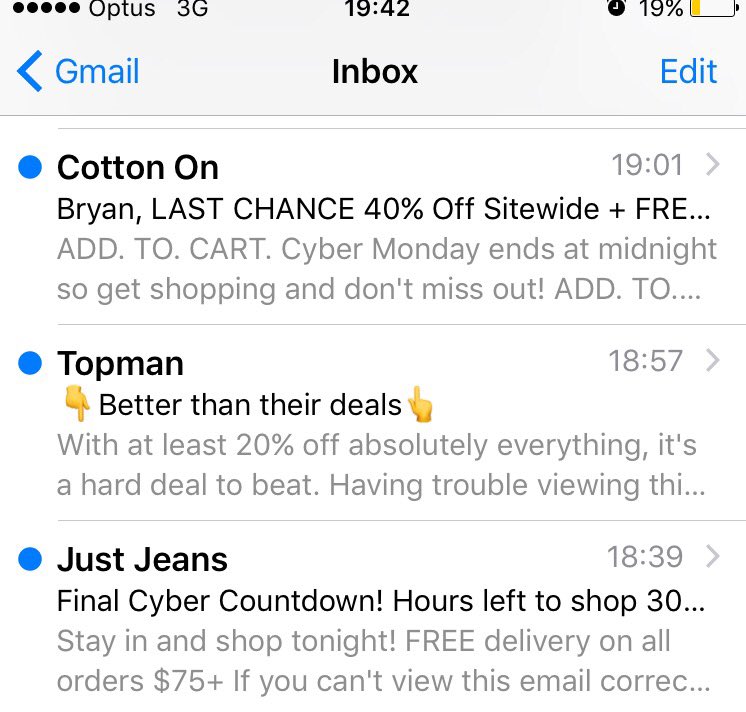 When we analysed our data from last years Black Friday, well over half of the emails received on the day (including transaction and B2B emails) featured the words 'Black Friday'. Straight to the point, but in an inbox full of sales emails – it can end up looking like this:
Considering the state of a user's inbox it's certainly worth trying something a little different and amusing!
The best of last year's emails
Email technology and design is moving forward at a rapid rate. The majority of email clients, except Outlook, now support complex layouts and style. The constant development of email design meant that last year we saw some incredible, eye-catching designs to promote Black Friday.
We trawled through our inbox and selected a few of our favourites which might inspire you to create something beautiful this year.
The typography of the Converse hero image is beautiful and acts as a large link which directs to the Converse sale page. The main downside of this email is that there's no clear call to action.
Nike have carefully selected stock and imagery which compliments the dark monochrome design aesthetic of the email. The 4 clear CTAs, which sit above the fold, are unmissable at a large 20px with absolutely nothing to detract attention away from them.
Although Black Friday is often seen as a discount day, Nike look to have intentionally focused on 'drops' (new products) and the email makes no mention of pricing, discounts or availability. An interesting approach.
Secret Escapes
Secret Escapes usually send very minimalist emails and make the most of their luxury travel imagery to bring colour to them. For Black Friday they flipped their colour scheme and went with a totally black email. The timer counted down 24 hours, until the end of the sale on Saturday. The main banner in the email links off to a specific Black Friday landing page, where all the discounts are listed.
Brands that didn't discount
Whilst the majority of brands offered big SHOUTY discounts, there have over the past couple of years been some notable exceptions to that rule. For those who can't afford to discount your products any further, or if it doesn't fit in with your brand, there are still ways which you can attract attention on Black Friday using email marketing.
Everlane is an ethical clothing firm so it's likely their customers are less price sensitive, instead caring more about quality and the ethics of the product. For Black Friday they have historically gone as far as closing down their store for the whole day. For 2016, they focussed their efforts on donating all proceeds from sales made on Black Friday to help enrich the lives of their factory workers.
Cards Against Humanity is pretty famous for their anti-Black Friday stunts. They've run a number of promotions including sales where you pay $5 for nothing, selling 'bullshit' (which 30,000 people bought) and in 2016 they ran a stunt where subscribers could pay $5 to help dig a hole – it was affectionally named "money thrown in the hole".
If you are looking to go the anti-Black Friday route, you definitely need a brand which can support such a campaign!
Starting your campaign now
Although the Black Friday and Cyber Monday weekend is over a month away, you should begin preparing your campaign now and begin building the excitement. According to research from NFR, every year, 40% of customers begin researching and doing their holiday shopping as early as October.
To help you out, we've identified 5 actionable items which you can be doing now to ensure you'll have the biggest Black Friday weekend to date.
Add sign-up forms to your website to encourage browsing customers to sign up to your mailing list.
Add a Facebook Advertising pixel to your e-commerce store so you can re-target those customers via Facebook over the Black Friday weekend.
Plan your campaign which will run across the whole weekend. For the greatest impact, your Black Friday campaign should be live the morning of the sale. Most e-commerce platforms, like Shopify and WooCommerce, allow you to schedule sales.
Make contingency plans for the weekend. Will your website handle a surge in traffic? Can your customer support team handle the live chat requests?
Begin teasing your customers in the week run up to Black Friday. Share sneak-peeks of upcoming sales on social media, and start piquing the curiosity of your customers.
And finally, make sure your email looks incredible and makes an impact in the inbox. Learn how to do just that with our ultimate guide to email design.