Do you know how many emails are sent daily? 246 billion in 2019, according to Radicati's estimates. Cookie-cutter variety emails can easily drown in that kind of noise.
And it doesn't matter how clever and impressive your email content is, it will never reach the right eyes if your email doesn't get opened in the first place. That's why it's critical that you nail your subject lines in the first go.
But how?
Just follow the five tips explained below and start creating catchy and engaging subject lines.
1. Get the length right
A Backlinko study states that descriptive subject lines (36-50 characters long) have 32% higher open rates than shorter subject lines.
Short subject lines look vague and misleading. If your subject lines are descriptive and contextual, people are more likely to open your emails. Longer subject lines also have scope for keyword incorporation.
For example, a super-short subject line like "Quick question" can baffle recipients since it offers no explanation about the email content. But "Quick question about your latest blog post" is self-explanatory and click-worthy.
Want a pro tip?
Don't ignore the preview text. It is a valuable piece of property for email marketers. If you're a fan of brevity but don't want to compromise on clarity, adjust your subject line spillover within the preview line.
No doubt, writing great subject lines is getting more and more challenging with users becoming smarter each day. To take the stress out of email marketing, you can hire professional content marketers to handle the writing part for you. They know the latest industry trends and have a pulse on the audience.
2. Harness the power of personalisation
Emails with personalised subject lines receive 33% more responses than emails with generic subject lines, according to the Backlinko study cited earlier.
The main factor working in favour of personalised subject lines is that they stand out in cluttered inboxes.If your emails are sales-oriented, personalising them can boost your conversion rates over time.
The key to great personalization is understanding your audience well. Learn about their locations, age groups, professions, needs, and interests so that you can send them well-matched content.
You can include location-specific offers in your subject lines to stop people from scrolling past your emails. For instance, if your contact lives in Boston and is a foodie, an email subject line like shown below is bound to catch their fancy:
Make sure your subject lines don't sound generic. Use exclusivity to hook your audience and you'll be surprised at the response rates.
If your contacts are part of an exclusive club, remind them of its perks, like done in the subject lines below:
Macy's: It's our private shopping event. And, you're invited!
Orbitz: These low prices are for subscribers only.
Hotwire exclusive: members can rent a car at 50% less prices.
No matter how busy your contacts are, they'll get a warm, fuzzy feeling when they see these emails. People like feeling special. Exclusivity-based subject lines feed on this tendency to get more clicks.
3. Use emojis and symbols to make an impression
Subject lines with punctuation marks and emojis also make an impression. According to a Leanplum report, emoji-bearing subject lines witness 66% higher open rates.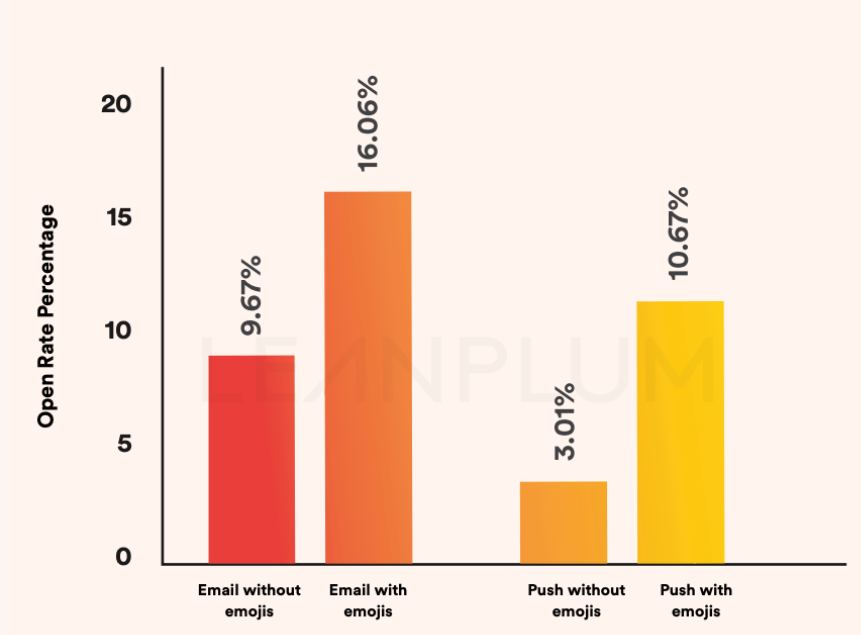 Visually-striking emojis stand out in text-heavy inboxes and help catch the attention of distracted mobile users.
Regarding which emojis and symbols have the best success rates, Appboy found individuals and brands giving different feedback:
But, one thing that is agreed on universally is that emojis should not be overused. They should serve a purpose – communicating an emotion or sending a cryptic message. You need to understand the underlying meaning of symbols before incorporating them into your subject lines.
Just like emojis, symbols, punctuation marks, and formatting styles have a bearing on email open rates as well. Marketers generally avoid exclamation marks since they look spammy, but they use animated question marks liberally in subject lines. They also bold or italicize key phrases to accentuate them.
Remember the words of Jørgen Hanisch, "A subject line is the door handle. If that doesn't work no one will open your email." So, leave no stone unturned to make your subject lines enticing and click-worthy.
4. Leverage scarcity tactics
Marketers need to understand the human psyche so that they can create hard-hitting subject lines. Humans have a flock mentality – an inherent fear of missing out (FOMO) which is being fueled by pervasive social media.
As email marketers, you can take advantage of this human tendency and include panic-inducing language in your subject lines. Such emails beg to be clicked on and few people can resist them. Phrases like "missing out," "Going, going, gone," "limited stock," etc. have been found to boost open rates of emails.
5. Bait subscribers with curious subject lines
While modern consumers have become increasingly immune to clickbait subject lines, you can't knock them till you've tried them. In fact, Copyhacker's Joanna Wiebe used the "curiosity gap" writing technique to increase the clicks on a pricing page by 927%.
"Tease, but don't tell" should be a mantra for every email marketer. Email subject lines that tickle curiosity but don't reveal exact intent often get clicked on.
Need a few examples?
AWAI: When a cat can teach you about achieving the writer's life.
Sarah Hughes: Everyone in the media industry should know what we know…
But there's a catch. Leverage this tactic sparingly and responsibly. If your email copy doesn't deliver what the subject line promises, your credibility can take a big hit. Don't be surprised if frustrated subscribers trash, unsubscribe, or blacklist your emails.
Conclusion
There are a number of things that can entice people to open your emails – preview text, sender's name, etc – but there's nothing like subject lines to tickle curiosity.
When crafting subject lines, remember to get the length right, personalize them, use emojis/symbols, leverage FOMO, and split-test rigorously. Follow these tips religiously and watch your open rates improving slowly but surely.
And if you need inspiration, check out these 180+ email subject lines from real brands – the perfect resource for when you experience the dreaded writer's block.
What kind of email marketing problems do you encounter? Please share them in the comments below. Perhaps, I can offer some useful tips and advice to help you overcome them.
About the author
Shane Barker is a digital marketing consultant who specializes in influencer marketing, content marketing, and SEO. He is the co-founder of Attrock, a digital marketing agency. He has consulted with Fortune 500 companies, influencers with digital products, and a number of A-List celebrities.