Despite our best efforts, our email campaigns don't always perform as well as we'd like them to. We sometimes find ourselves struggling to keep our audience engaged. And watch in mild horror as our engagement metrics plummet.
Or worse, we send email after email, only to discover we're hitting the spam folder and not even getting our beloved content in front of our hard-earned subscribers.
When it comes to email marketing, there are a lot of moving parts to track and optimise. Which exposes us to a number of challenges. Some of these challenges are ones many of us are familiar with.
So here we take a look at some of the most commonly encountered email marketing problems. And provide tips on how to solve them.
Problem #1: My email campaigns are going to the spam folder
You spend ages working on an email campaign – perfecting the design, setting it up for delivery. Only to find that a shocking number have been delivered straight to your recipients' junk folder.
It's enough to make you cry.
Unfortunately, it's a common problem as email service providers, including Gmail, Outlook and Yahoo, continually tighten up their spam filters. And perhaps become a little too overzealous in their attempts to keep inboxes clean and tidy.
Thankfully, there are a few solutions.
Solution #1: Verify your domain
If you're serious about email marketing, you should really be using your own domain to send emails. It might be tempting to use a free email address provided by Gmail or Yahoo. But this is going to negatively affect your deliverability.
And that's because ISPs are suspicious of bulk emails sent from these free webmail addresses. They aren't able to authenticate the domain and so often mark them as spam.
Want to know more? Check out our article on why you should use your own domain to send emails.
Using your own verified domain is the solution. Purchasing a domain is easy and very affordable. And pretty much essential if you're running a website. Once you have this domain, it's just as easy setting up email on your domain.
With those two steps covered, the next step is to verify your domain in your email marketing platform. This will usual require you to update the DNS records on your website, which your email marketing platform will provide details on how to do.
Solution #2: Set up double opt in or send a welcome email
If the first email you send a new subscriber is going straight to the spam folder, it doesn't bode well for the campaigns to follow.
However, there are a few things you can do to get your emails added to the 'safe senders' list.
The first is by setting up double opt-in. This requires new subscribers to confirm their subscription via a link, which is emailed to them seconds after they sign up. They'll know to expect the email and, in most instances, will head straight to their inbox to complete the process.
Consumers are digitally-savvy nowadays and know to check their junk folder if an email they're expecting isn't in their inbox. This is when your confirmation email can be marked as "not spam", moved to the inbox and engaged with – by having that subscriber click on the confirmation link.
These actions tell ISPs that your emails are trusted and help ensure future campaigns make it to the inbox.
Welcome emails can serve a similar function. As many as 74% of consumers expect a welcome email when signing up to a mailing list. So they'll know something's amiss if it's not in their inbox.
You can also use your welcome email as an opportunity to request that subscribers add you to their list of safe senders. Which will guarantee better deliverability success in the future.
Both of these measures further improve email deliverability as they help you build a list of subscribers that show engagement from the beginning.
Here's eight more ways to improve your email deliverability.
Problem #2: My open rates are declining
We've all been there. We've drafted multiple copies of a subject line, picked the perfect one, and sent out our beloved campaign, confident our audience is going to love it.
Except they don't. Because most of them didn't even open the email.
And week by week, you watch as your open rates keep slipping.
But don't give up. Use this as an opportunity to change your strategy. Declining open rates are usually a sign that subscribers are disengaging with your messages. Thankfully, there's a few solutions to that.
Solution #1: Segment your list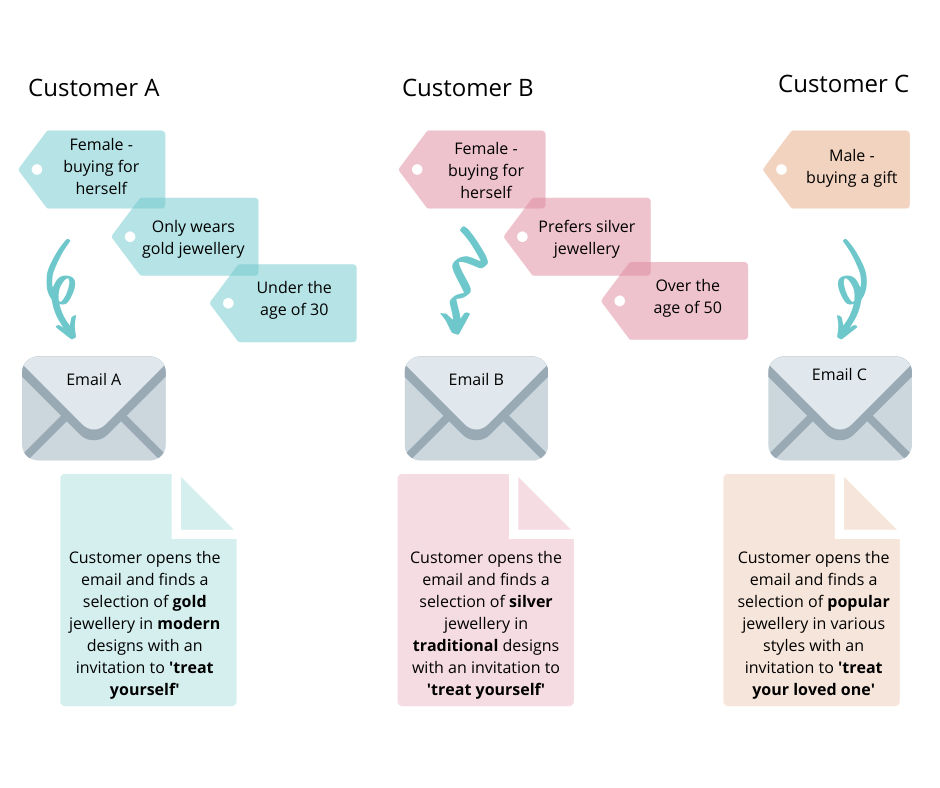 It doesn't matter how great your subject line is, if the topic holds no interest for your audience. And if you're sending broadcast emails to a large list, there's a good chance that each email will only resonant with a small portion of that list.
That's why segmentation is such an important tool in every email marketers toolbox. It allows you to group contacts together based on shared preferences or demographics.
For example, if you're a food blogger you can group contacts based on their dietary preferences – vegan, gluten-free, dairy-free, etc.
When you have this kind of data, you can send more relevant emails to these subscribers – emails that they're more likely to read. After all, a vegan subscriber doesn't want to receive your "best BBQ ribs" recipe. So your email will be deleted without even being opened.
But if you're sending your vegan subscribers delicious meat-free recipes, then they're going to open more of your emails. Because they know your emails are relevant to them.
This is just one example of how you might effectively segment your audience. Depending on your business, there are many different ways. Location, gender and age are other examples.
Still not convinced segmentation is for you? Here's three great reasons why you should use segmentation in your email marketing.
Solution #2: Clean your mailing list
The longer you maintain a mailing list, the more subscribers you're going to lose along the way. But it's not only the ones that unsubscribe.
Because the problem is, that over time, subscribers may become less interested in hearing from you. But rather than unsubscribe, they'll simply delete your email. Or worse, mark it as spam.
To save your deliverability and increase engagement, it's good practice to remove these subscribers. If they've not opened a single email from you in the past three to six months, it's time for them to go.
You can start this process with a re-engagement campaign. This is where you ask your inactive subscribers if they still want to hear from you. It gives them one final chance to tell you that they're interested.
If you receive nothing but radio silence, it's time to unsubscribe them from your mailing list. This might seem a daunting process but to succeed in email marketing, you need to prioritise quality over quantity. A smaller list of more engaged subscribers is going to do more for your business than a larger list with less engaged subscribers.
Check out these five practical steps to a clean mailing list.
Problem #3: No one's clicking the links in my emails
Along with open rate, click rate is another key performance metric used in email marketing. Often the goal with an email campaign is to direct your subscribers to your website, where they'll make a purchase or request a service.
But for that to happen, they need to click on the links in your email.
So if your click rates are declining, it's going to impact your larger business goals. Like driving revenue or generating new leads.
But fear not, as there's a few things you can do to reverse the trend.
Solution #1: Personalise your emails
As with declining open rates, falling click rates are another sign that subscribers are losing interest in your content. But when content is tailored, interest levels pick up.
And that's where personalisation fits in.
Adding personalisation to your emails can be as simple as using your subscriber's name in your subject line. Or it can be as sophisticated as tailoring the content to suit each subscriber's unique preferences or behaviours.
But the latter is what's really going to drive your click rate. And it's where segmentation makes a second appearance in our list of solutions.
If you can segment your mailing list based on preferences, you can deliver more relevant content to each group of subscribers.
Returning to our example of the food blogger, if you know who in your list wants vegan recipes and who wants meaty meals, you can send more relevant content to your audience. Content that's going to get more clicks simply because it's more relevant.
So think about the various ways you can segment your list. How might one subscriber differ to the next, and how can you tailor your content to align with those differences?
Consider surveying your audience to get the answers to these questions. Ask subscribers about their preferences and the content they want to receive from you. Then use this data to segment your list and create more personalised emails.
Solution #2: Optimise your CTAs
A CTA, or call to action, tells readers what you want them to do next. And usually appears in the form of a button or a text link. In the context of emails, CTAs take subscribers to a landing page on your website.
Therefore, the more effective your CTAs, the better your click rate will be.
More than half of all emails are opened on mobile. In fact, in March 2019 Adestra found this rate to be 62%. So the first thing you need to do is ensure that your emails are optimised for mobile.
Longer CTAs in buttons can be broken across two lines when displayed on mobile. Which doesn't look great and makes the CTA harder to read. So keep the text short and sweet.
Stick to the tried and tested "buy now", "click here" or "read more". Using just two words means the CTA button will be kept on one line.
And keep the number of CTAs in your email low. You might think that including more would increase your click rate – the more links there are to click, the more clicks there will be.
But paradoxically, the more choice we're given, the less able we are to make a decision. It's known as the "jam experience", after a study carried out by Stanford and Columbia University psychologists.
So honing your message with just one CTA can actually encourage more engagement as subscribers only need to make one choice.
However, this strategy works best when used in tandem with segmentation. If you're tailoring your message to your subscribers, one highly focused CTA is likely to perform better than lots of less-relevant ones.
Problem #4: My mailing list isn't growing quickly enough
In order to grow your business, you need to grow your audience. The more people you have to market to, the more customers you're going to convert.
And growing your mailing list is one very important way you can build an audience of potential customers. It's so important as it's data you own.
But when starting out, getting those first few hundred subscribers can be difficult. Or sometimes growth simply stalls.
Luckily, there's a few things we can do to speed it up.
Solution #1: Use psychology in your opt in forms
Your sign up form is what connects a website visitor to your mailing list. So it's got to be on point.
It needs to be attention-grabbing. And it also needs to persuade visitors that they want to subscribe.
Using the principles of persuasion can help with that. Many of these key principles are based on the research of renowned psychologist, Robert Cialdini and his 1984 book Influence: The Psychology of Persuasion.
But advertising has been around much longer than that. And there are many more ways you can tap into consumer psychology in your marketing.
Here's a few that work well in opt-in forms:
Reciprocity – give something and you're more likely to get something back. So offer new subscribers an exclusive discount or free download if they sign up to your mailing list.
Social proof – people are influenced by the opinions and actions of others, especially others like them. So mention the number of people already subscribed to your newsletter and what makes your audience relatable.
Exclusivity – we enjoy belonging to a group, especially if it's a group with limited access. So rather than asking visitors to sign up to a newsletter, invite them to join an exclusive group.
As well as psychological hacks, you can also experiment with different types of opt-in forms, such as entry, timed or exit pop ups. Test out the options available to you and see which drives the better conversion rates.
Need more inspiration? Check out these three examples of successful opt-in forms and why they work so well
Solution #2: Promote your newsletter on other channels
Your website is just one channel you can use to grow your mailing list. But there are dozens more.
For starters, you can integrate your social media channels with your email marketing efforts. If your number one goal is to get more subscribers, then make this the main CTA on your brand's Facebook page, and in your Instagram and Twitter bios.
You can also run ads on these channels to promote your newsletter, and get more sign ups.
Another option is to repurpose the content in your email campaigns for each social media channel. Show your followers the great content they'll receive if they sign up for future emails.
If you're in the B2B space, this tactic also works well on LinkedIn.
Problem #5: I don't know what's happening on my website post-click
It's easy to focus all of our attention on the metrics displayed in our email marketing platform. The opens, the clicks, the unsubscribes and the bounces.
But these metrics aren't always going to make much difference to the bottom line. Increasing your open rate isn't necessarily going to mean more revenue. Not if you don't know how subscribers are engaging with your website once they've clicked through from your email.
That's why it's important to follow post-click activity on your website. And build a more complete picture of engagement, from the moment a subscriber opens your email, to the moment they hit your landing page.
Solution #1: Use Google Analytics to keep an eye on engagement
Google Analytics is the most widely used platform for analysing website traffic and behaviour. It's free and can be used with any website.
And it provides you with valuable data on how website visitors are behaving on your site.
Simply by clicking on Acquisition > All Traffic > Channels, you can see how website traffic from your email campaigns differs to your other channels. And get a better idea of how these particular visitors engage with your website when they get there.
Here's a few key engagement metrics to watch:
Bounce rate – the percentage of visitors who left your website after viewing just one page. With your email campaigns, this will be the landing page you're linking to in your CTAs. The higher the bounce rate, the less your audience is moving beyond the landing page. Though this might not always be cause for alarm if your landing page does what you need it to do.
Pages per session – the average number of pages visitors browse before leaving your website. If there's a number of steps visitors need to take on your website before completing the goal, then a lower number here might suggest a problem with that particular funnel.
Average session duration – how long visitors stay on your site. If your emails tend to link to long blog articles, a lower session duration could indicate people aren't reading your content.
Interpreting data in Google Analytics is an art form. And it's important to remember the wider context of your campaigns. If your landing page contains all the information a visitor needs, then a lower pages per session isn't an issue.
Always consider how the data you're seeing in Google Analytics relates back to the actions you want subscribers to take when they reach your website.
If you're an affiliate marketer promoting affiliate links in your campaigns, conversion tracking can be even more difficult. That's because the conversion happens after your audience clicks on a website other than your own. However, this can easily be solved by installing We Can Track and integrating your affiliate conversions with Google Analytics automatically.
And if you're running your email campaigns in tandem with paid ads, you might need an alternative to Google Analytics to piece together data from different sources.
Solution #2: Use UTM codes to track campaign performance
Engagement with your website is one consideration. But if we're talking about the bottom line, then action is the more important consideration.
Known as goals in Google Analytics, these are the business-growing actions you want website visitors to take. It could be making a purchase, downloading a white paper or signing up for an account.
Whatever it is, you need to be tracking it in Google Analytics. And you'll want to track how your email campaigns are driving these actions.
This is where UTM codes come in handy. A UTM code is a snippet of code that you can attach to the end of a URL to track the source, medium, campaign and content that delivered each website visit.
Here's what one might look like in your web browser:
They might look complicated but Google makes it easy to create UTM codes with their Campaign URL Builder. You simply input the parameters and this builder automatically creates the final URL with the code at the end.
With this URL, you can now track web activity specific to your individual campaigns. And with goals set up in Google Analytics, using these URLs in your email campaigns means you can find out what revenue, or how many sign ups, can be directly attributed to each email.
Monitoring campaign performance in this way can help you identify what's working, and what's not. So that you can tweak your emails for future campaigns.
Final thoughts
Fixing these common email marketing problems takes time. And we'd all benefit from experimenting with different strategies to see which has the biggest impact.
Prepare for the long-haul as there few quick fixes. It takes time to build a healthy sender reputation and improve your email deliverability. Just as it takes time and effort to keep your list clean and attract new subscribers.
It's also important to be realistic when it comes to your email marketing woes. You're never going to hit a 100% open or click rate. And there will always be subscribers on your list who aren't as interested in your email content as you'd like them to be.
But if you give these solutions a try, you're setting yourself up for success in the long run.
Is there a specific email marketing problem you're struggling with? Let us know in the comments section below and we'll provide the answer.
---