Email is enjoying a renaissance.
As people crave an alternative social network that's more intimate, more private and more connected, email is the old that's become new again.
And it's personalised newsletters that are answering the call.
Whether it's a curation of content and tools around a particular theme, or opinion-pieces on what's happening in the world, the sky's the limit. And the barrier to entry has never been lower.
There are now hundreds of platforms eager to form part of your tech stack. From all-in-one publishing platforms to single-purpose software, the choice is overwhelming.
To cut through some of that noise, here we're going to tell you how to create your first email newsletter using a free (yes, free) email platform and a one-page website builder that costs just $19 for the year.
So if you've decided on your niche and identified your target audience, it's time to get down to business. Let's begin!
Building your newsletter with EmailOctopus
EmailOctopus is a low-cost email marketing platform that's easy to use and perfect for those starting out on their newsletter journey.
It comes with a library of templates you can customise to build your own. As well as the option to import custom HTML or start from scratch. Which gives you complete control over the look of your newsletter – the design can be as unique as you are.
Plus, you can set up autoresponder sequences, segment your list and integrate with thousands of other applications when you're ready to take your newsletter to the next level.
But for now, we'll stick to the basics.
Step 1: Buy a domain
First thing's first – you're going to need a custom domain to host your newsletter. Choose a good one as this is what you'll be committing to for your newsletter name and email address.
You can buy domains from a top domain registrar such as Namecheap, GoDaddy and Google for as little as $10/year. When you purchase a domain, matching email addresses usually come for free.
Step 2: Create your email account
Next, you're going to sign up for a free account with EmailOctopus. The Starter plan is $0/month for up to 2,500 subscribers – perfect when you're just starting out. Because it means you pay nothing to send your newsletter until you reach that milestone. (After that, prices start from as low as $24/month).
If you've already got a list of subscribers, import that list into your account. If not, don't worry – you can collect them via a sign-up page (which we'll get to in a moment).
Step 3: Verify your domain
To safeguard your email deliverability, when you set up your EmailOctopus account, you should verify your domain. This proves to inbox providers that you are who you say you are. And it means you can take control of your sender reputation from the get-go.
To do this, you'll need to update the DNS records in the service that handles your domain – where you purchased the domain from.
As part of this process you'll set up the following important records that authenticate your email:
SPF (Sender Policy Framework) – helps servers verify that messages appearing to come from a particular domain are sent from servers authorised by the domain owner
DKIM (DomainKeys Identified Mail) – adds a digital signature to every message, which enables receiving servers to verify that messages aren't forged
DMARC (Domain-based Messaging and Reporting Compliance) – enforces SPF and DKIM authentication and combats email spoofing
It may sound complicated but your domain service will provide instructions on how to do this. And once you've got the technical side of things sorted, you can move onto the creative side.
Step 4: Design your email newsletter
To be ready to send your first issue, you'll need to build an email newsletter template. One that you can use for every new issue. With a drag-and-drop editor, you have full control over your newsletter design – you can make it as HTML-rich or as sparse as you like. The choice is yours!
Here's an example from EmailOctopus user Dense Discovery.
Step 5: Set up a welcome email
Every new subscriber should receive a welcome message. It's not only good manners to say 'hello' when someone new signs up. It also helps future-proof your email deliverability.
Thankfully, it's really easy to do in EmailOctopus. You'll need to build the email. But once this is done, you can set up an automated workflow so that when a subscriber joins your list, they'll instantly receive your welcome message.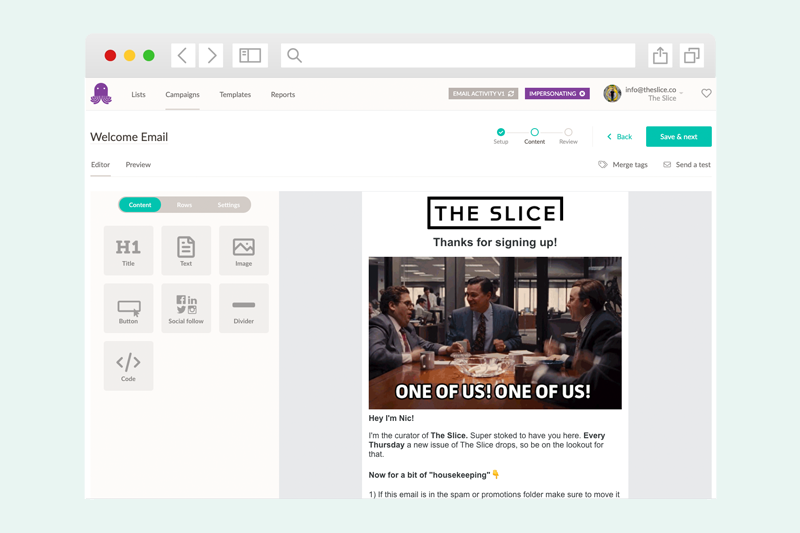 Once you've got your welcome email and the first issue of your newsletter ready to go, you can start working on your sign-up form. And what will essentially be your newsletter website.
Building a landing page sign-up form with Carrd
Launched in 2016 by a solo developer known only as AJ, Carrd has become one of the most popular website builders among Indie Hackers, online entrepreneurs and even K-Pop fans.
Carrd offers plenty of creative potential for web page design in an easy-to-use format. Your design could be a simple page that fills the browser window, no scrolling required. Such as these two examples from Zero to Marketing and The Slice.
Or it can be more complex with various blocks and links to page-like sections where you can archive past issues or provide details on advertising opportunities.
Here's a great example from BrainPint.
This is how you build your own.
Step 1: Sign up for a Carrd account
Carrd offers a free plan. But if you want to use your own custom domain, you'll need to upgrade to the Pro plan. Which costs just $19/year. The Pro plan also enables you to integrate your sign-up form with EmailOctopus and embed custom code or widgets from third-party services like Stripe and PayPal.
Step 2: Design your landing page
Your landing page will serve as the website for your newsletter. It will be the place where you sell the benefits of your newsletter.
It could also be the place where you archive older issues so people can read a few before signing up, to make sure it's right for them.
But most importantly, this page will be where you collect new subscribers via a sign-up form.
Like your email newsletter design, you have full control over what your landing page looks like with Carrd. You can either customise a ready-made template or build your page from scratch.
Whichever route you choose, here are the five things to include in your page:
Your value proposition – what is your newsletter about and who is it for
A sign-up form – this is needed to collect subscribers' email address, and other details if you require them (name, for example)
Newsletter archive – as you start publishing issues of your newsletter, you might want to link to older versions as a taster for potential subscribers
Social proof – when you can, include a quote from a happy subscriber and mention how many people are subscribed to your newsletter when you hit a milestone number (for example, "join over 500 subscribers")
Details of advertising – if you're looking for sponsors or running classified ads in your newsletter, it's a good idea to include details of this on your landing page
Step 3: Integrate your page with EmailOctopus
Once you've got your sign-up form ready to go, you'll need to integrate this with your EmailOctopus account. This will ensure that any new subscribers that sign up are immediately added to your mailing list and receive your welcome email.
Thanks to the direct integration between Carrd and EmailOctopus, this is really easy to do. Simply add your EmailOctopus API key into the sign-up form – instructions are provided as you set up your landing page in Carrd.
Step 4: Start promoting your newsletter
By this point, you now have everything you need to start publishing your newsletter and growing your audience. So the next step is to promote it.
Twitter, Indie Hackers and Reddit are valuable channels for growing your mailing list organically and via word of mouth. Join newsletter-related groups and subreddits, and become a voice in these online communities.
Some good options include the Newsletter Crew on Indie Hackers, the r/Newsletters subreddit on Reddit and Newsletter Crew on Twitter.
For SEO, backlinks are vital. So post your newsletter on as many newsletter directories as you can to start building backlink equity. The more sites linking to your website, the better your Google rankings will be. Plus, you'll gain greater exposure for your newsletter and reach new audiences. Which means more subscribers!
To help you get started, we've created a list of newsletter directories and aggregators.
And once you've exhausted all free and organic channels, there's always paid advertising via Google and social media channels.
Final note
We've shown you how to create your first email newsletter in nine easy steps. But we know there's a lot more to a successful email newsletter than just getting it going.
For more useful resources to help you along your way, check out LetterStack – a compilation of articles, videos and podcasts covering all aspects of building, growing and monetising your newsletter.
Until next time – good luck and let us know how you get on in the comments below!
A huge thank you to Nic GetKate at The Slice for contributing tips.
---