[Updated for 2021]
Valentine's Day is big business. According to the National Retail Federation, consumers spent $21.8 billion on gifts for partners, friends, and even pets, in 2021. And this year's pandemic and international lockdowns meant that a lot of that money was spent online.
Keen to grab a piece of that consumer spend, brands from all industries have been getting in on the action with email marketing campaigns to rescue their customers from an after work trip to the petrol station for flowers.
Here's a round-up of just a few of our favourites and what we think they did well.
Boohoo.com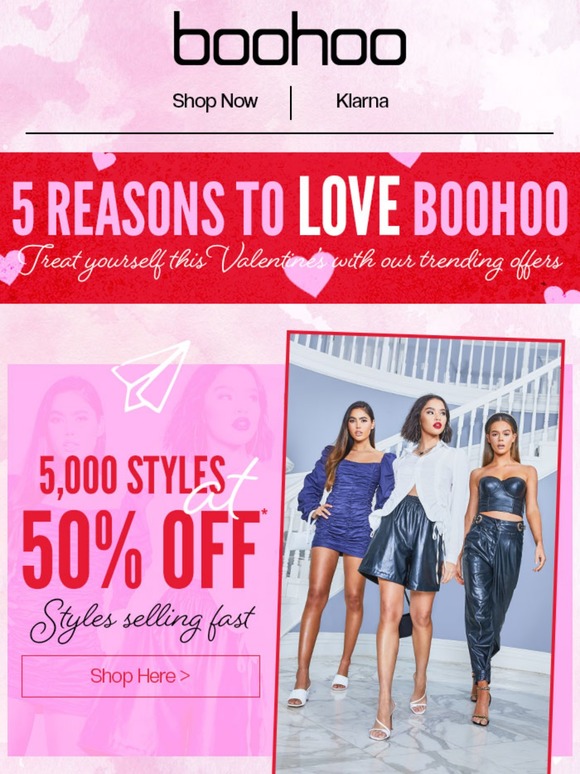 Subject line: Who Needs Flowers When You Can Have 20% Off Everything ❤
What we liked: We love the huge GIF, complete with paper aeroplane. The 1-day promotion is also an interesting tactic to encourage urgency in purchasing on the website.
Ann Taylor
Subject line: From Us With L-O-V-E…
What we liked: The beautiful typography which makes up the large image and call to action. A single call to action can often increase click through rates. In this case, the whole image links to the Ann Taylor website.
Miann & Co
Subject line: HAPPY VALENTINES DAY
What we liked: The subject line for this email wasn't the strongest. That said, we adore the beautiful merchandised pink products and wire hearts (which are included free with every order). Miann & Co is a predominantly Children's brand and they managed to jump onto the Valentine's bandwagon yet still remain tasteful and relevant to their audience.
Moo.com
Subject line: We got you something
What we liked: The attention-grabbing GIF, and teasing subject line draw you into the email and the call to action. Upon clicking the CTA you're taken to a symmetric landing page which offers a discount. A great joined up experience, which plays on users curiosity to get them to engage.
Fortnum and Mason
Subject line: There's More Ways To Send Roses 🌹
What we liked: The best Valentine's Day gifts are planned early. And that's no doubt why Fortnum and Mason sent this email on the 6th February, a good week ahead of the romantic holiday.
The department store also cleverly themes their email around a typical Valentine's Day gift and give buyers more options than just a bunch of roses. It gives Fortnum and Mason the opportunity to showcase all the different products they offer.
Casper
Subject line: L is for the way you lie on me
What we liked: Casper have made buying mattresses cool. This email, with some quite brilliant copy, makes buying a mattress on Valentine's day seem like a romantic thing to do. For that alone, it deserves credit.
Tips for your next Valentine's email marketing campaign
Now that we've seen how the big brands do it, let's look at what tips you can takeaway for your own Valentine's campaign.
Embrace a Valentine's colour palette
Red, pink and purple are the colours of Valentine's Day and many brands adopt these colours in their email marketing campaigns. It's a good idea to do the same yourself as it's a chance to mix up your design and embrace the romantic holiday.
Using a Valentine's-themed colour palette also makes it easier for customers to recognise what it is you're promoting and why.
Use animated GIFs
Changing your colour palette is one way to catch your subscribers' attention – using animated GIFs are another. These types of images work especially well for showing how a product works. Or they can be used more subtlety to add movement to elements of your email.
Add emojis to your subject lines
It's likely that your subscribers will be inundated with promotional emails on Valentine's Day. So to make yours stand out, add emojis to your subject lines. The more your email stands out, the greater the chance of subscribers seeing and opening the email.
For more ideas on how to get your Valentine's Day campaign opened, check out our guide to catapulting your open rates.
Create a sense of urgency
If you're planning a Valentine's Day sale, use psychology to make your email marketing more effective. You can do this by running a limited-time deal and mentioning this in your subject line.
Plan your Valentine's email early
According to search data from Google, some customers start their Valentine's Day shopping as early as the week after Christmas.
Launching your Valentine's Day email marketing campaign that early probably isn't a good idea. But getting in early when customers are thinking about what to buy their loved ones is a good idea.
By planning your campaign to target customers in the weeks leading up to the big day, you'll be front of mind when customers are ready to purchase.
Match your landing page with your email
If you're sending an email that uses romantic colours and imagery, or if you're compiling a selection of Valentine's Day related products, make sure you have a landing page to match. This helps create a seamless customer experience and keeps visitors focused on the task at hand – buying a Valentine's gift.
Wrapping up
Valentine's Day is a great time to spread a little love – whether that's gifting your customers with a special discount. Or helping them buy the perfect gift for their loved one.
And email is still one of the best ways to reach customers. So plan ahead and create a Valentine's Day email campaign that your audience will love.