Drip campaigns are a great way to engage new subscribers and increase the value of your mailing list. This type of campaign is known by a number of monikers – drip campaigns, automated emails, lifecycle emails, autoresponders, and marketing automation.
The name may change, but the concept is the same. These campaigns are a sequence of marketing emails sent out automatically according to a schedule.
Drip campaigns can be used by all manner of different businesses. You've probably received hundreds of examples in your own inbox. For example, e-commerce businesses often use drip campaigns to welcome you to their brand and offer an exclusive discount to encourage a purchase.
Bloggers use them too to share their most read content with new subscribers, ensuring you haven't missed a thing. We also use them here at EmailOctopus, to welcome new users to the platform and ask if they need any assistance in getting set up.
What is a drip campaign?
Email drip campaigns, as mentioned above, are all about giving the right information to the right audience at the proper moment. They are automated sets of email campaigns scheduled to be sent whenever a specific event triggers them.
For example, if someone just subscribed to your newsletter, a drip campaign will automatically be sent to thank them for their subscription. Or, if a customer is constantly navigating your premium plan landing page, you might send them a drip email highlighting the benefits of upgrading their plan.
The beauty of drip marketing is that it allows you to stay in touch with prospects and increase revenue without spending the extra time and effort to produce content constantly. Plus, they can be personalised or customised based on segmented audiences and their preferences. In fact, according to the Data and Marketing Institute (DMA), triggered campaigns account for over 75% of total email revenue, as opposed to general emails sent to everyone. Pretty darn good, right?
What are the different types of drip campaigns?
There are essentially four main types of drip campaigns: onboarding, retargeting, post-demo and abandoned cart. Depending on the goals you're aiming for, these campaigns can help you achieve great results. Let's review them:
1. Onboarding drip campaign
This is the category under which all the welcome emails fall. After users join your mailing list, they expect a welcome email to tell them that their subscription was successful and thank them for their loyalty. There might also be some incentives to break the ice, like a discount code for first-time purchasers.
For example, after a new subscriber joins your blog, you can send them a curated welcome email drip campaign with a list of the most popular blog posts and case studies on your site. Similarly, you can invite users to subscribe to your newsletter with a website pop-up, promising them a discount. Then, with a drip email, you can welcome those we signed up and provide the discount code.
This is what Saje did with their welcome email. First, they welcome new subscribers to their community showing appreciation. Then, they offer a 15% discount as a reward for users' loyalty to motivate them to proceed with their first purchase. Win-win!
2. Retargeting drip campaign
These are campaigns targeted to users who've already engaged with your content and showed interest in your products or services. For example, subscribers who downloaded your ebook or people who visited a specific landing page on your website multiple times. The goal is to bring them back and encourage their purchasing decision.
For instance, you can send a drip campaign to nurture leads with a workbook on their topic of interest to establish your expertise. Alternatively, you can request feedback for the resource they already downloaded or offer incentives to encourage an upgrade.
A stellar drip email campaign example is that of Restream. With engaging language, they offer their segmented audience who showed interest in upgrading their plan a 20% discount. In addition, the countdown definitely adds to the rush of the purchase as an efficient FOMO technique.
It's also nice to point out their copywriting approach to it. With a personal touch of thoughtfulness, they highlight that the brand wanted to give everyone the opportunity to test the full potential of their product. Plus, it shows how confident they are in their product to make it widely available and ask for users' feedback. It's a ten out of ten if you ask us!
3. Post-demo drip campaign
If your business has a product that can be demonstrated live, this type of drip campaign applies to you as well. After the demo takes place, it's good to remind prospects of your product's value and encourage them to purchase with positive customer reviews.
For example, you can send them a drip campaign with video testimonials from past clients, a tutorial to remind them how to make the most of the product, or even an exclusive free trial to test it out themselves.
AWAY followed up their users with a tutorial on how to get the most out of their suitcases. This definitely adds a personal touch by showing that the brand cares about its customers but also serves the purpose of leading to purchase.
4. Abandoned cart
Lastly, abandoned cart drip emails are widely popular amongst B2C businesses and are proven to perform 63% better when sent in drip email sequences. Their context is usually quite simple: a reminder of the product someone left in their cart, a possible offer or discount to encourage the purchase, and a strong CTA.
If you're opting for an abandoned cart workflow, you can create three drip emails. The first one will be a cart reminder sent a few hours after the abandonment. The second one will be a follow-up sent a few days later. And the last one will be a promotional discount sent a few days after email two.
Here's a drip campaign example by 7forallmankind. With their abandoned cart drip email, they let users know of the products they left in the carts and offer a 15% discount to help them proceed with the order.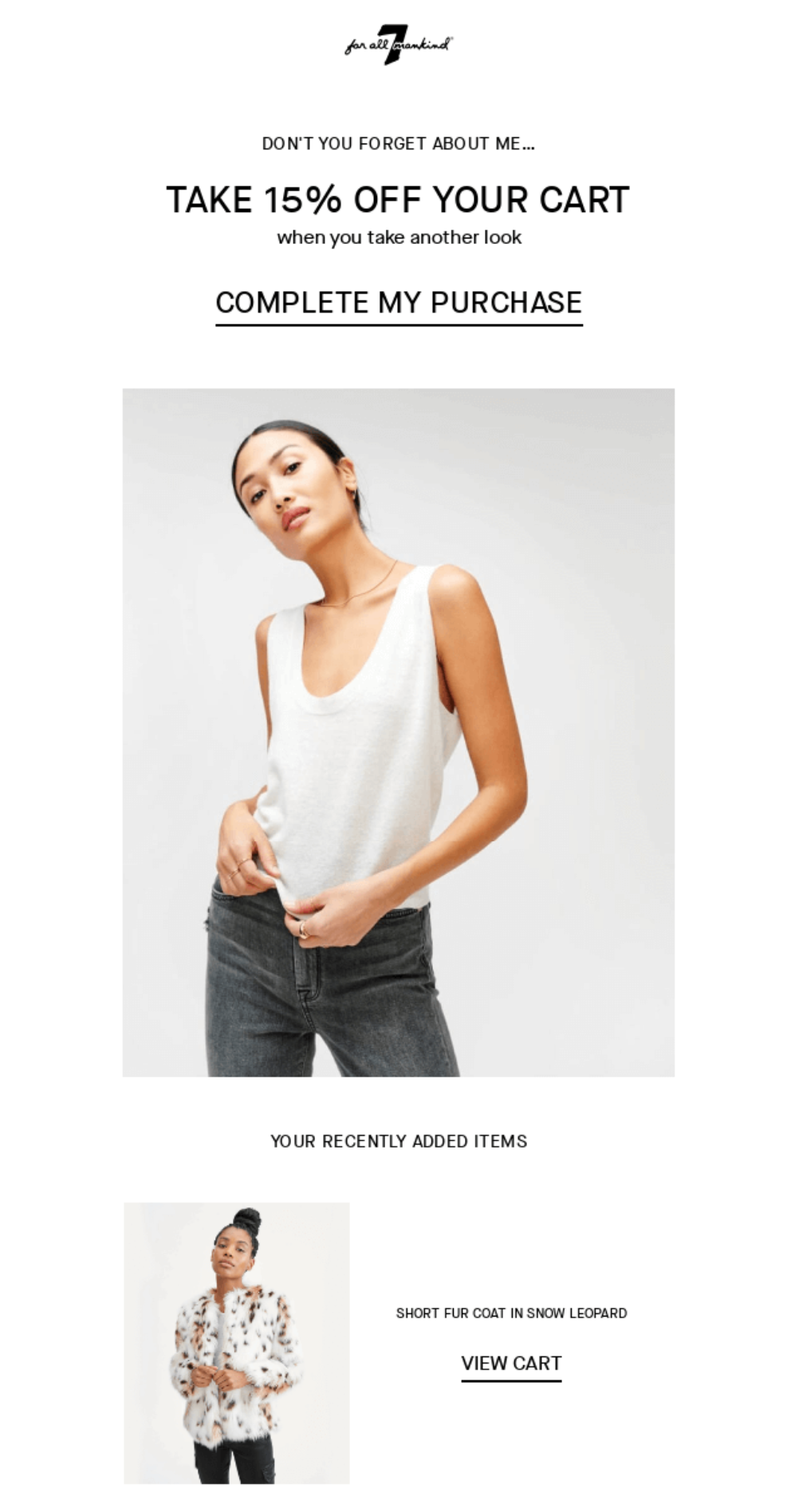 Benefits of using drip campaigns in your email marketing
Regardless of your industry, there's a host of benefits that drip campaigns bring to your email marketing:
1. Drip campaigns drive higher engagement
Welcome emails alone generate 4x more opens and 5x more clicks than regular email marketing campaigns, according to stats compiled by Invespcro.com. And the majority of subscribers today expect to receive a welcome email when they sign up to a mailing list. It's when they are most receptive to your message. Which is what makes a good welcome email an integral part of your email marketing strategy.
2. Drip campaigns save you time
The beauty of drip campaigns is that once you've created the emails and set up the sequence, they run on autopilot. So whenever a new subscriber joins your list, they automatically receive a welcome email and any other email you've scheduled into your drip campaign.
3. Drip campaigns nurture leads
If you're using segmentation in your email marketing, you may also be using multiple mailing lists to group subscribers. You could have one mailing list for blog subscribers. Another mailing list for users/customers. And a third for leads – potential customers that have expressed an interest in your product or service by signing up for a specific piece of content, for example.
With drip campaigns, you can create an automated sequence of emails that nurture leads through the sales funnel with information on your product or service, guides on how to get the most out of your product or service, and finally an offer to encourage them to purchase or sign up.
That's precisely what Nomad Cooks achieved with EmailOctopus. First, with a sequence of automated welcome emails, it introduced the brand to new subscribers. Then, with a short bio around its chefs, positive customer reviews to build trust, a giveaway to nurture leads, and a discount code, it generated revenue on autopilot. With an increase of 50% in conversion rates, we'd say they're killing it!
Now that we understand the benefits, let's take a look at some examples of drip campaigns.
Examples of effective drip campaigns
Welcome emails
A welcome email is a great place to make a first impression on your subscribers. You can get across the main message of your brand and set expectations.
This example email from Ace & Tate welcomes new subscribers and includes the unique selling points of the brand – in this case, free shipping and home try-on incentives. The email also includes links to the main categories of product they offer. This makes it easy for subscribers to navigate back to the website.
The copy is concise and kept to a minimum, yet includes all the essential info the brand wants to get across to potential customers. And there are links to their social media channels to encourage further engagement.
Similarly, TheSlice uses personalisation in drip campaigns to connect with their audience. For instance, they ask a question at the end of their welcome email to encourage communication with their subscribers. Out of the 921 readers who received the welcome email, 47% replied! This doesn't only make it harder for them to unsubscribe, but it also helps with the brand's IP domain reputation.
Onboarding emails
If you have a particularly complex product, an onboarding email series is an effective way to introduce users to its various features and benefits. Think of this email series as a tour guide for your website – directing new users to the information they need to get the most out of your product.
This onboarding sequence from payment processor, Square, takes subscribers through the initial process of accepting payments, all the way through to upselling customers and increasing sales through gift cards.
Discount emails
Ecommerce sites often offer discounts to their new subscribers to encourage a purchase. And this can also be done using a drip campaign. You can include a discount in your welcome email, as Tattly do in the example below. Alternatively, you can wait a few days after they first subscribe.
If you've got a list of past purchasers, you can add them to a separate list and send them an automated email inviting them to purchase again with an exclusive discount. This is a great way of building brand loyalty and increasing the lifetime value of your customers too.
Discounting can be a powerful way to generate incremental sales from email subscribers who may have just had the intention to browse. Using scarcity or urgency can make discounting even more effective. Simply limit the discount code for a certain amount of time, helping encourage your subscribers to complete their purchase there and then.
Email courses
Drip campaigns aren't just limited to use by ecommerce businesses or blog owners. They're also hugely popular with course creators too, such as Double Your Freelancing. They use email courses to educate their subscribers and build authority as an expert in their field. Each email includes a lesson about a particular topic. And by the end of the email sequence, subscribers would have received a mini-course.
Trainers, consultants and educators often use this tactic to provide potential customers with a preview of the content they'll receive if they sign up to paid course they offer. It's a form of lead nurturing. And these drip campaigns help build a relationship with subscribers before trying to convert them to a paying customer.
Check out our beginner's guide on how to create an email course
Chapter previews
For authors, drip campaigns are a fantastic way to build anticipation for your next book release. You can use a sequence of emails to reveal new characters or tease your readers with quotes from cliffhanger scenes.
Drip campaigns can also increase sales by giving new subscribers access to an exclusive chapter preview of your most popular book. Further along the email sequence you can offer them an exclusive discount to prompt a purchase of your book.
See why authors choose EmailOctopus for their email marketing
How to set up a successful drip campaign
The key to setting up a successful drip campaign is to decide:
who's your target audience
what action will trigger the drip campaign
the objective of your drip campaign
Once you have this finalised, you'll be able to map out the best sequence of emails to reach that objective. And craft the message of each email to best suit your target audience.
Here's an example of a simple drip campaign to get you started.
How to measure drip marketing campaigns?
After you set up your email marketing drip campaigns, it's time to enjoy the fruits of your labour by measuring their results. The most effective way to do that is by having a complete UTM strategy in place.
UTM links are snippets of code used at the end of a URL to track users' interaction with your content. The URL's final destination is not affected, but the path a user follows to reach your website is now tracked. To create your UTMs, Google offers a custom URL builder that's straightforward to use.
You'll have to fill in your website along with a campaign source (where the UTM link will be placed), a campaign medium (in which the UTM link will be placed), and a campaign name (a specific term that differentiates your campaign from others). Here's a UTM example of a drip campaign that directs users to our website to encourage purchase:
https://emailoctopus.com/?utm_source=EmailOctopus&utm_medium=Drip_Campaign&utm_campaign=Website_Purcase
Then, with Google Analytics, you can track how many users you acquired from the digital campaigns you're running and how much it affected your conversion rates. Simply navigate to the "Acquisition" tab and track your progress based on your set UTMs.
What makes a drip campaign successful?
Drip campaigns are not just another piece of content you quickly put together to earn a few extra clicks. A drip email can have a huge impact on your overall business if done correctly. So before rushing into hitting the "Send" button, make sure you follow these tips below to a successful drip email marketing strategy:
1. Identify your goals
What are you hoping to achieve with your email drip campaign? Perhaps, it's more leads converting into paying customers or upsells from current customers. Whatever the case, specify your objectives and create customised drip campaigns for each one of those.
2. Segment your audience
Segmentation is truly powerful. The more specific you get with users' profiles, purchasing behaviour, and shopper type, the better your results will be. It's best to have multiple drip campaigns for your different segments. Use Google Analytics to identify your segments more accurately.
3. Plan your triggers
Once you have your goals identified, an important step to drip campaigns is deciding on the events that will trigger your drip emails. Will there be a new subscription to your newsletter, a new user joining your blog, a prospect scanning a specific item on your website? You name it. After that, it's time to decide on the different touch-points your campaign will have. Will there be a sequence of different emails, or maybe a one-off campaign? It's your call.
4. Create stellar content
Last but not least, set plenty of time aside to create engaging content for your drip campaigns, as the way they're presented will have a huge impact on the final results. The beauty of drip campaigns is that it's a one-time job; you create them and leave them running. However, they need to be carefully crafted, with the proper CTAs and the right message to build brand trust and encourage action. For a bonus, personalise your drip emails with the name of the recipient and the context they're interested in consuming, and you'll win their impressions.
Setting up drip campaigns with EmailOctopus
It's easy to set up drip campaigns with EmailOctopus. Our automation feature allows you to automatically send emails to contacts based on time sequences. For instance, you can set up a welcome email to be sent immediately after a new subscriber joins your mailing list. You can then schedule follow up emails to be sent to those subscribers X number of days later.
Watch our video on how to create your first automation.
Via our integration with Zapier, you can also trigger drip campaigns from EmailOctopus based on actions prompted by your favourite apps. This includes lead nurturing sequences triggered by contacts collected via Facebook Lead Ads. Or post purchase follow up emails triggered by ecommerce data in Shopify.
Drip campaigns on other channels
Email is the channel most associated with drip campaigns. But in today's digital era, there are even more channels available to marketers wanting to nurture leads and educate consumers new to their brand.
Welcome messages and onboarding sequences can work just as effectively as drip campaigns delivered via SMS and messenger chats.
Try it and see!