Email marketing is key to your businesses' success. You can use email marketing to help increase brand awareness, nurture relationships, and establish your niche authority. To achieve success, though, you need to know how to write engaging newsletters.
That's why in this guide we're looking at five newsletters written by companies that know how to do email marketing the right way. So if you're in need of inspiration for your first email newsletter, use these examples as a reference point.
1. Unsplash
Unsplash is a platform where photographers share free stock images. The company sends two types of email newsletters each month. One of the emails contains user-generated content. The other newsletter provides company news updates.
Here's an example of an email where they share UGC.
Why does this newsletter work?
The newsletter works in two ways. First, it features user-generated content that inspires the subscriber to take their own photos and upload them to Unsplash in the hope that they will get featured too. Second, the CTA button invites the subscriber to discover more images that they can use for their own campaigns at zero cost.
User-generated content is one form of what we call social proof. When a subscriber opens an Unsplash newsletter, they don't just get company updates. They also receive great stock photos taken by Unsplash users just like themselves.
How can you implement these ideas in your newsletter?
Your own newsletter can benefit from using UGC. You can gather UGC through a hashtag campaign on your social media accounts, encouraging your followers to leave reviews on your website, or asking your most loyal customers to write testimonials for your brand. 
You don't have to confine yourself to just one kind of UGC. In fact, you need all the UGC you can get, whether it's in visual or written form. Once you've selected the best user-generated content, you can ask permission from the original owner of the content to send them as part of an email newsletter campaign.
2. Flippa
Flippa is a business for people who want to buy and sell websites. Half of their audience is looking for sites to buy, and the other half are looking to grow a profitable website that they can eventually sell. When you sign up to be a Flippa member, you get to choose whether you're looking to buy or sell an online property and the newsletter you receive will depend on this choice.
For example, if you sign up and indicate that you're looking to buy a website, Flippa will send you a daily newsletter that contains their top pick among the sites being sold on the platform, along with useful tips for maximising your profit.
Here's an example of a daily newsletter that contains today's Top Pick, along with information about the site such as its niche, monthly web traffic, and net profit.
Why does this newsletter work?
There is a lot you can learn from this newsletter. For example, if you run a newsletter, you have to offer content that your audience can't get anywhere else, especially if your audience depends on your data to make business decisions. In the case of Flippa, giving their newsletter subscribers an exclusive first look at new sites will give them a competitive edge when it comes to assessing and bidding on these sites.
Another key takeaway from this newsletter is that brands need to know what provides value to their subscribers. Flippa's research might have shown that its audience would like to know more about new web properties up for sale; therefore, its email newsletter contains that information.
How can you implement these ideas in your newsletter?
This newsletter is a good example of a brand listening to its customers. When your existing subscribers enjoy access to exclusive information, you build customer loyalty and encourage non-subscribers to subscribe to your newsletter too.
However, this will only work if you know what your subscribers want to know. There are different ways of getting this information, but the simplest and easiest way is to ask new subscribers to complete a form where they can tick off topics that they're eager to learn about. You can then use this data to send targeted messages to specific subscriber segments.
3. OFX
OFX is a foreign exchange and payments company based in Australia. Their audience mostly consists of currency traders, market analysts, and industry observers who require up-to-date information that will allow them to make trading decisions.
The company's email marketing team doesn't flood subscribers' inboxes with emails that come everyday. Instead, subscribers receive newsletters from OFX two or three times a month. These newsletters contain summaries of featured articles about foreign currency trading and related topics.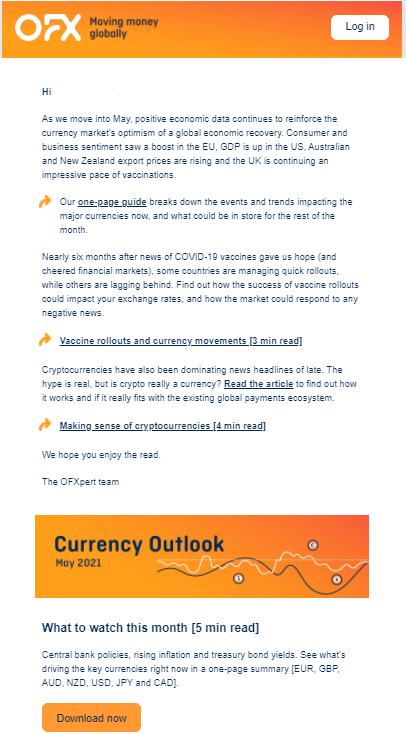 Why does this newsletter work?
While I don't do forex trading that much, I can understand the OFX newsletter because it's written in plain English. The email newsletter contains high-volume search terms that seem to be taken from a keyword database, such as "vaccine rollout" or "crypto" because the articles the newsletter promotes uses keyword research to discover the topics that its readers are interested in.
Aside from providing excellent summaries of blog content, the OFX newsletter also gives subscribers estimated reading times for each of its featured articles. If you're in a hurry, you can just choose one article based on the amount of time it will take you to read, then read the others later.
How can you implement these ideas in your newsletter?
When you do email marketing, paying attention to the little details can spell the difference between a newsletter that your subscribers look forward to receiving and a newsletter that goes straight to the spam folder.
These details come as a result of knowing your subscribers' primary concerns. If your subscribers are likely to pass on emails that take too long to read, you can instead publish your content as a blog then send the links to the content as part of your newsletter.
You can also determine the keywords your subscribers are more likely to look out for in their inboxes. Your newsletter shouldn't just stop at providing general news about your niche. It should contain a good mix of general news and trending industry topics to improve its open rate and to assure readers that they're getting what they need to know.
4. AppSumo
When you run a company, you want to have a strong brand identity. You want your company and the goods you produce or services you provide to be memorable. You should try to establish that brand identity through every touchpoint.
AppSumo is a great example of a company with a strong brand identity. Their copywriters have an oddball style. It's very irreverent and humorous. They call their subscribers "sumo-lings" to create a sense of community. AppSumo often refers to current events in their copy – even making inside jokes out of them.
Why does this newsletter work?
When creating your email newsletter, consider how you want to communicate with your audience. Like AppSumo, your goal should be to make your subscribers feel like they are part of a community.
In the example above, AppSumo sent a newsletter to their "Sumo-lings" that used the recent NFL Rookie Draft as a theme. The NFL draft is an opportunity for teams to fill gaps in their rosters in the hopes of improving their chances of winning a Super Bowl (and finally beat whatever team Tom Brady is in). Similarly, AppSumo's suggested tools that can help businesses improve their performance.
This newsletter works because it provides information that's available only to AppSumo newsletter subscribers. The goal here is to make Sumo-lings feel like they're part of an elite group with access to top-notch business advice, not unlike NFL teams who are privileged to take part in an event where they select the best young talent available.
How can you implement these ideas in your newsletter?
You don't have to be a fan of any particular sports team to achieve a newsletter as effective as AppSumo's. All you have to do is to define your brand identity and use it consistently across your marketing channels. However, you should also ensure that your identity will resonate with your target audience.
Part of that identity will start with defining your audience, finding out their interests, and coming up with a community identity that represents them. It doesn't have to be as otherworldly as "Sumo-ling". It could be something a bit simpler or more formal. Creating a customer persona will help you do just that.
5. Digital Marketer
When subscribers join your email list, you generally start by making some type of promise. For example, you might say that you'll only ever send emails about a certain topic or send monthly emails. Those promises you make to your subscribers are important.
Digital Marketer is a good example of a company that has made a promise to its subscribers. They deliver "timely and tactical marketing ideas to your inbox every Monday". The best part is they deliver the newsletter for free and then monetise their list primarily with their own online courses, membership, paybooks, and more.
The email newsletter sets out that promise in the email heading. They then deliver on that promise by providing interesting marketing content every Monday.
Why does this newsletter work?
Through the newsletter, Digital Marketer provides its subscribers with a wide range of resources. There are links to insightful blog content, special offers for tools or marketing resources, and other types of content. The newsletter delivers on the promise that the company made when subscribers joined the mailing list.
How can you implement these ideas in your newsletter?
The Digital Marketer newsletter example offers a couple of lessons that happen to be among the most important things you can do with your newsletter.
First, you need to provide different types of content to your audience. I guarantee you that someone in your email list will probably unsubscribe because you sent them yet another email with a discount code in it, while another will leave because they don't get enough product updates and learn about new features through your newsletters. Sending a variety of content types will keep your audience interested in what you have to offer.
Second, you need to keep your promises. If you promise your subscribers new deals all the time, they will expect new deals every time they open an email from you. If you tell your subscribers that you'll send them timely marketing ideas, you won't send them ideas from two or three years ago. Instead, you should give them marketing ideas that work in the current environment.
Wrapping up
Email marketing should be part of your marketing strategy. With email marketing, you can achieve your marketing goals without breaking the bank. Don't just send hard-selling emails, though. Make sure to include email newsletters in your email marketing campaigns, too, to keep customer engagement high.
While creating email newsletters seems like a daunting task, all you need is a strategy and a little bit of inspiration. In this article, I gave you five examples of good newsletters that teach you the basics of email newsletter structure: know your audience, provide value, focus on your brand identity, and fulfil the promise you made to your subscribers.
About the author
Nick Chernets is the founder of DataForSEO, a leading provider of SEO data for the marketing technology industry. With an API-led approach to data delivery, DataForSEO is enabling hundreds of software businesses to enhance their products with reliable, accurate, and fresh data.