The growth of ecommerce and digital communications for marketing has ensured that email marketing will undoubtedly play a vital role in digital commerce.
Also, email marketing is one of the most efficient and cost-effective ways to market your product or service.
If you are starting or planning to use email marketing for your business, this guide will surely help you.
What is email marketing
Email marketing is a way to send marketing emails to your existing and new customers to motivate them to take actions that benefit your business.
The email marketing process includes sending general marketing emails like promotional stuff, event-based marketing emails like emails on special occasions, cart abandonment & recovery emails, and many more.
It's also one of the most cost-effective ways of marketing. When compared to retargeting ads, email marketing is at least 10 times cheaper and provides better results.
Why email marketing is important
Email marketing is something every digital business should be leveraging as it comes with various benefits; let's have a look at some of them.
Affordable: Email marketing is a cost effective way of marketing and staying in touch with your audience. Email marketing tools like EmailOctopus can help you get started for absolutely free, do give it a try.
Highly customisable: Unlike other forms of marketing like search and social ads, email campaigns can be highly customised, and you can exactly segment the audience you want to mail. This ensures your campaign gets the best results and efforts are not made towards the wrong audience.
Easy to track: The performance of your email campaigns is very easy to measure with complete analytics, including the open rate and click rate you can see after your campaign is sent. UTM parameters can also be used in your email to track the audience's conversion to your site from your email campaign.
These are just a few benefits, but there are many more that you'll experience while you start implementing them.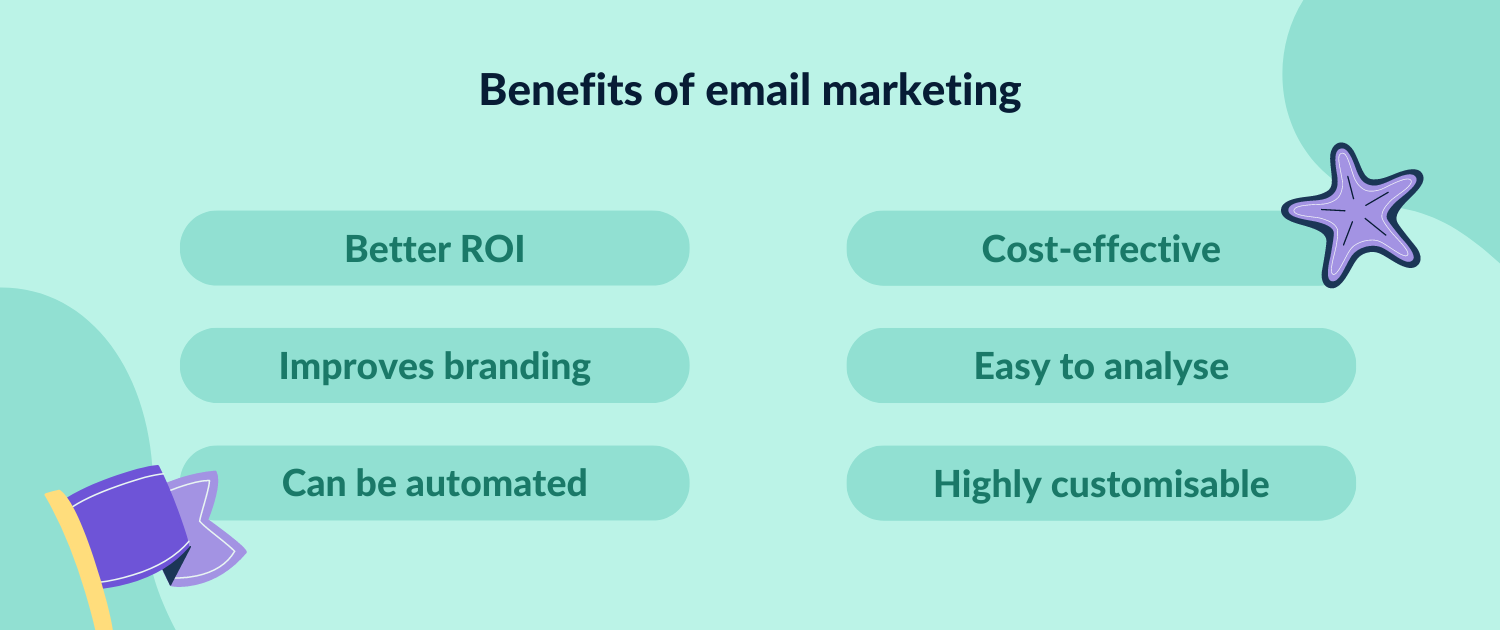 How to start email marketing
You need to take multiple steps before starting your email marketing journey; let's go through them individually.
Choose the right platform
The first step in email marketing is to choose the right email service provider (ESP). There are many ESPs available in the market, but make sure to choose the one that meets your marketing needs and budget.
For example, if you are looking for an affordable email marketing tool, you can try EmailOctopus; it even comes with a generous free plan for up to 2500 subscribers.
Proper setup
Once you've selected your ESP, setting up the account is very important. If not done correctly, you might experience a low open rate or your emails landing in the spam folder of Gmail.
Here's a quick checklist of things to setup:
Sender name
Sender email
Domain authentication with SPF
Domain authentication with DKIM
If you believe you've done this correctly, it would be a good idea to test it once with the help of tools like MailGenius or Mail-Tester.
Create email list
The next step is to create your email list, which includes your existing customers and potential customers who have opted in to receive your emails. Make sure to segment your list based on various factors like location, interests, and more.
Segmenting will help you in deciding when and what to email to them and get the optimum results.
Setup necessary automation
Email automation can help you save a lot of time and effort by automating things for you. You should set up necessary email automation like welcome emails, cart abandonment emails and other important event-based campaigns.
Keep it clean
Lastly, keep your email list clean and up-to-date by regularly removing inactive subscribers and keeping your email content relevant and engaging.
Removing inactive emails from the list will also ensure that your reputation stays high in the eyes of inboxes like Gmail.
Things to keep in mind
Email marketing can be a powerful tool if it's done right. However, there are certain things that you should keep in mind to ensure the best results.
Never buy email lists: When you are starting your email marketing journey with a small email list, then it might tempt you to buy an email list, thinking that it would help your business grow, but that's now how it would work. It can lead to low engagement rates and damage your sender's reputation. Plus, it's also illegal in many countries.
Always include an unsubscribe link: Including an unsubscribe link in your emails is not just good practice; it's also mandatory by law. It helps you maintain a good sender reputation. Make sure your unsubscribe link is easy to find, and don't try to hide it by changing its colour.
Keep your emails mobile-friendly: With the increasing use of smartphones and tablets, ensuring that your emails are optimised for mobile devices is important. Most of your users would check their emails on their mobiles, and if your emails are not mobile-friendly, you may miss out on potential customers. You can easily test it by using tools like EmailOnAcid or by sending test emails to yourself and checking them on your mobile before sending them.
Test your emails before sending them: Testing your emails before sending them to your entire list is a crucial step. Use tools like Litmus or Email on Acid to test your emails on various email clients and devices. This will help you catch any issues before they reach your subscribers. You should also double-check for typos and broken links too.
By keeping these things in mind, you can create effective email marketing campaigns that engage your audience and drive results for your business.
Conclusion
Email marketing is a cost-effective and powerful way to market your product or service. With the right strategy and tools, you can build a strong email list, create engaging content, and automate your campaigns to save time and effort.
Remember to follow best practices and keep your emails relevant and engaging. Happy emailing!