With a higher CTR than B2C campaigns according to a benchmark report by the Data & Marketing Association (DMA), email marketing for B2B can target quality audiences, build deep loyalty, and generate leads. However, B2B newsletters are often easier said than done, as they require creativity and hard work.
Suppose you're a business professional, marketer, or entrepreneur. In that case, you have the challenging task of meeting goals and implementing creative email strategies. Unfortunately, with an average of 306 billion newsletters sent every day, it's getting harder to stand out in the overloaded inboxes.
And since it's not easy to think out of the box every day, at EmailOctopus, we gathered email newsletter best practices, examples, and ideas packed with actionable insights to enhance your B2B email strategy. So let's get down to business!
What's the importance of B2B newsletters?
The more value you give, the more you can expect. If you provide genuinely engaging content on a regular basis to your subscribers, they'll reward you with loyalty and sales. So don't fall into the trap of "are newsletters effective in a saturated market?". There's never too much of a great thing. And if that's not enough, here are some of the most important benefits of B2B newsletters:
Address your subscribers' needs – with B2B mails, you can authentically answer how you will help your subscribers by solving their problems. The best B2B newsletters prioritise customer care by nurturing consumer relationships both pre-purchase and post-purchase. For example, they can offer exciting educational content or valuable tips and tutorials to get the most out of your product. When done correctly, B2B newsletters create an emotional bond with subscribers.
Generate leads – B2B newsletters are an inexpensive way to generate lead generation that's likely to turn into customers. Primarily because they are read during working hours in an office by people with a productive, business-oriented mindset, they are more likely to convert.
Repurpose content – a content distribution strategy is a great way to save time and reach more users with valuable resources. B2B newsletters allow you to repurpose existing content, whether it's social media posts, podcasts, ebooks, or blog posts and place them in front of the right eyes as an important step of your sales funnel.
B2B email newsletter best practices
Now that you know the importance of B2B newsletters, let's review some email newsletter best practices to get the most out of your campaigns:
1. Be direct
Your B2B readers don't have the time to read a novel. So don't make the mistake of sending them one. Keep in mind that they're busy profesionals looking for on-point content that's easy to digest without the fluff. Of course, you can also send lengthy ebooks for certain readers more interested in deep dives, but as a general rule of thumb, keep your copy brief and your communication direct.
2. Know your audience
Understanding who your newsletters speak to is key to addressing your audience's needs. A great practice to achieve that is by using segmentation to divide your audience into groups of similar behaviours. For example, at EmailOctopus we segment our customers based on their feature usage – if you're using tagging, for example, you'll receive tips on how to use it further. This is an excellent opportunity to provide more personalised emails and relevant content tailored to users' preferences.
There are generally three main categories for segmentation based on users' activity:
Loyal customers – they actively engage with your brand or make purchases. They are interested in frequently receiving news from you.
Latent customers – they might have made a purchase in the past, but don't engage with your newsletters often. The only reasons they might engage is due to an offer, information on their previous purchase, or them checking for sales.
Non-loyal customers – they are not actively invested in your brand, although they're part of your mailing list.
3. Don't bother selling
Your B2B audience is different from pitching your brand directly to individuals. Your primary goal here is to earn their trust and get your brand known for what you offer. Cheap sales taglines and typical marketing language won't do you any good. That's because you're talking to industry-savvy professionals who won't fall for quick wins and sneaky headlines. So, instead, focus on educating content and valuable resources.
4. Tell a story
There's nothing that a good sob story can't achieve. After all, behind every B2B newsletter, there's an individual reading it. Your job as a marketer is to sparkle emotions through some sort of conflict that your product or service helps resolve. This might include techniques like humour, metaphors, evocative language, and rhetorical questions that help create engagement.
Of course, you don't have to create a fantasy world to craft an effective B2B mail; just focus on people, places, plots, and purpose. For example, describe how one of your clients faced a turbulent problem that created conflict and how your product helped them overcome it. This is highly relatable and memorable. And keep in mind that 33% of professionals who quit a business relationship attribute it to the lack of personal connection.
5. Monitor and optimise performance
Crafting excellent B2B newsletters without tracking their performance is like throwing a coin in the fountain of wishes. After you set SMART goals for your business, you should track the results you achieved with the help of KPIs to avoid common email marketing problems. Usual KPIs for B2B emails are open, click-through, and conversion rates. These will help you understand what's working on your email strategies and what you can do to optimise them.
B2B newsletter examples
Crafting stellar B2B newsletters from scratch can be challenging. That's why you need to study B2B email marketing examples to understand how you can follow industry best practices and yield strong ROIs. We gathered a list of B2B newsletters we're obsessed with to give you a hand. Let's dive in!
1. Highlight your products
Sometimes a simple, straightforward B2B email is all you need to encourage users' purchases without forcing them to do the heavy lifting. This will help readers know exactly what you have to offer and guide them directly to your website in a seamless purchasing experience.
For example, Nelson Policies uses a simple product categorisation, compelling images, copy, and CTAs, so that readers can understand at a glance what this company is all about. Nailing these elements is vital to generate leads and capture users' attention.
2. Show how to get the most out of your products
Your subscribers might be new to your list, still learning the ins and outs of your product. Or they might already use your product but not know how to get the most out of it. Your job is to help them get familiar with the full range of its features, educate them on its capabilities and improve their overall experience.
That's what Blurb did with a B2B newsletter to educate their readers on using their publishing software BookWright. With a comprehensive breakdown of actions, they guide them into their first steps, and with a strong CTA, they invite them to download the software.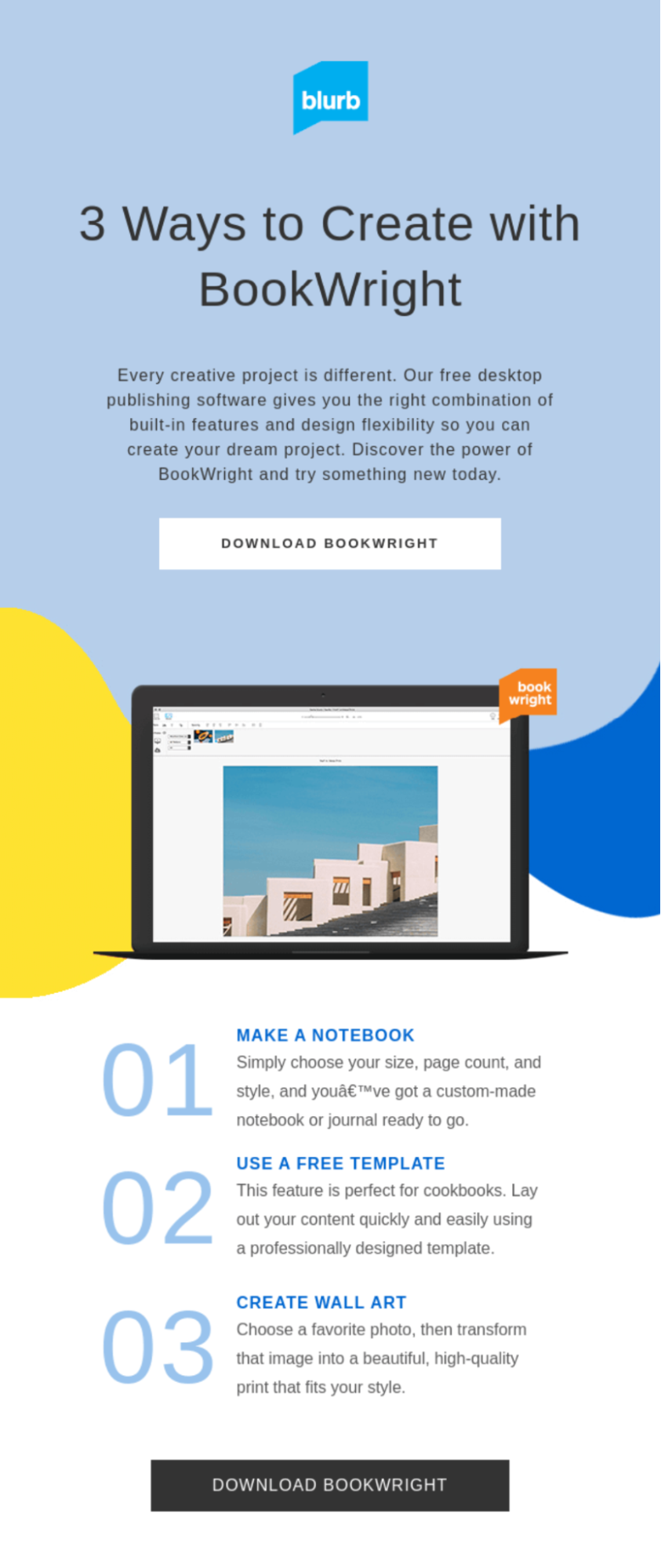 3. Use infographics to present your product's benefits
Infographics are excellent pieces of content that can be used to highlight your product's features, especially for users who've already shown interest. In addition, they are great ways of building instant trust and getting prospects or clients fully on board with what your business has to offer.
A stellar example is Grammarly. With a B2B newsletter, they invite readers to look back at writing in 2020, a year that brought unprecedented changes in our lives. By sharing communication trends, they offer valuable information on what users prioritise now in their writing, which also helps them create awareness around the features their software offers.
4. Inform users about the company's values
Since your B2B emails address other businesses, social and environmental responsibility is taken very seriously.
In many cases, a company's values are the driving factor that will determine business. Nowadays, companies that are aware of the problems outside of their spectre and take action to solve them are much more likely to earn consumers' trust.
For instance, at EmailOctopus we donate to an ocean cleanup non-profit for each customers who signs up. With our sea themed branding, and the environment top of many peoples minds it supports a massively important cause while highlighting our ethical brand values. As a result, it helps earn trust and create awareness around both our brand and a very important problem.
Create your B2B newsletter strategy
Sometimes the creative juices run dry, and it's impossible to come back with fresh ideas to nurture subscribers constantly. Hopefully, with all the B2B email newsletter best practices and examples listed here, we're positive that you have everything you need to dive into an effective email strategy.
As you can see, the possibilities are endless. As long as you focus on value and avoid being sales-y with a business-oriented audience, you'll have great ROIs. Use EmailOctopus to segment your audience based on their preferences and craft the campaigns they're interested in receiving.