You might be asking 'what types of newsletters do users love to read while sipping their morning coffee'? It's safe to say that the more upfront value you give, the more you can expect in return.
And with "value," we mean information that users find relevant to their needs. Since they willingly opted to receive your newsletters, it means that they care about the solutions you provide. This is an excellent opportunity to build your brand's authority and market your services. After all, 31% of B2B marketers admit that newsletter campaigns are ideal for nurturing leads.
Speaking of leads, there's no one-size-fits-all in newsletter styles. Instead, you need to consider your target audience's preferences and send them newsletters that they'll actually like. The good news is there are a ton of possibilities. That being said, let's discover the different types of newsletters for stellar email marketing campaigns.
What factors should you consider before sending a newsletter?
Before jumping right into the newsletter types, let's take a step back. Without a proper strategy that reflects your business goals, randomly sending newsletters won't do you any good. Your emails need to be relatable. Otherwise, they're just another brick in the wall for your prospects. Here are the most critical factors you should consider:
Target audience
What does your target audience value? What struggles are they facing, and how can you contribute with your services? You need to have a clear idea of whom you're speaking to, their interests, expectations, and problems. Only then you'll be able to provide content they enjoy receiving.
Business goals
When you go to the supermarket, you prepare your shopping list beforehand. How come you don't do the same for your email campaigns? You should plan what you are trying to achieve, which will ultimately determine the context of your newsletters. Are you trying to boost sales, increase brand awareness, generate more leads? This will also help you choose the right newsletter types.
Ten different types of newsletters
As far as newsletter types go, there are two main categorisations. The first one has to do with the generic categories under which your newsletters fall:
Company newsletters – this type of e-newsletters contain news, company achievements, updates, milestones, or even staff appreciation. They're shared amongst your employees to keep everyone on the same page.
Consumer newsletters – these are the regular e-newsletters sent by companies to nurture their subscribers and generate more sales.
Organisational newsletters – this is primarily a combination of company and consumer e-newsletters. News, updates, or information that can be shared with both employees and subscribers is included in the context of organisational emails.
Now that we cleared this up, the next category for different newsletter types has to do with the actual context of the email campaigns. At EmailOctopus, you can easily create templates for all the categories we'll mention below or choose a premade template from our Library.
1. Curated newsletters
The whole point of curated newsletters is gathering valuable information in one place for readers. It might be articles, offers, links, or suggestions useful to subscribers that save them tons of time and money instead of searching for them by themselves. Plus, it's a sweet gesture that helps build relationships with subscribers.
For instance, Wirecutter sends a curated newsletter with 70 picks of daily deals for their readers to help them save time, but at the same time, this can also generate more sales for the company. Win-win!
2. Practical newsletters
Practical newsletters focus on valuable tips to help make the readers' lives easier. These newsletters also provide an excellent opportunity to build a brand's authority by sharing value. Plus, you get customers to trust you since you're aiding in solving their problems. You can even create newsletters with tips around your own products or services and how users can make the most out of them.
For example, Harvest sent a newsletter with onboarding tips for SaaS readers. Packed with value, it manages to capture readers' attention.
Plus, with a subtle promotion of their brand in the newsletter footer, they connect the provided value with the brand to tie their labour with user purchases.

3. Blog newsletters
Speaking of value, there's no better way to be helpful to your readers other than opting for blog newsletter styles. If your brand has a dedicated blog packed with value from which users can benefit, you can feature different blog pages in your newsletters. This will not only be helpful to your subscribers but will also bring more traffic to your website.
The best part about crafting blog newsletters is that they don't require much time and effort as you pour the information from the existing blog posts. All you have to do is link back to the original blog pages. For example, the Wall Street Journal creates blog newsletters for their readers to sum up various news and updates and guide users back to their website.
4. User-generated newsletters
Users always enjoy watching other customers' reviews, case studies, and testimonials. It's definitely a great way to differentiate your types of newsletters since it builds trust and creates a community around your brand. Plus, users love it because it gives them a sense of relatability!
This is a stellar way to keep them engaged and slowly persuade them to purchase your services while collecting their feedback. For instance, Zillow sends a newsletter with weekly trending digs or rooms based on users' preferences. That's an exciting way to incorporate the fear of missing out (FOMO) marketing tactic to encourage users to purchase.
Similarly, Nomad Cooks use EmailOctopus to create a sequence of automated campaigns, one of which focuses on user-generated content. They basically gather reviews from happy customers to earn prospects' trust. By using TrustPilot as well as other well-respected review sites, they provide users with social proof to nurture and convert them into customers.
5. Design-oriented newsletters
According to research, we tend to process information visually displayed 60,000 times faster than plain text. That's why most companies employ attention-grabbing images to keep subscribers hooked and engaged. Whether it's video, gifs, emojis, or beautiful designs, they convey information faster and capture attention for the long run.
For instance, Disney+ sent a masterpiece of a newsletter for Valentine's day, full of aesthetically-pleasing visuals that make subscribers drool. Feast your eyes!
6. Seasonal newsletters
Seriously, don't underestimate the power of seasonal email campaigns. People wait for the holidays or special events to enjoy some life pleasures and spend a little extra money. This is your opportunity to make suggestions for the holidays, introduce new products, or offer special discounts.
For example, Harvard Sweet Boutique introduced a limited time offer of 10% for the Christmas holiday season to encourage users to pre-order their gluten-free delicacies.
7. Reporting newsletters
Moving on, we have the reporting email campaigns, which incorporate different reports by a team of editors to keep subscribers informed and updated. This is a journalistic point of view, where newsletters are usually sent daily or weekly to catch up with the latest news.
Take a look at The Wall Street Journal once again. They send an average of 35 newsletters per month, with most of them being reporting newsletter types. Based on the actuality, they quote the news as well as personal comments or articles from time to time.
8. Event newsletters
If your company plans frequent events, you'll better invest in email newsletters to promote them. This is an excellent opportunity to let users know of the date, time, location, activities and specifics, as well as follow up to remind them on the day of the event. You can even use images or fancy visuals to excite your readers in advance.
For example, dotdigital did just that by inviting users to "the party of the year". They managed to hook subscribers and grow their guest list with beautiful storytelling and all the specifics about the when, where, and why of the event.
9. Promotional newsletters
It goes without saying, but email campaigns have promotional goals at their core – increasing sales and generating revenue. They can either introduce new products, offer special discounts or inform about sales. Although they are not the type of newsletters you should send very often as users might feel pressured, research shows that subscribers actually enjoy receiving occasional promotions from their favourite brands.
Take Cotton Bureau, for example. With a FOMO technique, they promote their T-shirts to subscribers, luring them with the special price of $12 per T-shirt and a clear CTA.
10. Hybrid newsletters
Last but not least, hybrid emails are a combination of the different newsletter types we mentioned above. For example, they might include an offer, curated blog posts, or even valuable tips. So, if your goal is to update subscribers for multiple things at once, this mixture is a great option. Plus, users really appreciate having all the information they need in one place.
For instance, John Lewis & Partners crafted an email campaign for Mother's Day with a double aim. First, they offer readers their gift suggestions by encouraging them to discover their Mother's Day gift guide. Then, they offer a discount to their members, exclusively for that special occasion. That's an excellent combination of a blog and a promotional newsletter.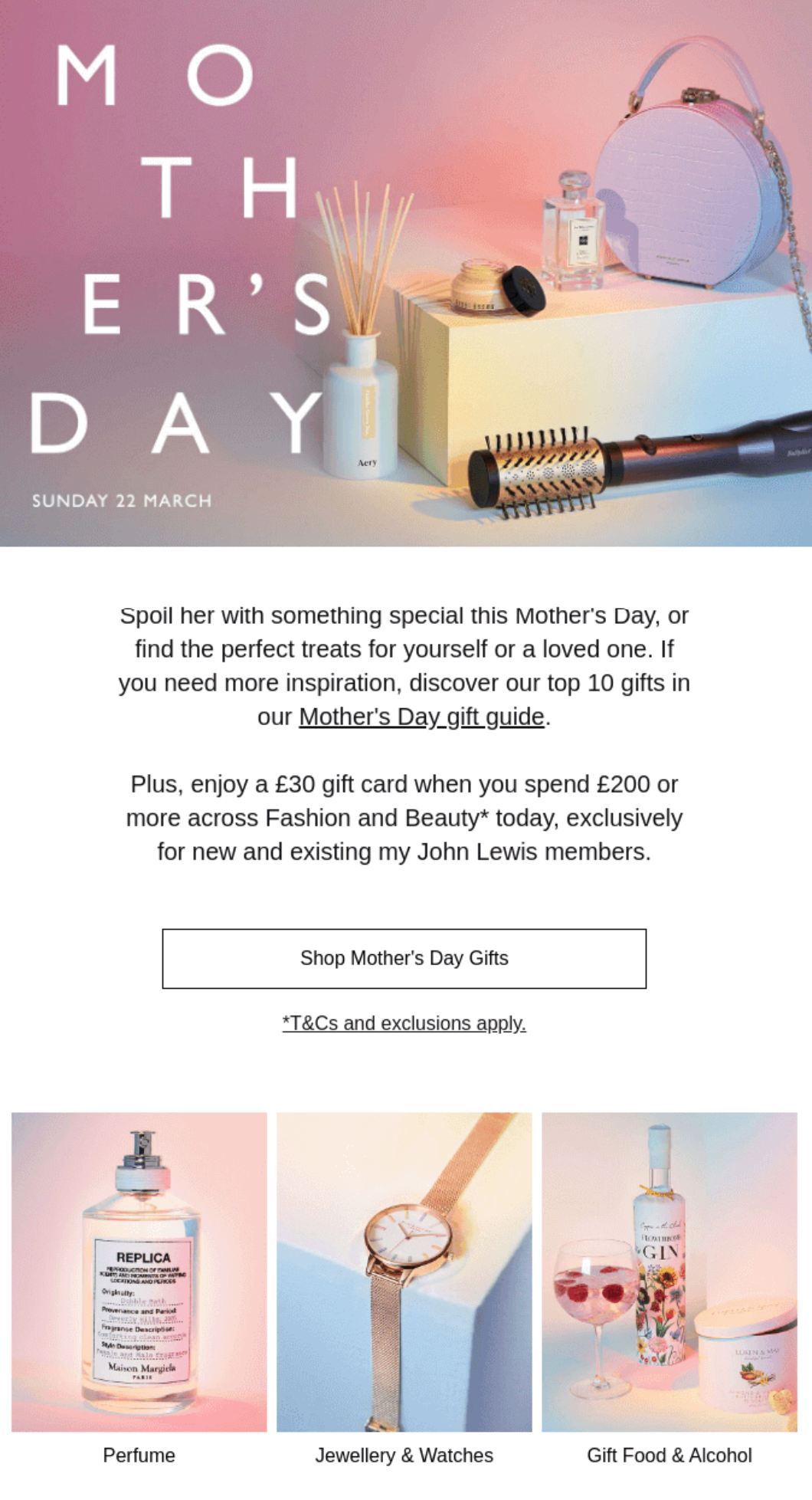 Curate the most successful newsletters for your brand
It's time to roll up your sleeves and get to work. First, make sure you define your strategy, business goals, and target audience beforehand and then put different types of newsletters in the mix. Using multiple ways to approach your audience can only benefit your business. So give them options in the way they consume your content, and you might be surprised with the results.