Amazon SES – which stands for Simple Email Service – is a cost-effective, reliable and scalable email service built on the same infrastructure that Amazon.com developed to send communications to their customer base.
Thanks to the flexible IP deployment and email authentication options, users can be assured of high deliverability. And if you want to run mass email marketing campaigns at the lowest possible cost, you can't beat Amazon SES on price.
That's because with Amazon SES, you don't pay anything for the first 62,000 emails you send each month. After that, it costs just $0.10 for every additional 1,000 emails you send.
But as an advanced email marketing tool, Amazon SES falls short.
The limitations of Amazon SES for email marketing
For starters, it does not provide any options to manage email campaigns. You're not able to create or preview templates in the Amazon SES dashboard, and there's no reporting into engagement metrics, such as open and click rates. In order to process bounces, complaints and unsubscribes, you need to develop a custom mechanism.
This is why Amazon SES has traditionally appealed to developers and technically-savvy users.
On top of all that, there are no segmentation capabilities. And without segmentation, you cannot personalise your email campaigns. There are no automation capabilities either. You cannot schedule campaigns natively – you need a third party tool. Nor can you set up autoresponders, such as welcome emails and onboarding sequences.
Thankfully, other solutions exist that provide you with advanced email marketing features while using Amazon SES to deliver your campaigns at a much cheaper cost.
Here we're going to take a look at 10 of those solutions.
1. EmailOctopus Connect
Founded in 2014, EmailOctopus Connect was built to make email marketing easier and cheaper. Combining a user-friendly interface and essential email marketing tools with the high deliverability and low cost of Amazon SES, it's a great option for people who want the best of both worlds.
EmailOctopus Connect is a fully hosted solution, which means you get regular feature updates as soon as they're available and it can be set up, by non-technical users, in less than 10 minutes.
Another great thing about EmailOctopus is the customer support. They're on hand to guide you through the technical setup and get the most out of your email campaigns. You can reach them via email or live chat, and they'll typically get back to you within a few hours.
Key features of EmailOctopus Connect
Here's what you get with EmailOctopus Connect:
A drag-and-drop email editor with a library of templates
Option to import your own HTML email templates and edit with a code editor
Embedded inline and pop-up forms, plus customisable landing pages for growing your mailing list
Advanced segmentation on list fields and email activity for personalising messages at scale
Unlimited time-based automated email sequences
Personalisation using merge tags
Real-time campaign reports
Privacy-friendly options – disable open/click tracking
Multi-user account access
Excellent customer support available via email and live chat
Direct integrations include Carrd, BookFunnel, WordPress and OptinMonster while Zapier and Integromat connect you with over 2,000 other popular apps
Unsubscribes and hard bounces handled automatically
Double opt-in option
API
EmailOctopus Connect pricing
EmailOctopus Connect charges you based on your total number of subscribers. And because you're using Amazon SES to send your emails, there are no limits on the number of emails you can send each month.
The generous free Starter plan covers your first 2,500 subscribers. After that, prices start from just $20 per month for up to 5,000 subscribers.
Who is EmailOctopus Connect best for?
If you want the affordability and deliverability of Amazon SES combined with an easy-to-use email marketing tool that doesn't require extensive technical knowledge, EmailOctopus Connect is for you.
It's popular with newsletter creators, such as Dense Discovery, as well as authors, musicians and nonprofits wanting to reach a large audience while keeping costs down.
2. Sendy
Sendy is a self-hosted solution, which means you're responsible for the maintenance and updates to the service. You need to install Sendy on an online Apache web server with Linux, PHP & MySQL support. This is fine if you have the technical expertise. But it's not so great if you don't.
Key features of Sendy
Sendy has undergone a few iterations and currently offers the following features:
Campaign reports to visualise opens, clicks, bounces and complaints
Time-based autoresponders for welcome emails and drip campaigns
Segmentation based on custom data and campaign activity
Custom subscribe and unsubscribe confirmation pages
Automatic handling of bounces, complaints and unsubscribes
Integration with Zapier and WordPress plugins
White labeled client accounts
Rules and webhooks to setup email notifications
Send emails with attachments
Features missing from Sendy
A limitation of Sendy is that it does not include any pre-designed email templates. Which means you'll need to create your own from scratch. Alternatively, you can copy and paste pre-built HTML templates and edit these in the email editor.
Sendy provides you with a subscribe form HTML code that you can embed anywhere on your website. However, it's not possible to build landing pages or pop-up forms with Sendy. Which means your list building tools are limited and you'll need additional software.
A browse through online reviews suggests that Sendy customer support can be sporadic. There are reports of users having to wait for days to hear back with a response to their issue. This can be a problem if you encounter a technical issue while preparing a time-sensitive email campaign.
Sendy does not offer transactional emails. However, you may be able to setup transactional-style emails with the autoresponder function (though this is a workaround).
Sendy pricing
Sendy is no doubt the cheapest option on this list. You pay a one-off fee of $69.00 and the software is yours for life.
But that's because you host Sendy on your own web hosting server instead of theirs, so you don't end up paying them recurring monthly fees.
However, you will need to pay for each additional version upgrade. The latest version of Sendy – v5.2.5 – costs an additional $29.00 for those on earlier versions of the application (version 4, for example).
Who is Sendy best for?
Sendy is best suited for technically-savvy users who want to host their own solution.
And as you pay a flat fee for Sendy, it's also a good choice for sporadic emailers – if you're not sending campaigns monthly, then paying once for an app like Sendy will be much cheaper than paying a monthly subscription.
3. Pepo Campaigns
Pepo Campaigns claims to be "the most powerful solution for Amazon SES email marketing". And that may have been the case when the platform was first launched in 2016. But while other tools on this list have continually improved upon their feature offering, Pepo Campaigns appears to have stood still.
This means that as a user in 2021, what you see with Pepo Campaigns is what you get – there's nothing much to look forward to in terms of new features.
Which is fine, if you want to send transactional emails, as well as bulk promotional campaigns, at a really low cost. And if you don't need more than the features already built into the platform.
Key features of Pepo Campaigns
Pepo Campaigns comes with a mix of basic and more advanced tools for running your email marketing campaigns, including:
Drag-and-drop email editor
Library of simple newsletter templates
Segmentation based on custom attributes
Time-based automated email sequences
Campaign reports with insights into open, click and unsubscribe rates
A/B testing on campaigns
Time Zone Delivery to automatically send emails based on a subscriber's location
Transactional emails
API
Features missing from Pepo Campaigns
It's not possible to segment contacts based on campaign activity. Which makes it difficult to run re-engagement campaigns in Pepo Campaigns, or send follow-up emails to subscribers based on what content they engaged with in a previous campaign.
Another limitation of Pepo Campaigns is the lack of direct integrations – there are none. And there's no sign of a Zapier or Integromat integration either, which means you'll struggle to connect Pepo Campaigns with any other apps you might use in your tech stack.
For example, if you use a tool like OptinMonster to run pop-up forms on your website, you won't be able to push new contacts into Pepo Campaigns automatically – you'll need to manually update your contact list.
Speaking of which, there are no list building tools in Pepo Campaigns either. You cannot create landing pages or sign-up forms – instead, you'll need to use a third party tool and connect via API.
And it's questionable as to whether the Pepo Campaigns application is ever updated. Most of the help docs date back to 2016 and there are no signs of any major feature updates since. Reviews online suggest that the customer service is lacking, too.
Pepo Campaigns pricing
Pepo Campaigns charges based on the number of emails you send each month. The free plan covers up to 10,000 emails per month with unlimited contacts and 90 days of campaign report data stored.
If you need to send more than 10,000 emails a month, you're charged $9 per month, plus $0.10 for evert 1,000 emails sent. So if you need to send 50,000 emails a month, it will cost you $13 per month. That's not including what AWS charges for sending emails.
Who is Pepo Campaigns best for?
The lack of integrations means that Pepo Campaigns is best suited for users who are looking for a standalone email marketing tool and who prefer to be charged based on number of emails sent, rather than number of contacts stored.
4. MailBluster
Similarly to EmailOctopus, MailBluster was created to fulfil the need of cheaper email marketing at scale. And similarly again, it's a hosted solution, which means the initial setup is much easier than the self-hosted options on this list.
Founded in 2018, MailBluster still carries the 'beta' tag on the website homepage, which suggests the software is still in its early development days. Yet it manages to offer basic and some more advanced features for managing email marketing campaigns.
Key features of MailBluster
Here are some of the features MailBluster provides users:
Drag-and-drop HTML email editor
Retargeting based on campaign activity
Schedule campaigns
Bounce handling
Campaign analytics including opens, clicks, bounces, complaints and ecommerce conversions
A/B testing on email campaigns
Attach files to emails
TimeWarp delivery to deliver emails in the subscriber's local time
Developer API to connect your website with MailBluster
MailBluster for WordPress plugin
Integrations with third party apps via Integromat
Features missing from MailBluster
At present, MailBluster is missing any form of automation. There are no options to set up time-based automation sequences, such as welcome emails or onboarding sequences.
And similarly to Pepo Campaigns, there are no list building tools in MailBluster either. If you want to create inline or pop-up forms for your website, or set-up dedicated landing pages for your mailing list, you'll need to use a third party tool.
Like a few other email marketing tools on this list, it's not possible to send transactional emails with MailBluster.
One final limitation of MailBluster is the lack of email templates – you need to start from scratch. However, you can import HTML templates from other sources and edit directly in MailBluster.
MailBluster pricing
MailBluster offers unlimited subscribers and you're charged based on the number of emails you send each month.
The Free Forever plan covers up to 62,000 emails per month. And on this plan your emails and unsubscribe page will carry MailBluster branding.
Once you start sending more than 62,000 emails a month, you'll be charged $0.10 per 1,000 emails. So if you send 50,000 emails, it will cost you $5 with MailBluster.
Like every other email marketing tool on this list, that's excluding what you pay Amazon.
Who is MailBluster best for?
The lack of automation and list building tools means MailBluster is better suited to users who primarily need to send ongoing comms with their subscribers, rather than those just starting to build their list.
5. MoonMail
MoonMail pitches itself as an "all-in-one messaging platform" and offers email, SMS, voice, WhatsApp and Facebook Messenger features in the one tool. Like every other tool on this list, the email element is powered by Amazon SES.
MoonMail is a fully open source project, which means the original source code is made freely available and may be redistributed and modified.
Key features of MoonMail
Here's what MoonMail offers in terms of email marketing functionality:
Dedicated IP
AMP for Email support
Send time optimisation
A/B testing
Real-time statistics and click map
Event-based segmentation
RSS to emails
Attach files to emails
Integrations available via Zapier
Multiple users
Event-triggered automations
Features missing from MoonMail
MoonMail does not include a drag-and-drop HTML editor. If you want to use a drag-and-drop editor to create your email templates, you'll have to use a third party tool like BeeFree. In MoonMail you're limited to a classic editor better suited to rich-text emails than HTML-heavy templates.
And there are no email templates either. Instead, you'll have to create your own from scratch in a separate email template editing tool and import the HTML file into MoonMail where you can then only edit the template through code. Unless you're happy coding emails. In which case, you can do that directly in MoonMail.
Although it's possible to create a sign-up form in MoonMail, your form options are limited. You can only create an inline form for your website or a very simple landing page. And unless you know how to code, you can only edit the form name and description – not the form's design and layout.
Before you can start sending campaigns with MoonMail, you need to add a domain and verify that domain belongs to you. MoonMail does not accept Gmail, Yahoo, Hotmail, or Outlook email addresses as senders.
Pricing of MoonMail
MoonMail charges you monthly based on the total number of active contacts – individuals that you contact in a 30 day period. You can have unlimited stored contacts, but you'll need to upgrade through four available pricing tiers as you contact more subscribers each month. Alternatively, you can pay an additional "per 1,000 contacts" fee.
With the Lite tier (the cheapest available), you get 10,000 active contacts and can send up to 50,000 emails for $59 per month.
If you opt for an annual subscription you can save up to 25% of the monthly subscription prices.
6. Mailcoach
Mailcoach is a self-hosted email marketing platform designed to send emails via Amazon SES, as well as other SMTP servers. This includes Mailgun, Postmark Sendgrid or your own SMTP server.
As Mailcoach is self-hosted, you'll either need to setup Laravel hosting or use it in an existing project. Alternatively, you can opt for Mailcoach pre-installed on DigitalOcean via a 1-click application.
If you install Mailcoach into a Laravel project, you can access unlimited customisation options, which is why Mailcoach is especially popular with developers. However, this makes it a difficult tool to set up for less technically-savvy users.
Key features of Mailcoach
Some of what Mailcoach offers includes:
Unlimited email lists
Configure double opt-in and unsubscribe flows
Default plain text email editor with the option to install a choice of drag-and-drop editor including Unlayer and Monaco
Automated drip sequences
List segmentation based on tags
Transactional emails
Basic default landing pages for interaction points with subscribers
Feedback on bounces and complaints
API with full access to email lists, subscribers, campaigns and templates from an external application
Advanced usage options for PHP developers including throttling sends and creating custom authorisation policies
Features missing from Mailcoach
The default plain text email editor in Mailcoach means that there are no email templates available in the app itself. However, if you install the free version of the Unlayer email editor you get access to a library of HTML email templates. For custom HTML templates, you'll need to upgrade to Unlayer's Designer plan, which adds additional cost.
With Mailcoach, you can accept email list subscriptions coming from external sites by adding a subscription form to that site. But you'll need to code that yourself. There are no no-code tools for creating sign-up forms. So you'll need to put in extra work if you want to use pop-up forms to grow your list with Mailcoach.
Mailcoach was built by a PHP developer for other PHP developers. And the extensive help docs guide you through how to configure Mailcoach. There's also the option to email the team with questions. However, there's no live chat for customer support.
Pricing of Mailcoach
With Mailcoach, you pay a single domain license fee of £174. This gets you one free year of updates.
You can renew your license every year to stay on the latest release and keep using the Mailcoach package repository.
Who is Mailcoach best for?
Mailcoach is best suited to developers, or larger organisations with a developer team who can invest time and resources into the initial setup.
It's also a good choice for SaaS companies who, by their very nature, are staffed with developers who can manage email campaigns without needing no-code tools.
7. Mautic
Mautic is another option on this list that integrates with any email service provider that offers SMTP mail servers – Amazon SES is just one of them. Other choices include Mandrill, Gmail, Mailjet and Sendmail.
What sets Mautic apart is that it's open source, which means that it is software code designed to be publicly accessible—anyone can see, modify, and distribute the code as they see fit.
Key features of Mautic
As an email marketing automation tool, Mautic provides the following features:
Campaign builder for creating workflows
Event, behaviour and time-based triggers for automated messaging
Multi-channel messaging, including email, SMS and web notifications
Broadcast and transactional email capabilities
Graphical email builder for creating email templates
List segmentation
Landing page builder
Plugins available with CRMs, including Salesforce and Zoho
Highly customisable campaign reports
Multi-level user access
A/B testing
Features missing from Mautic
Because Mautic is open source software, technical support is limited to community forums. Which means you don't have access to a customer support team. Instead, you must post your question and wait for an answer. And bear in mind that the support offered in the forums is provided by volunteers, in their own free time. So you might be waiting a while.
For larger lists, you may need a dedicated database server to store the vast amount of data Mautic collects. This may create additional expense.
Mautic pricing
As an open source software, Mautic is entirely free. However, if you want to upgrade to Mautic Cloud Pro, prices start from $500/month.
Who is Mautic best for?
Mautic requires a lot of technical knowledge and expertise to setup. So it's better suited to developers or organisations with a large team of developers that can manage, not only the initial setup, but the ongoing maintenance of the software.
And as Mautic is much more than just an email marketing tool, it's also better suited to those in need of a full CRM.
8. Mailster
Unlike the other nine email marketing tools on this list, Mailster is designed specifically to work with WordPress. It's essentially a plugin that enables you to manage your newsletter and email campaigns directly in the WordPress dashboard, while integrating with Amazon SES to send your emails.
Amazon SES is just one integration option, however, as you're able to send your emails with any provider of your choice, including Gmail, SparkPost and Mailjet.
Key features of Mailster
For email marketing, Mailster provides the following features:
Time-based automated sequences for setting up welcome emails
Choice of more than 400 free and premium newsletter templates
RSS-to-email
Time zone-based sending
Subscriber profiles with tags and campaign activity
Customisable merge tags for personalising email campaigns
List segmentation with choice of more than 30 conditions
Real-time insights into campaign performance
Pre-send campaign check with feedback for improvements
Data stored in your own database
Integrations with other WordPress plugins, including Gravity Forms and WooCommerce
Subscription centre to enable subscribers to manage their data
Embedded 'subscribe' buttons and simple sign-up forms
Features missing from Mailster
When it comes to list building tools, with Mailster you're limited to website 'subscribe' buttons as there are no landing pages or pop-up forms. The lack of landing pages may not be so much of an issue as you can use WordPress to create those. But if you want to improve conversion rates with pop-up forms, you'll need an additional tool.
The Mailster send script can send up to 5 emails per second, which equates to 18,000 emails per hour. This is not a problem for smaller lists. But if you have a list of 50,000+ subscribers, it will take at least 2.5 hours for your campaign to be delivered in full.
Many email marketing tools can send close to one million emails an hour, so your campaigns are sent almost immediately.
Although list segmentation is possible, it's not possible to segment subscribers based on campaign activity. This makes it difficult to run re-engagement campaigns and win-back inactive subscribers.
Mailster pricing
With Mailster, you pay a one-time fee of $89 – no recurring subscription and no limit on the number of subscribers, forms or lists you can manage. This one-time fee gets you a license for one domain and six months of technical support.
Who is Mailster best for?
As a WordPress plugin, Mailster is best for people using WordPress to build their website. And specifically WordPress users who want to manage their newsletter or email marketing campaigns from within the one dashboard.
It's a great choice for bloggers who want to send subscribers their latest blog posts, as this can be automated with Mailster.
9. BigMailer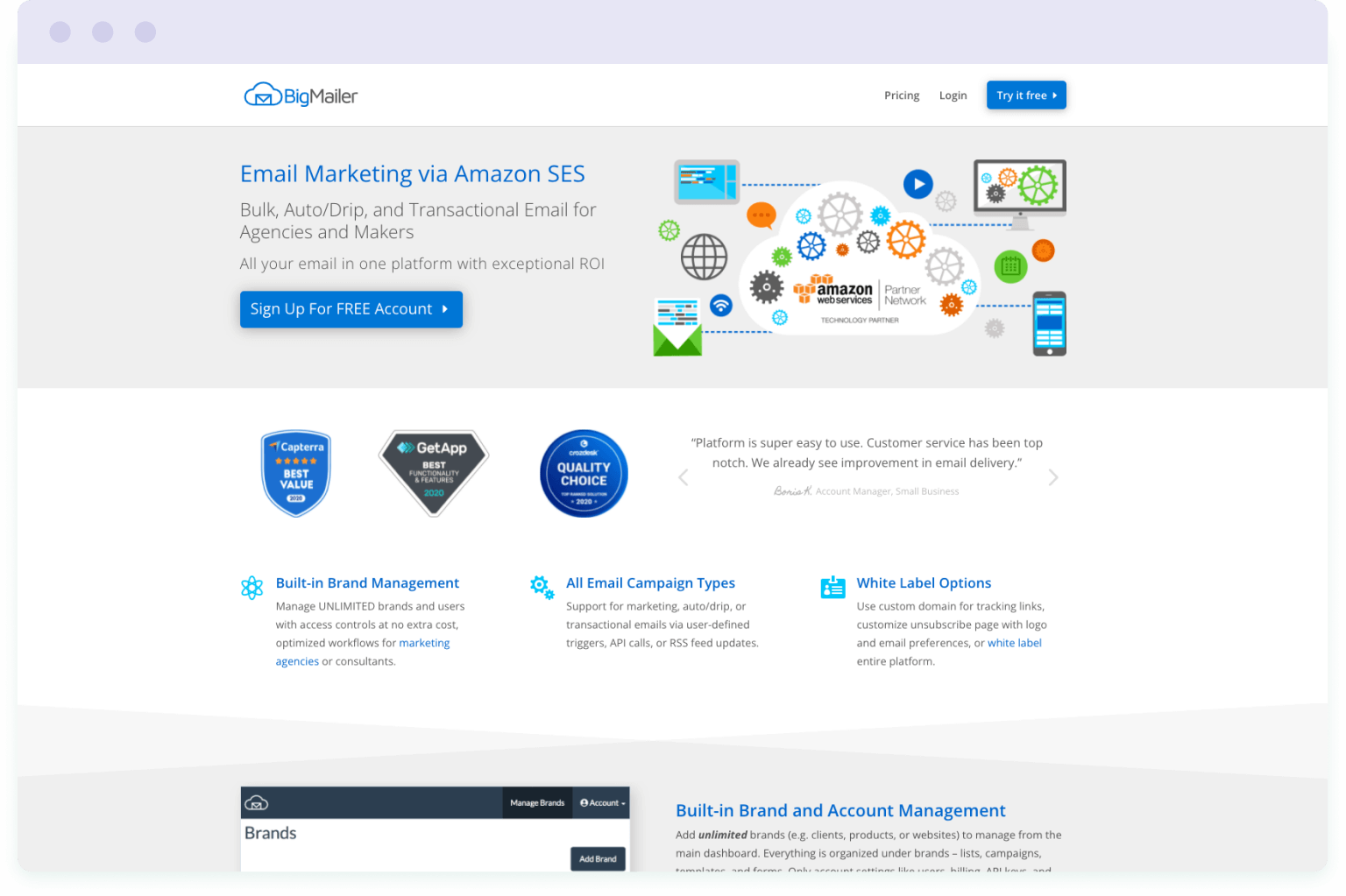 BigMailer is a hosted solution that runs on Amazon SES. You can send bulk marketing campaigns, as well as automated drip campaigns and transactional emails. The emphasis is very much on email marketing, with an offering that will appeal most to those working with multiple brands or clients.
Key features of BigMailer
BigMailer offers the following email marketing features and functionality:
Classic Editor and drag-and-drop editor for creating HTML email templates
Image hosting and access to library of free stock images
Email campaign engagement tracking and reporting
Bulk, drip and transactional emails supported via user-defined triggers, API calls, or RSS feed updates
Segmentation via custom data fields and campaign engagement, as well as geo-targeting
Hundreds of integrations available via Zapier and Integromat
Customer support via live chat
Customisable unsubscribe pages with subscriber preference options
RSS to email
Time-based and behaviour triggered autoresponders and email sequences
Features missing from BigMailer
BigMailer does not yet offer landing pages. It's on the roadmap, but right now, if you wanted to create a dedicated landing page for your newsletter sign-up, you'd need to use a third party tool.
Another limitation is the lack of pop-up forms. You're restricted to simple inline forms that can be added to your website. If you want to use pop-up forms tactically across your website, you'll need another software.
There's no A/B testing available in BigMailer. Again, it's on the roadmap, and within the next few months you may be able to A/B test email subject lines. But it's not available to users yet.
BigMailer pricing
With BigMailer, you pay a monthly subscription based on the number of subscribers in your list. There's a free Startup plan that covers up to 1,000 contacts and 2,000 emails per month. After that, prices start from $10/month for up to 10,000 contacts on the Business plan.
If you want to white label the software, you'll need to upgrade to the Agency plan, which starts from $45/month for 50,000 contacts.
Who is BigMailer best for?
Because you're able to manage unlimited brands and users with BigMailer, and white label the entire platform, it's a great choice for marketing agencies and consultants.
10. Mailblast
This simple email marketing tool provides the basics for managing subscriber lists and email campaigns using Amazon SES. It was founded in 2017 – which is when the majority of help docs were last updated. This suggests it's a software that no longer receives much in the way of updates or improvements.
Key features of Mailblast
Features include:
Classic editor for creating email templates
Detailed campaign reports, including geo analytics
Bounces and complaints automatically filtered for future campaigns
Time-based email automation sequences
Inline sign-up forms to embed on your website
Merge fields to personalise emails
API
Features missing from Mailblast
Compared to the other Amazon SES email marketing tools on this list, Mailblast is lacking a number of important features.
Firstly, there's no drag-and-drop email editor – only a classic editor. This makes it more difficult for the average user to create beautiful, design-rich emails, and is better suited to those happy with rich text emails. Or email coders who can create HTML templates from scratch. There are no email templates in Mailblast either.
Secondly, there's no list segmentation. It's not possible to segment your contacts in Mailblast, either based on data stored in custom fields or via recent campaign activity. This limits your options to personalise messages at scale, which has a negative impact on campaign performance.
Thirdly, there are no list building tools such as landing pages or pop-up forms. If you want to be more creative with your sign-up forms, you'll need to employ another tool. However, there does not appear to be any direct integrations available with Mailblast, and the Zapier integration is still in beta, so options are limited.
Mailblast pricing
Plans are based on the total number of subscribers in your mailing list with unlimited emails each month. Mailblast offers a free plan to cover your first 1,000 subscribers and from there, prices start at $17/month for up to 15,000 subscribers.
Who is Mailblast best for?
The lack of segmentation and drag-and-drop editor means that Mailblast is best suited to people who use rich text emails and deliver messages purely as list-wide blasts.
Wrapping up
So there you have it – ten email marketing tools and autoresponders that integrate with Amazon SES for better campaign and list management.
Some can be setup and ready to go in minutes, while others require considerable time investment to get going. And as you'd expect, features and prices also vary, so what's right for you will depend on your individual needs and available resources.
To help you decide where to start, here's a recap of all ten tools:
EmailOctopus Connect – best for users who want the affordability and deliverability of Amazon SES with an email marketing platform that's dead simple to setup and use, with regular product updates
Sendy – best for users who are happy to self-host and confident with technical setup
Pepo Campaigns – best for users who want a basic email marketing tool and prefer to be charged on number of emails rather than number of subscribers
MailBluster – best for users who do not need automation or list building tools, such as landing pages or pop-up forms
MoonMail – best for users looking for an all-in-one messaging tool to cover channels including SMS and Facebook Messenger
Mailcoach – best for experienced developers who are happy to self-host and will be sending transactional emails as well as marketing campaigns
Mautic – best for confident developers who are happy to contribute bug fixes themselves and who need multi-channel automated messaging capabilities
Mailster – best for WordPress users who want to manage a newsletter and email marketing campaigns directly in WordPress
BigMailer – best for marketing agencies and consultants who are managing multiple brands and clients
Mailblast – best for users reliant on rich-text emails sent at scale without the need for segmentation
Note: All prices and feature availability correct at time of publishing. If you notice inaccurate information, please let us know in the comments section below.