March is just around the corner, and there's no better time to engage with your newsletter readers. Temperatures get higher, colours get brighter and the mood shifts. Consumers are ready for their spring purchases, and you should be at the top of their lists.
As a business owner or an email marketer, you need to adjust your emails to fit the mood of the season and the new problems your readers are trying to solve. Especially after the winter's dead period when buyers put away their credit cards drained from the holiday season shopping, it's time to get back in the game.
Lucky for you, at EmailOctopus, we've gathered a list of top ten March newsletter ideas to capture the attention of your readers and generate sales. Let's dive in!
1. Remind them of the seasonal change
It's common human behaviour to spot different patterns or seasonal changes as excuses to make new beginnings. New year, new season, new month, new moon, and so on… These are all indicators that your buyers are looking to establish new habits and, therefore, make new purchases.
So, don't miss the chance to remind them that spring has begun, the brightest season of the year, which symbolises rebirth. Introduce new seasonal products such as clothes, garden equipment or even courses as an excellent opportunity to learn new skills.
Here's a stellar March newsletter idea from Cater2.me, a customised catering solution for companies and teams, celebrating the beginning of spring with dish ideas for the office.
2. Introduce new trends
Season trends are the crème de la crème of promoting new products. Give your readers a taste of what's trending for spring, whether it's new clothes, gadgets or outdoor equipment. Share hacks on how they can sprinkle the upcoming season and leave them asking for more.
One clever way to do that is by using segmentation with EmailOctopus based on the different interests readers might have.A segment can be based on the list fields you've created or the different sources from which you acquired users. So, for example, if you've segmented your audience based on their demographics or even preferred gender, you can narrow down the trends or interests you'll be including in your newsletter to appeal to different audiences.
For example, the March newsletter email campaign of The Iconic didn't miss the chance to introduce a new spring wardrobe to lift the spirit and get lighter clothing for the season.
3. Organise a spring sale and offer a discount
Who doesn't love a good clearance at the beginning of the season? Especially when you know buyers are out and about, and they just need a little encouragement to prioritise your business over competitors. Spring sales are a fresh start to promote your products or services as must-haves for the season.
An excellent March newsletter example is the email campaign by Tattly, which promotes temporary tattoos as wearable art. And what better time to revamp your aesthetic by getting your tattoos for the new season? They kicked off the season with a 30% discount to incentivise impulse purchases. Feast your eyes!
To get the most out of your email campaigns, we suggest using A/B testing to test a newsletter with and without discount. At EmailOctopus, you can easily check which version of your email is performing better and what can be done to improve it.
4. Arrange a giveaway
Giveaways are smart ways to engage readers and encourage them to take action around your business. This increases awareness and generates more leads. If you can collaborate with other brands to offer collection items as prizes, that's a bonus. You can even use social media and paid ads to promote your giveaway further and grow your email list.
Stumptown Coffee Roasters did just that, partnering with Apt2B for a special giveaway where the winner received different prizes to refresh their home and wellness.
Here's another great example from one of our customers. Nomad Cooks have managed to grow an email audience of 1,100+ subscribers just by running a giveaway. They promoted it with a website pop-up form and a dedicated landing page where users could subscribe and enter to win. They even posted organic social media posts on Facebook and Instagram and paid Facebook ads.
5. Promote seasonal products
Naturally, each season comes with its unique characteristics. For example, in winter, you need warm clothes and heating systems; in summer, you need mosquito repellents and sandals, and in spring, you might need gardening supplies and purifiers for allergies.
So, if your products are seasonal, this is an excellent opportunity to introduce them to your audience as the solution to their seasonal needs and their best allies to enjoy care-free days. Like Levoit did with their email campaign for humidifiers on the first day of spring.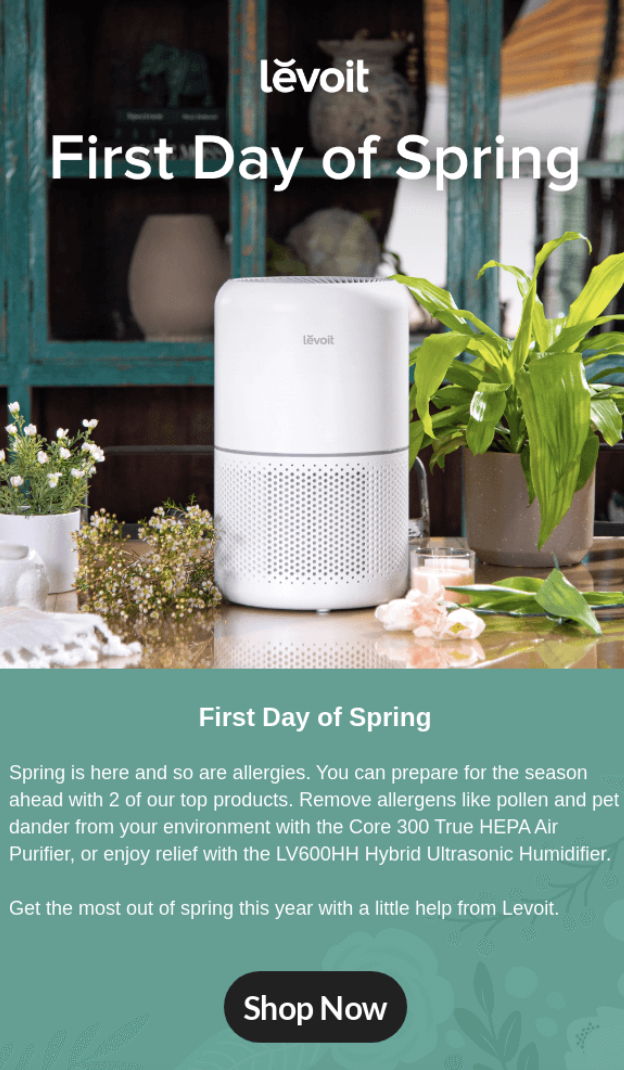 6. Focus on international days
Have you run out of ideas? Base your email marketing campaigns around the calendar for international days. For example, March 8 is International Women's Day. Feature women who have influential stories to share or highlight how your brand supports women.
Alternatively, you can organise a giveaway to celebrate women as Moment did for March. Specifically, they partnered with other brands on Women's day to give away $5,000 in prizes related to products, art, and experiences.
Here is a list of days in March you might want to put in the diary for your email campaigns:
March 1: Zero Discrimination Day + World Music Therapy Day
March 3: World Wildlife Day + World Hearing Day + World Book Day
March 4: World Obesity Day
March 8: International Women's Day
March 18: Global Recycling Day
March 19: World Sleep Day
March 20: First official spring day
March 21: World Poetry Day + World Down Syndrome Day + International Day of Colour + International Day of Forests
March 22: World Water Day
March 27: World Theatre Day
7. Provide actionable tips and checklists
Who doesn't love getting fresh ideas and tips straight into their inbox? People subscribe to newsletters that add value to your audience's lives, answer their concerns and resolve their issues. That's the only way to build authority and earn your customers' trust. Use humour to connect with your readers directly if your tone of voice allows it.
Build your newsletters around knowledge in the form of tips, hacks, case studies, checklists, playbooks, spreadsheets or even downloadable ebooks. You can use your existing content and repurpose it into beautiful email campaigns. For example, Plated created a newsletter around different tastes of spring and product ideas to freshen up everyday meals. Yum.
8. Celebrate your customers
In your efforts to generate sales this March, don't go out of your way. Sometimes a simple appreciation email can do the magic. So maybe now it's the time to thank your readers and loyal customers for their trust and devotion by sharing a word of kindness, gifting them a special discount, or offering a surprise.
Sprint created an email campaign just for the sake of appreciating its clients. But, to take a step further, the client had to engage with the email to unlock their special surprise, bringing more engagement and traffic to their website. Win-win!
9. Foster your community
Another excellent idea for your March email newsletter campaigns is to create a competition where your customers will compete for a prize. For example, let's say your client is a small business selling photography equipment.
You can create a contest where users can post their favourite pictures captured with the equipment they bought from your shop and use a relevant hashtag. This will help you increase awareness and foster an online community around your brand. And the best part? It's 100% free!
Moment created a similar email campaign for fall, based on a photo challenge with the prize of $1,500 in gear. Users had to use social media, upload their favourite photo with the hashtag #MomentChallenge and follow certain accounts to enter the fun!
10. Celebrate an anniversary
Is your business's birthday this March? Maybe you want to celebrate the successful launch of a product that ended up being a milestone for your company. Or better yet, you might have no reason to celebrate, yet you decide to sprinkle some joy over your loyal fanbase. Whatever the case, a newsletter is always a good option. You can even send your readers a survey to fill in how satisfied they are with your overall business and services.
Care/of celebrated their first anniversary with a round-up of all the products they launched, the progress they've made and the things they're most proud of. It certainly adds a personal touch to a brand's image!
Tips to enhance your March newsletters
Now that you have various ideas to choose from for your March newsletters, it's time to enhance your emails for optimal engagement with your readers. Here are a few tips to take your newsletters to the next level:
Add eye-catching subject lines to increase open rates. You can use subject lines such as:
New season new you. Welcome spring 2022!
NEW spring trends to fall for.
March into the spring savings!
We're giving away a prize for the blooming season!
Get everything you need for this spring!
Happy [international day] from [business name]!
5 Tips for your spring recipes!
We want to say thank you…
Want $1.500 just by posting on Instagram your favourite photo?
It's our birthday!
Add some spring tones and bright images to capture readers attention. Leave the subtlety of winter behind. It's time to reflect spring into your email campaigns to attract and retain users' attention. Apply colour palettes relevant to March and the spring season. In addition, consider adding touches of nature or floral arrangements.
Explore new ways to engage with your audience. Use quizzes, games, surveys, or custom experiences to draw their attention and foster a sense of playfulness and vividness.
March is a highlight in the marketing season, as it marks the beginning of spring. It's playful, it's fun, and it provides huge opportunities for businesses. Now it's your turn to create colourful email newsletters to drive traffic to your website and wow your subscribers.