If there's one piece of online real estate where you can have complete control over the communication with your audience—it's email.
Unlike social media platforms like Instagram and Twitter, your email contact list is yours to keep and nurture. If one day any of the major social platforms goes down, your following will too—but if you have an email list, you can download it onto your external hard drive and keep it safe with you forever.
With an email list, you can nurture your audience, cultivate trust, and build brand loyalty—all of which will help convert subscribers into customers, thus growing your business.
If you want to leverage the massive power of email marketing but are clueless about how to start building your email list, this article is for you. We're going to take you through 8 ways you can grow your email list from nothing and build an audience of leads that you can nurture to conversion.
1. Create an attractive lead magnet on your website
Buying an email list is never an option, but if you want to build one, you need to give your audience a reason to provide you with their email address. Offering something in return for their contact information will build trust and allow you to begin a relationship with your subscribers.
How about giving your website visitors a free resource in exchange for their email addresses?
Seems like a fair deal!
Lead magnets are gated content like eBooks, checklists, cheat sheets, and templates offered for free to website visitors once they enter their name and email address. The website visitor gets access to the free resource via email, and you get to add them to your email list—a win-win!
The best way to do this is to create a landing page for the lead magnet like this:
Based on your high-traffic website pages, you can position your lead magnet strategically for maximum sign-ups and promote it on social media.
For more tips on using a lead magnet to grow your email list, check out our six-step guide to optimising your lead capture strategy.
2. Do a social media giveaway and capture emails
Today, people hang out on social media platforms more than in cafes and restaurants. These platforms have a massive audience hungry to consume quality content that educates, entertains, or motivates them. You can capture part of this audience for your email list
Social media giveaways are contests where you establish a set of participation rules, users enter it, and a few lucky winners get a prize at the end. The prize can be a tangible gift, a gift card, voucher, discount code, event pass, or anything that aligns with your brand. To participate in the giveaway, you can ask users to fill in a form and submit their email addresses.
Most of these social media giveaways happen on Instagram, so if you have a following and some friends who can share your giveaway, you can get many participants and subscribers. You can even cross-promote the giveaway on other platforms and in niche communities to get the right people on your email list like Mslexia did with this tweet:
The best approach is to allow your audience to enter the giveaway on multiple channels.
3. Create a newsletter pop-up form for your website
A pop-up is a window that appears on a screen once a website visitor spends a certain amount of time on the page, scrolls a bit, or is about to leave. This slide-in or pop-up window can ask them to enter their email address and join your newsletter.
Your pop-up can be placed on a blog post communicating what kind of content the audience can expect from you—tips and tricks about a particular topic, product updates, case studies, or just weekly updates in your industry.
If you use persuasive copy on this pop-up and highlight why the reader should join your newsletter, you could end up getting a lot of sign-ups, thus building your email list.
Here's an example of a great newsletter subscription form positioned on a blog post, highlighting why people should sign up for the newsletter:
A subscription form is one of the most popular and straightforward ways to build your email list right from your website. You can also include a form in your email signature as a link to your website for sign-up.
4. Offer content upgrades and incentives
If you have a product or an online shop, you can offer deals and discounts in return for signing up for the newsletter.

Many ecommerce businesses offer a discount for joining the email list. Here's an example from Converse with a 15% discount for the next purchase:
When you incentivize joining your email list and tell your audience what they can gain after becoming a part of it, they're more likely to sign up.
You can especially leverage this tactic if you have a new feature, product or exclusive interview rolling out. If people want access to it before you share it on social media, they can sign up for your email list and get first dibs on it. You can take advantage of Fear of Missing Out (FOMO) – a psychological hack often used in marketing – and drive sign-ups by creating a sense of urgency, like this example here:
Once you've created such an incentivised offer, promote it across your social media to get maximum sign-ups and see your email list grow rapidly.
5. Host an online webinar
Webinars are the go-to learning platforms today and offer an excellent opportunity to build your email list. If you're a subject matter expert in any field, you can host a free webinar—this can be on a particular topic, or it could be a networking session or a webinar with a panel of speakers.
The best part about hosting a webinar is people don't mind signing up for them since they're free and require little to no investment (except for time).

As long as you provide enough value in your webinar, people will have no issues giving you their email address in return.
Here's how you can host an evergreen webinar and add people to your email list through it:
Plan the details of your webinar—topic, platform, date, time, and duration.
Create a landing page mentioning all the details for the webinar with a sign-up form. Make sure to include a short form with fewer fields—best to have the name and email address only.
Promote the webinar on all social media platforms, and spread the word in your network. You can also offer some incentives like a free eBook, lifetime access to the recording or access to a Slack community to give your audience a nudge towards signing up.
Set up an automated email series to thank the participant for joining, send the event link, send a reminder on the day of the event, and express gratitude once the event is over.
And there you have it—deliver value to your audience through the webinar, connect with them on a one-to-one basis and get them added to your email list.
6. Talk about your email list on social media
Social media is like word-of-mouth on steroids, especially if you're omnipresent and have a profile on Instagram, LinkedIn, Twitter, Facebook, Clubhouse, and are a part of online communities.
All of these major social media platforms have huge audiences, and if you're active on even just one or two of them, you could pull in a good number of email addresses and add them to your email list.

Now let's talk about a few ways you can promote your newsletter and get people to sign up for your list on different platforms.
Instagram
Include the link to your newsletter sign-up page in the bio.
If you have over 10,000 followers, post a story talking about the benefits of joining your email list with a swipe-up link.
In feed posts, mention the newsletter and how joining it can benefit your audience. You can promote this towards the end of your captions with a Call-to-Action (CTA) to click on the link in your bio, and include hashtags to increase reach.
Partner with influencers to increase the reach of your newsletter and get more sign-ups from your target audience.
LinkedIn
In every post, add a comment with a link to your sign-up landing page.
Post a LinkedIn story detailing what you cover in your newsletter, and ask people to DM you for the sign-up link. This can be a video, image or text story.
Write a LinkedIn pulse educational article, and hyperlink your landing page wherever relevant.
While introducing yourself in DMs, or connecting with people, mention your newsletter.
Post the link to your newsletter in LinkedIn communities or create your own.
Facebook
Create a post with the newsletter link and ask your friends and family to promote it.
Add a sign-up button to your Facebook page.
Find groups with your target audience, join them and based on group guidelines, promote your newsletter by highlighting the benefits of being a part of it.
Twitter
Include the link to your newsletter in your bio with a compelling CTA.
Tweet consistently, and occasionally add a link to your sign-up form in the comments.
Different social media platforms demand different methods of positioning and promoting. While you don't have to be present on all of them, try and create a strategy to talk about your newsletter on the ones you're active on.
7. Use SEO to drive organic traffic to your website
Optimizing your website for SEO can do much more than building your email list.
When you create content and tweak your website and landing page elements to make them more scannable for search engines, you get quality traffic to your website.
Since you will distribute your email sign-up form across your website, you can unlock multiple opportunities for sign-ups with SEO.
So, let's look at a few things you can do to rank on the first page of the search engine and drive quality sign-ups for your email list:
Define your goals and create an action plan to achieve them.
Start performing keyword and competitor research.
Assess content gaps and create value-driven content that helps people solve their problems and that holds the potential to rank on Google.
Optimize your content with on-page and off-page SEO.
Keep a check on page load speed and mobile responsiveness for the website.
Create a link-building strategy to build authority and drive more traffic with guest posting.
Regularly update your content, check analytics and tweak your strategy to enhance your SEO score.
If you optimise your website for search engines and drive organic traffic, you can get more email sign-ups regularly, convert visitors into clients, and rank higher on Google.
8. Master the art of personalised email copywriting
The seven email list-building tactics mentioned above can be a game-changer if you use them the right way. But it will all mean nothing if you cannot write engaging emails that hook readers and make them want to take the desired action.
You might be thinking—how difficult is it to write emails, because we do it every day, right?
Writing newsletters is not tricky but making them worthy of your subscriber's time and making them helpful is challenging.
However, if you do learn and practise email copywriting, you can get even more subscribers because people will start talking about your newsletter and refer it to their friends, family or colleagues—word of mouth is very powerful.
Here are some email ideas and copywriting tips to write emails your subscribers will love:
As soon as someone signs up for your email list, they need to receive a welcome email. But not just another automated email that thanks them for subscribing—it needs to be personal and give them an insight into how this newsletter will help them. Make it engaging with gifs, testimonials, or a question to get a response, and use hyper-personalization techniques to make your communication more human.

I use Hyperise as a hyper-personalisation tool in my projects. You create a template with placeholders and the tool grabs all the relevant data from the email domain of the recipient and adds it automatically to the image when sending.
This is how the hyper-personalised image looks like in the welcome email: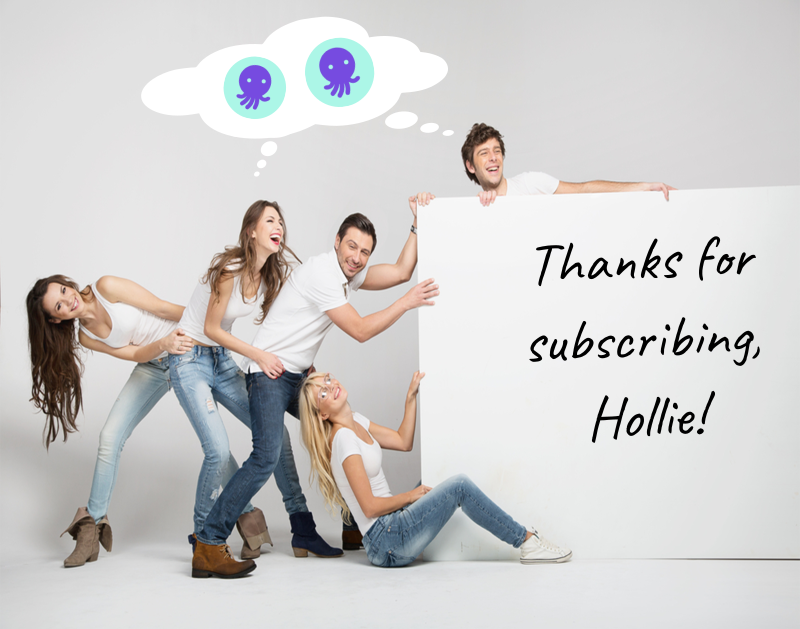 Observe and practise writing email subject lines. The subject line is the first thing your subscriber will see upon receiving your newsletter, and unless it's compelling, they won't open it. So, make the subject line interesting by including the subscriber's first name (this can be automated using email marketing software), a question or a contradictory and shocking statement. A/B test your subject lines to see what works for your audience.
Consider sending automated customer appreciation & thank you emails.
Sent at the right moment it has the same impact as thanking a customer personally. With this method, you make sure that subscribers stay active and do not unsubscribe after some time. Your email list will only grow if you generate new subscribers and also keep your existing ones.
Take care of your email structuring—no one likes to read huge blocks of content. So, break up your email, keep it crisp and use bold, italics, underline and bullet points for better presentation and understanding.
Include a CTA at the end of every email to inspire the reader to take action—ask a question and tell them to respond to this email, request them to share it with someone who might find this newsletter helpful or remind them to share it on social media if they like your newsletter. You can even link to your latest piece of content or digital products.
If you want to build your email list further after the initial traffic, write good emails and send the right message at the right time.
Wrapping up
A journey of a thousand miles begins with a single step. And even though there's no one-size-fits-all strategy to growing your email list, there are unlimited opportunities to give your newsletter a nudge. But you constantly need to experiment.
Building an email list is more complicated than maintaining it. But, it's not impossible.
Focus on connecting with your subscribers and the people interested in joining your email list. It's more about relationships and building an audience than just getting people added to your list.
Use these tactics to create a list-building plan for yourself, and pave your way towards a great email list and a community of people who want to hear from you, love your content, and who you can monetise any time you want. Good luck!
Author bio
Eduard Klein is an International Digital Growth Marketer, Blogger, and Entrepreneur with a global mindset. He guides people through the process of starting and growing a digital business, and to ride the wave of digital technology and marketing without getting swept away.