Search Engine Optimisation (SEO) has grown to be a crucial element of making your digital presence more prominent without having to spend on ads. This has led to an increase in people and businesses jumping to leverage SEO for themselves.
To have the edge over others, many have started using SEO tools like SEMrush and Ahrefs which use their data by providing you with meaningful info which can help you perform better.
What SEMrush and Ahrefs do
Tools like SEMrush and Ahrefs are the most prominent SEO tools in the industry, which primarily helps you track your website performance on search pages like Google. That means how high up the Google rankings you appear for a given search term, the tools also give you insights on how to improve your SEO presence.
In addition to this, these tools also let you track your competitor's SEO presence and shows you if there is any gap which you can use to have a better ranking.
Few important features:
SEO analysis: The most important and vital feature that these tools and other similar ones have is "SEO analysis" which crawls your webpages at certain intervals (based on setting and plan) to find SEO issues like missing meta tags or broken links.
Backlink tracking and suggestion: Another important feature which these tools come with is backlink tracking and suggestion, which crawls all (almost all) the websites on the internet to keep you notified about websites which link to your website. It also provides suggestions on which websites might link to you so you can reach out and get a backlink.
Content analysis: Tools like SEMrush also crawls your content and blog pages to let you know if anything can be improved by comparing them with the pages already ranking. Most of this is based on their NLP (Natural Language Processing) algorithm, which gives all the tips like keywords and sections you should be adding inside your blog.
Rank tracker: For most SEO folks, the primary success metrics are ranking in Google Search. These tools will ask you for your target keywords and automatically keep a track of your ranking so you can track wether your efforts are working or not.
Keyword analysis: All content or pages are made to rank on specific keywords, these tools will analyse search results for the intented and variations of the keyword to let you know how hard or easy it would be to rank and what the existing websites have been doing right.
Apart from these, they come with various other features like traffic monitoring, social analytics, link building outreach tool and much more which can vary from tool to tool.
You may not need tools like SEMrush and Ahrefs
The answer to the question of whether you should start using tools like SEMrush and Ahrefs is "it depends". That's because the answer relies on multiple factors. The primary ones being your marketing budget and the stage your business is at.
If you have a marketing budget that allows you to use these SEO tools, or if you feel the business has grown to an extent where you feel that this data will give your SEO game a boost then you should definitely be using it.
If you are just starting your SEO journey, then tools like these are good to have but not at all necessary and you can absolutely get started with free or affordable tools which can give you great results.
Let's also show you a few affordable or free SEO tools you should be using.
Affordable or free SEMrush and Ahrefs alternatives
Google Search
Google Search isn't a traditional SEO tool, but you need to know that almost all SEO tools are built with keeping Google Search in mind.
Google Search is a great free tool for your keyword and content research. You can simply type in your intended keyword and Google will show you all other variations and options for your blog topic that are still related to your keyword.
You can also find relevant topics to cover in your blog post by looking at the FAQs that Google Search shows.
Google Webmaster Console
Google Webmaster Console is another great SEO tool by Google that's completely free if gives you complete info on how your webpages are performing on Google Search.
It will show details like which pages are ranking on which page and how many people are clicking them – if you see a low CTR (click-through rate) then this is a signal that you need to update your meta title and description.
Ubersuggest
Ubersuggest is the most affordable competitor to SEMrush and Ahrefs. You'll find it very similar, be it the dashboard or the features. Pricing starts at $12/month or $120 for lifetime.
As it costs way less than the other players, hence it comes with a major catch, and that's is that the data shared isn't 100% accurate but that's completely fine when you are just starting or just need a rough idea.
Pagespeed.Compare
By now you'll must already know that your website's load time is a ranking factor, and this is already made clear by Google in a public announcement.
Pagespeed.Compare is a free tool that let's you compare your website's performance with your competitor's website. The report is also very descriptive and gives a complete idea on what you need to work on.
A great free tool to start you technical SEO analysis.
Ahrefs Webmaster Tool
Ahrefs is an expensive SEO tool, but they have a free version that is under their own Websmaster Tool.
Ahrefs Webmaster Tool is similar to Google Webmaster Console but comes with additional features like tracking domain rating, backlinks, overall website health score and much more.
Anyone trying to grow their SEO presence should definitely be using it.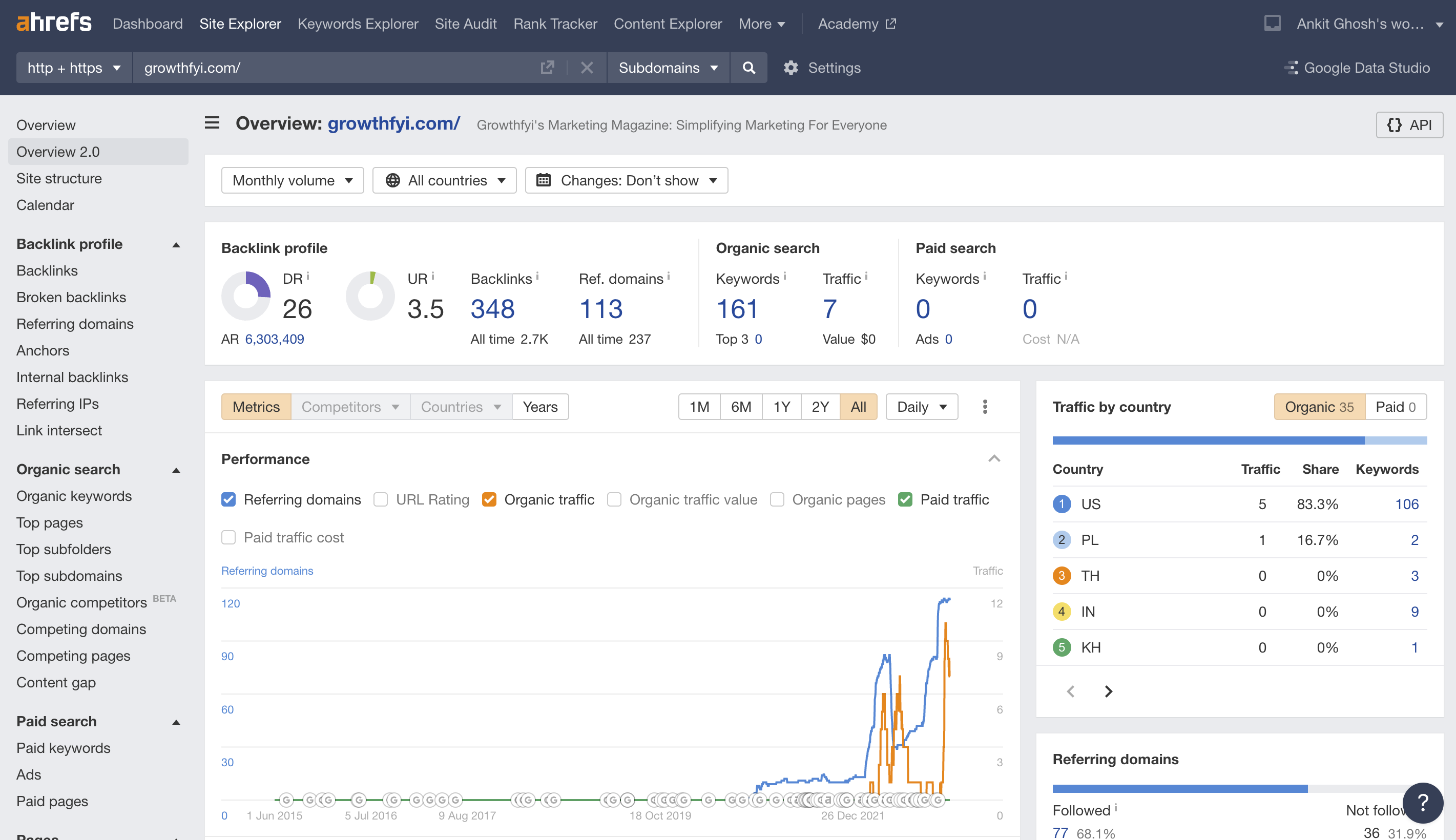 LowFruits
LowFruits as the name suggests is a SEO tool that let's you catch low hanging fruits; the fruits here in reference are keywords.
LowFruits is an affordable keyword research tool that helps you find low competition keywords which you can work on and easily rank.
Conclusion
You certainly don't need tools like SEMrush and Ahrefs to have success in your SEO campaign; these tools are a good to have and not a must have.
The alternatives mentioned above are more than enough to help you achieve your SEO goals. Just remember to keep writing quality content, provide value, and have a great user experience.