People come and go and so do customers. An order cancellation email is your chance to leave a positive impression and perhaps win some customers over. Even if everything fails, you'll still be able to receive actual feedback on why they cancel and what you can do to prevent it.
Listen: every business will eventually have to go through a cancellation process, even though customers might seem like loyal fans who'd never quit your product or service. Instead, they may have found a better deal, not achieved the expected results, or simply no longer need your service. But, here at EmailOctopus, we know that cancellations are not always a farewell. You still have the final word and even the chance to turn things around.
In this guide, we'll explore different examples and best practices for customer cancellation email responses. Forget the "see ya" autoresponders who cost you customers and ruin your overall image as a brand. Instead, seize your opportunities and reduce your churn rates with the proper cancellation confirmations. So let's get down to business!
What is an order cancellation email?
I'm sure you know by now that onboarding a new customer is much more expensive than maintaining an existing one. But, you might wonder, can you legally cancel a purchase order? And the answer is yes; your clients can cancel their order or quit your service anytime.
Although some businesses simply let customers go, there are still best practices to help you hold their hand just before they exit the room. Cancellation confirmation emails are triggered by users' refusal to continue with their orders and try to bring them back. Order cancellation email templates might serve different purposes, but their primary goals are to:
Mend relationships
Re-engage customers
Boost retention
Reduce churn rates
Drive traffic to the website
This is a vital step in the user's lifecycle and the aftertaste of your service.
5 examples of successful order cancellation emails
Customers cancel their orders for many different reasons, such as high costs, poor support, usability issues, etc. Your job as an email marketer is to uncover the root of the problem and perhaps offer incentives to keep them on board. Here are a few examples of how to respond to a cancellation email:
1. Create a clear path back to your services
Perhaps users cancelled their subscription by accident or wish to return to your services in the future. By sending them a "your order has been cancelled" email with a clear reactivation call to action, you make it easy for them to spot your brand in their inbox conversations.
For example, Disney+ uses a short email with a simple "Restart your subscription" button, letting users know that their subscription has been cancelled and offering them the chance to resume it. They also let customers know up until when they have access to the service since they cancelled within the billing period. Minimal and on-point!
2. Offer an incentive to keep them onboard
A small discount never hurt anyone. When all hope is lost, you still get the chance to give churned customers a reason to return to your services. So based on their preferences and needs, you can offer them a deal combined with a referral program. Even if they're not interested in resuming, their friends might be. This way, you kill two birds with one stone.
Take a look at this cancellation confirmation by Calm. They offer 50% off a lifetime membership valid for a specific time period. This way, customers can access the content library without restrictions while the brand gets to keep them on board. Win-win!
3. Remind customers what they're missing out on
Sometimes all it takes is to lose something to appreciate it. Well, let's just say that it doesn't have to go that far when it comes to your services. For example, an order cancellation email that lists the perks a customer is giving up on is an excellent win-back strategy to help them reconsider their decision.
For instance, JustFab managed to squeeze in a short yet concise email listing all their customers' privileges, such as free shipping, exclusive member discounts, and easy returns. Then, with a CTA inviting users to browse their latest shop arrivals, they lure them back into their products. They even include a short message for those reconsidering their VIP subscription cancellation, describing the steps to reactivate it. Ten out of ten if you ask us!
4. Give them a free trial
Ιt takes a crane to build a crane. Sometimes the wiser thing you can do is give your customers a free taste of the whole menu. Who doesn't like free stuff? Offering your churned customers a free trial of your product will buy you some time while they reconsider their decision. This way, they'll get full access to your premium services as well as a clearer image of your advanced features.
Take a look at Avocode's order cancellation email template that incorporates a 30-day free trial along with social proof to assist customers' decision-making process. Going as far as explaining the difference between a free and a paid version will only speed up customers' returns.
5. Add value
It's never too late to add value to your customers' lives. Perhaps your products are not a good fit for their needs, but that doesn't mean they should stop engaging with your brand. Instead, offer relevant content with no strings attached and see what happens when churned customers realise that you care about their problems above all.
For example, the snack company Graze does an excellent job linking back to their latest blog posts with recent recipes. They spend no time weeping on a lost customer, but they immediately focus their efforts on getting them back with the quality work that converted them initially. Their light and happy message keeps the order cancellation email in a positive tone.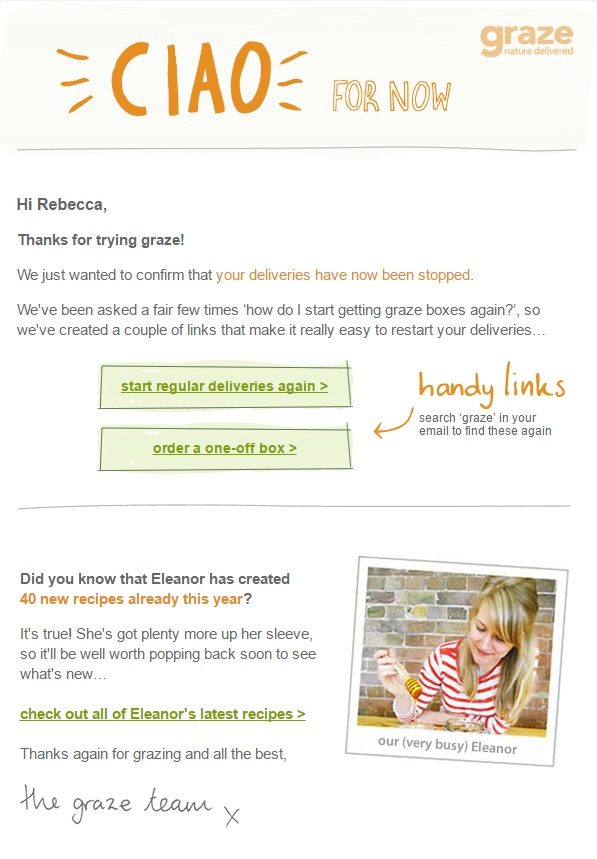 Order cancellation email best practices
Now that you have some ideas on what to include in an order cancellation email to customers, make sure you use the following tips to make your messaging more efficient:
1. Keep your messages short and sweet
No need for the extra fluff in your order cancellation emails. Keep your subject lines straightforward and your text between four to five sentences. As a general rule of thumb, proactivity, optimism, and respect towards your customers' time are highly appreciated.
2. Don't assume the worst of cancelled orders
Again, cancellation is not the end of the world, and most businesses go through the process at one point or another. That's why your cancellation confirmation emails should have a tone of clarification, not defeat. Because chances are, this is not farewell, as you still get a chance to bring customers back.
3. Say more than a "goodbye"
Many "your order has been cancelled" emails focus on saying "sorry" or "goodbye" instead of informing clients of the actual cancellation process and the next steps. Don't fall into that trap. Always make sure that your emails:
Thank customers for their business
Confirm the cancellation
Reassure them that your door is always open for them and how to get back
Offer incentives, or ask for customers' feedback through surveys
4. Show customers you really care
Although cancellation emails should be short, there's no need for them to be cold. Focus on using empathetic language and always add a personal touch that shows care and personalisation. It'll be appreciated. Moreover, try to be as helpful as possible, adding valuable links and offering alternatives and incentives wherever you can. The goal is to help customers see that you're an ally.
5. Figure out why they cancel in the first place
The bottom line of order cancellation emails is figuring out why customers churned in the first place. Perhaps they didn't receive the products or services they were promised. Or maybe the costs exceeded their budget. Whatever the case, tracking the reasons behind cancellations empowers you to reduce your churn and maintain customers in the future.
6. Follow-up VIP customers personally
The main goal of order cancellation emails is running them on autopilot. However, personalisation is a must when it comes to VIP or high-spending customers. That's because they're worth more to your business than regular customers, and, therefore, they should be treated accordingly.
7. Send cancellation confirmation emails from a personal account
Personal accounts grab readers' attention and make the process of offering incentives or asking for feedback a bit more personalised. So, instead of opting for a generic message via a business email address, make your emails stand out in a subtle yet significant way.
Enhance your order cancellation emails
Cancellations happen, and they can be frustrating. However, how you respond to them will make or break a deal. With order cancellation emails, you still have valid cards in the game, and if done right, they can keep customers hooked in the long run.
Use EmailOctopus to create automated cancellation workflows as your last opportunity to interact with customers. Even if their decision to leave is final, you still might be able to get their feedback and enhance your services.