Milestone posts could be seen self-congratulatory. But they're also a great opportunity to take a step back from the support emails, and the lines of code, to reflect on what we've achieved. And, more importantly, share some of those insights as we scale.
In April 2017 we wrote our first milestone post, celebrating one billion emails sent through the platform. And now, three (and a bit) years on, we celebrate ten billion emails sent through EmailOctopus.
What we've learned along the way
EmailOctopus started out as an email marketing platform which piggy-backed on the Amazon SES product. Originally, the plan was to be a simple platform for those who were familiar with Amazon SES and wanted to send out emails in bulk. That was the problem Jonathan (our CEO and co-founder) had solved for himself, and thought he could solve for others. And that worked – we acquired a number of users and were profitable.
Quite quickly, though, it became apparent that there were a huge amount of non-technical people who wanted to use us. And on the flip side, a lot of technical people didn't want to use us long-term as they were comfortable setting up self hosted alternatives.
That led to some great looking acquisition stats. But the hurdle of connecting us with Amazon SES meant that 90% of users who signed up to EmailOctopus never sent a single email. And the vast majority of those users never connected us to Amazon SES.
Analyse and speak to those who don't go on to use the product
We surveyed that 90% and it became apparent that almost all of them hadn't expected the Amazon hurdle, despite the tagline email marketing for less, via Amazon SES. There were concerns from many around signing up to two services, and some interestingly, outright refused to do any business with Amazon. Most notably though, 86% of those people surveyed said they would like to use us if the Amazon hurdle was removed.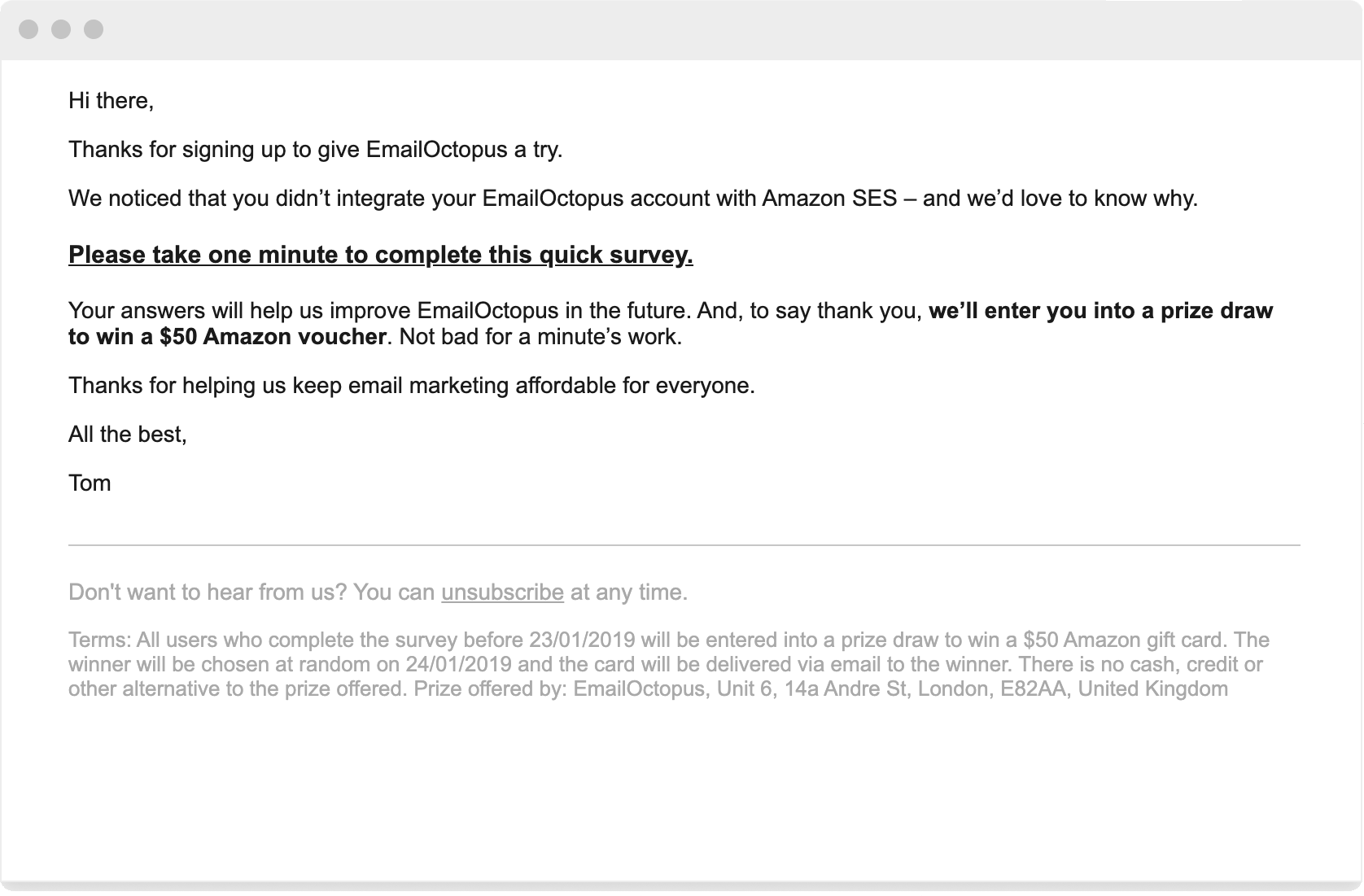 It was clear, therefore, that our product had to shift.
In September 2019, EmailOctopus became a fully fledged email service provider. We removed the reliance on Amazon SES, moving that to a separate product. The new EmailOctopus allows anyone to sign-up and send a test email within two minutes. A process which would previously take most of our users over a day.
And why is that important?
Because the moment someone sends an email and receives that email in the inbox is the moment of delight. Making that moment as soon as possible after sign up builds a stickier product, and a product that converts more sign-ups into users, and more users into customers.
Optimise your pricing
When we first wrote that blog post in 2017, our most expensive plan was $75. And that was after a recent price increase from $42.
We thought that in order to compete we had to be drastically cheaper than the competition, by a factor of 10. As a skint, short-on-money business, we assumed all of our customers would be the same. Of course that wasn't the case. Every business looks to make cost efficiencies, but that doesn't mean that they're looking for a product 10x cheaper.
We have continually optimised our pricing, focussing on making it fair. Fair for us and the service we offer. And fair for our customers, which means not looking to extract every penny from them – we've grandfathered all our users to date (meaning those users who signed up at $42 per month are still paying that same price).
That's despite our service changing and improving over the years. Our most expensive plan is now $965 per month, which is still around $700 cheaper than the equivalent plan on MailerLite and around half the price of the same plan on Mailchimp.
As a result of this we're acquiring a similar number of customers as back in 2016, but the quality is significantly greater. They stick with us longer and more importantly, they send less spam, reducing much of the headache around our reputation as an email marketing platform.
Here's how that's impacted our Customer Lifetime Value (CLTV).
Cautiousness brings comfort, and comfort isn't all that bad
There's a school of thought, perpetuated by hustlers and VCs alike, that money is there to be invested; not to sit in a bank account. And if your metric is by size of your turnover, perhaps they're right.
To the dismay of our accountant, we've happily sat back and allowed revenue to exceed income – maintaining a modest monthly profit, whilst paying everyone fairly, at a market rate.
By the letter of business books, that's wrong – we should be hiring aggressively. We should be acquiring other businesses. And we should be spending more on advertising. But that is only important if your single measure of success is business growth (in terms of turnover or employees).
For both Jonathan and I, our personal wellbeing, the wellbeing of our staff, the community and the environment come way above that.
There is significant comfort in knowing that even if the worst happens (such as a global pandemic) and our customer base disappears overnight, that the team will be financially secure. We've enough cash in the bank to cover the whole team's salary for at least a year, without any revenue – which would allow everyone to look for new roles, ride it out, or collectively try our hands at another business.
There are a lot of stresses in life. If we can remove just one of those, by being that slight bit more cautious, it's worthwhile doing.
Hire people you trust, but more importantly can learn from
I cannot overstate how important the team around us have been in helping us grow. "Us" meaning both the business and us as individuals.
Around two years into running the business Jonathan and I discussed the need to hire people. We'd learned a lot from EmailOctopus, guided by blog posts, books, or useful Twitter threads, and had established a sustainable business overcoming regulatory hurdles such as VAT MOSS and GDPR. But there was a recognition that if we were to continue to learn, then the best place to do that, whilst growing and running the business, was through additional expertise.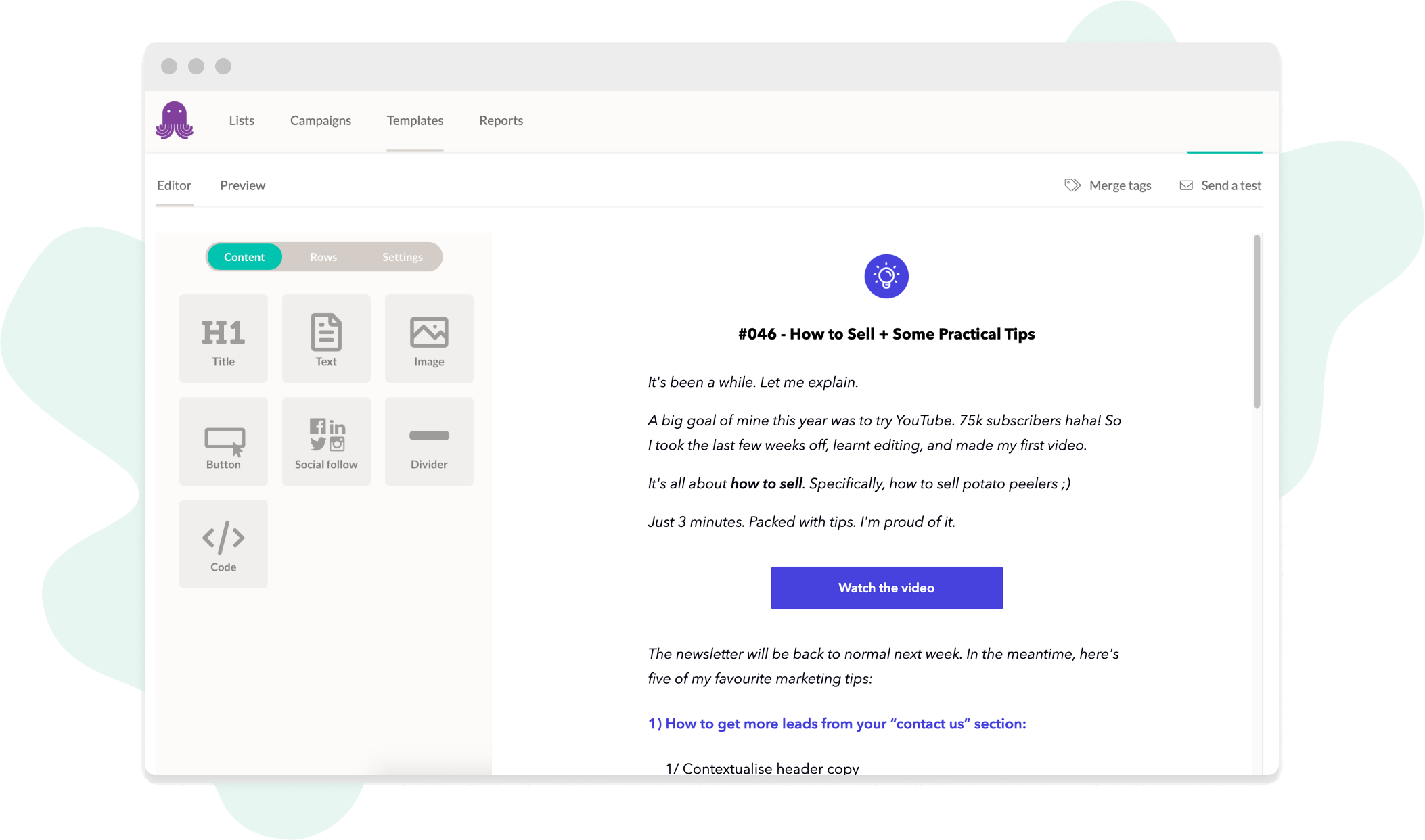 Our first full-time hire was Ben, a developer. His knowledge in front-end technologies allowed us to consider building things which we'd dreamed of, but thought would not be possible as a team our size. Hollie, our Marketing Manager, hired in January this year writes content far better than Jonathan and I were writing, in a 10th of the time (yep, this blog post has taken me two weeks to write!).
From a business standpoint, all our hires have been invaluable and that's visible across all our metrics – whether in our search rankings, site speed, traffic to the website or response time to a support email. As importantly though, it has allowed Jonathan and me to zoom out a little on the day-to-day and look at more strategic objectives. It's a transition that had to be made if we were to make EmailOctopus something more than a lifestyle business.
Writing lines of code or answering support tickets may seem like productive tasks for founders, and without doubt those are things that you should be doing in the early stage. But real long-term growth in a company comes from spending time looking at the bigger picture and developing your strategy. It's no coincidence that our biggest changes in positioning – the shift to become a fully fledged email provider and a big upcoming rebrand – have taken place since we've spent less time deep in the day-to-day.
What's next?
When we first started EmailOctopus, there really wasn't a clear vision – we hadn't thought that far ahead. It was as simple as "we've built a product, let's sell it". As we've grown, the overall vision has become much clearer and that shapes everything we do at EmailOctopus now.
So our focus is very much on continuing to build an incredibly simple, easy-to-use, email marketing platform that's affordable. The next few years prove to be interesting, as a number of businesses increase their online presence, and we also expect a shift in people leaving regular employment (often enforced) and going on to start their own online stores and newsletters. We're hopefully going to be well-placed to grab a small slice of that pie and it's one of the core reasons why we're continuing to offer an industry-leading free plan.
From a business standpoint we'll continue to be cautious with our finances. It's incredibly downbeat to say so, but here in the UK it's looking like we're about to go through the worst recession in history – a perfect storm of Brexit and Coronavirus. Our aim will be to continue to run a long-term sustainable business that can weather that, keeping sufficient cash in the bank to ensure that we and the team are well looked after.
But ending on a more cheery note…
In the super short-term, as alluded to, we have a brand refresh coming. A completely reworked website, putting the focus back onto the customers and creators who use the platform on a daily basis. And we cannot wait to share that with you in the coming weeks!