Home to some of the world's most ambitious entrepreneurs, Level39 supports fast-growth tech companies by connecting them to world-class customers, talent and infrastructure.
What began as a simple idea back in 2013 has grown to a three-floor, 80,000 square foot community space in the heart of Canary Wharf, London. Level39 was built on the concepts of community and diversity, and the partnerships that occur here are tackling some of the great challenges of our time.
They've been a user of EmailOctopus since July 2017. So we caught up with Qaunain Meghjee, the head of technology at Level39, to find out more about how EmailOctopus benefits their business.
Tell us a bit more about Level39 and the job you do there.
Level39 is Europe's largest technology incubator hosting 200 start-ups, scale-ups and corporate innovation labs. Our member companies host over 1,250 of their employees at our Canary Wharf site and focus on innovating and disrupting a wide range of industries including FinTech, cybersecurity, artificial intelligence, RegTech, IOT, smart cities, retail tech, blockchain and many more.
Level39 assists their member companies by organising sessions with mentors, investors and industry leaders along with regular networking opportunities. We've hosted over 1,000 technology-focused events and conferences over the last seven years.
I'm in charge of software, hardware, IoT, networking, building infrastructure, digital member management and technology transformation. I'm responsible for leading the technology strategy to ensure all our 200 member companies, their 1,250+ employees and our 300+ daily visitors have the best experience. As well as the ability to interact with Level39's touch points, whether they are onsite or based remotely.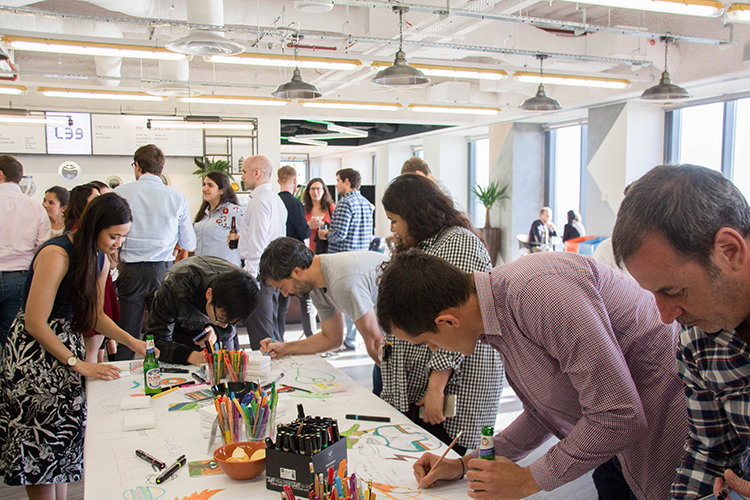 Why did you choose to join EmailOctopus?
I was testing and researching a wide range of mass mailing tools to see which best met my use case. EmailOctopus ticked all the boxes. My main goal was to expand the power, reliability and sender reputation, and reduce costs of transactional email alerts and notifications.
I was looking for a tool with a good API and one that could easily integrate with other services, without the need of having to script and code. Amazon SES was a good option due to their very low price, powerful infrastructure and reliability. But that on its own requires a lot of other manual processes and coding, all of which takes unnecessary time for most business use cases. Luckily EmailOctopus made that process seamless by giving us an easy user-interface for Amazon SES.
Another element I needed was quick, knowledgeable and reliable customer support. Any questions I had were resolved instantly by the EmailOctopus support team – many times it was the founders emailing me back! I could run bootstrap style experiments with the advice from their support staff as they would respond so quickly. They were even able to give me access to parts of the system that weren't there when I started using it, as they understood my use-cases.
EmailOctopus is the tool that is sending out core, important and crucial messaging that we need people to see and receive.
Qaunain MeghjeeLevel39
How do you use EmailOctopus to achieve your business goals?
For Level39, EmailOctopus is our preferred way to send out important alerts and notifications on things that affect our member companies and their staff's interactions with our networking infrastructure, facilities and the physical building we are in. EmailOctopus is the tool that is sending out core, important and crucial messaging that we need people to see and receive.
I wanted a tool separate from our co-working management tool's automated mailer (also connected to Amazon SES) and marketing mailing tool. Though it's in my pipeline to move marketing emails to EmailOctopus too.
What features of EmailOctopus do you find most useful and why?
The connection with my Amazon SES account is the most useful feature as it has dramatically reduced costs and comes with many other benefits.
The open API and integrations with almost any other tool you can think of means we can automatically update email lists whenever we add new employees of our member companies to our other CRMs. And the ability to verify whole domains means I can send via different email addresses with speed.
The bulk uploading of contacts allows me to make new custom lists with ease. While the custom forms that embed onto web pages come in handy for making secondary email lists.
When I first started using EmailOctopus there weren't many email templates, but the list has been growing. Now there are some cool templates to choose from. Plus the WYSIWYG editor with a drag and drop function for building email campaigns.
The automated workflows let you set up great on-boarding emails. And the support is quick with a team that always tries to suggest solutions.
Using EmailOctopus has improved our core internal communications.
Qaunain MeghjeeLevel39
How has EmailOctopus benefitted you and your business most?
Using EmailOctopus has improved our core internal communications. It's allowed us to have a focused way of sending out very important, non-marketing email alerts and notifications to our 200 member companies and their 1,200 staff.
I can also be more organised by connecting EmailOctopus to my other databases to automate list management.
What are some of your favourite integrations?
The fact that EmailOctopus integrates with Amazon SES means we can leverage the powerful infrastructure of AWS (Amazon Web Service) while bringing costs down. It also increases reliability, provides a safer sender reputation and removes limits for our future email expansion plans.
The Zapier integration is another favourite. It eliminates long workflows and lets me connect EmailOctopus to my other systems to keep lists automatically up-to-date via the add/unsubscribe actions. I do this via connecting a tool called Nexudus, which is a powerful co-working space management tool. This ensures our lists are always clean with existing customers so they all get the essential notifications and alerts. The Zap is running round the clock.
It's in my pipeline to also connect it to our websites forms and then use EmailOctopus's automation workflows for pre-customer enquires.
What hacks or tips can you share with other businesses to get the most out of EmailOctopus and its integrations?
If connecting to Amazon SES, verify your whole domain from the DNS level. This way you can send as any email address on your domain without having to verify each sender's email individually.
Make sure you connect Zapier's API to EmailOctopus's API. Then you can get creative and connect with over 1,000 other apps and services with zero or minimal code.
If you want to bring costs down, connect EmailOctopus to Amazon SES. Currently it's $0.10 for every 1,000 emails sent and that's without factoring in free terms that AWS tend to give.
What new features in EmailOctopus would have the greatest impact on your business?
The ability to make sub-campaigns, i.e. retarget users of sent campaigns based on certain rules and conditions, would be great.
More cool designed themes too – you can never have too many!
---