Bloggers come in all shapes and sizes. But today, we're taking a look at finance bloggers. And how some of the best in the business greet new subscribers with a welcome email.
So whether you're a newbie blogger documenting your own personal finance journey. Or an established voice sharing money-saving and -making advice with your audience, these three examples of winning welcome emails will help you start building solid relationships with your new subscribers. From the minute they join your mailing list.
1. I Will Teach You To Be Rich
Ramit Sethi is the man behind I Will Teach You To Be Rich. It's a blog that he started while studying psychology and human behaviour at Standford University. And has seen him grow into a New York Times bestseller, teaching over one million people how to use psychology and systems to live a "rich life".
The original blog is now secondary to the main website, where Ramit promotes his bestselling book and various business and personal development courses (ie., the stuff that makes him money). To turn precious website visitors into even more precious leads, the website aims to capture new subscribers.
Which is why the sign up bar is prominent on the website, placed right at the top of the homepage beneath the navigational header. It's simple and makes use of social proof, a marketing psychology hack that helps influence website visitors into signing up. In this case, by stating how many other people have already joined the newsletter.
Once a visitor has given away their details, they're asked to confirm their subscription. Which helps keep Ramit's mailing list clean of invalid or spammy email address. And maintains great email deliverability.
The reconfirmation email
Confirmation emails can be pretty boring. Let's face it, you're asking someone to click a link and say 'yes' to something they've just asked for. Which does unfortunately mean running the risk of losing that new subscriber just moments after obtaining their email address.
That's why you need to sell the benefits of signing up to your mailing list. Even if it's for a second time.
And that's exactly what Ramit does with his "Just one more step…" confirmation email. The goal is to get new subscribers to confirm their email address. To do that, he tells them that his newsletter has helped millions get out of debt, earn money and find their dream job. Best of all, this advice is all free.
Who wouldn't want to click one more link for all that?
Once new subscribers have confirmed their email address, the welcome email arrives.
The 'I Will Teach You To Be Rich' welcome email – what makes it a winning example?
There are no hard and fast rules as to how long or short your welcome email should be. But this one packs in quite a bit of content. And there's a reason for that. Simply, Ramit wants to build rapport and inspire new subscribers.
He does this by expressing joy at having you join his mailing list, and by making the conversation about the reader. He asks questions and gets readers to imagine what it is they want to gain from being on this mailing list. Straight away he's getting them excited for the content that's to follow.
And he does this by using the power of three. He suggests three ideas of what a "rich life" could be. Each given their own one-sentence paragraph. He also gives three links focused on specific topics for those who want more information.
The rule of three is a widely-used writing principle in marketing as it's considered to be a more satisfying and effective number in conveying information. It's used to good effect in this welcome email. And the text is made even easier to read with the addition of bullet points and bold headings.
Once you've read through the content, you arrive at the footer. Where Ramit signs off with his signature. What's so significant about that?, you may wonder.
Well, it gives the unconscious idea that Ramit – a multi-millionaire entrepreneur – has personally handwritten and signed this email. Which, of course, is not quite the case. It's an automated email, after all.
But that one little detail makes this email feel human and personable. Along with the invitation for hot sauce recommendations. It ensures the email builds a relationship with the reader from beginning to end. Which sets the tone for future emails.
Takeaway tips
Inspire your readers – make it about them and address your readers' desires. Tell them how you'll help them live those desires and build anticipation for your next email.
Use the power of three to present info – stick to just three key benefits of being subscribed to your mailing list and consider how you present these in your email. Either with bullet points, or separate paragraphs. Or even with the use of graphics.
Sign off with personal flair – give your automated welcome email the human touch. Consider signing off with a handwritten signature.
2. Well Kept Wallet
Founded in 2010 by Deacon Hayes, Well Kept Wallet started life as a personal journey towards paying off debt. Once that hurdle was cleared, Deacon became a financial planner working with high net worth individuals. And now, he focuses his efforts on helping the average Joe take control of their finances and plan for early retirement.
The blog now covers how to make money, save money, pay off debt and invest. While the Well Kept Wallet newsletter delivers this content directly to your inbox.
Clearly the newsletter is a vital part of the business model as the opt-in form is prominently displayed at the top of the homepage – you can't miss it!
And if the size of the form wasn't enough to persuade visitors to sign up, the copy does a pretty good job of it too. The value proposition is made clear from the first phrase – "start saving" – and it's implied that you, the reader, could be on your way to saving $1,000 just by joining.
Which is reinforced with the subject line of the welcome email: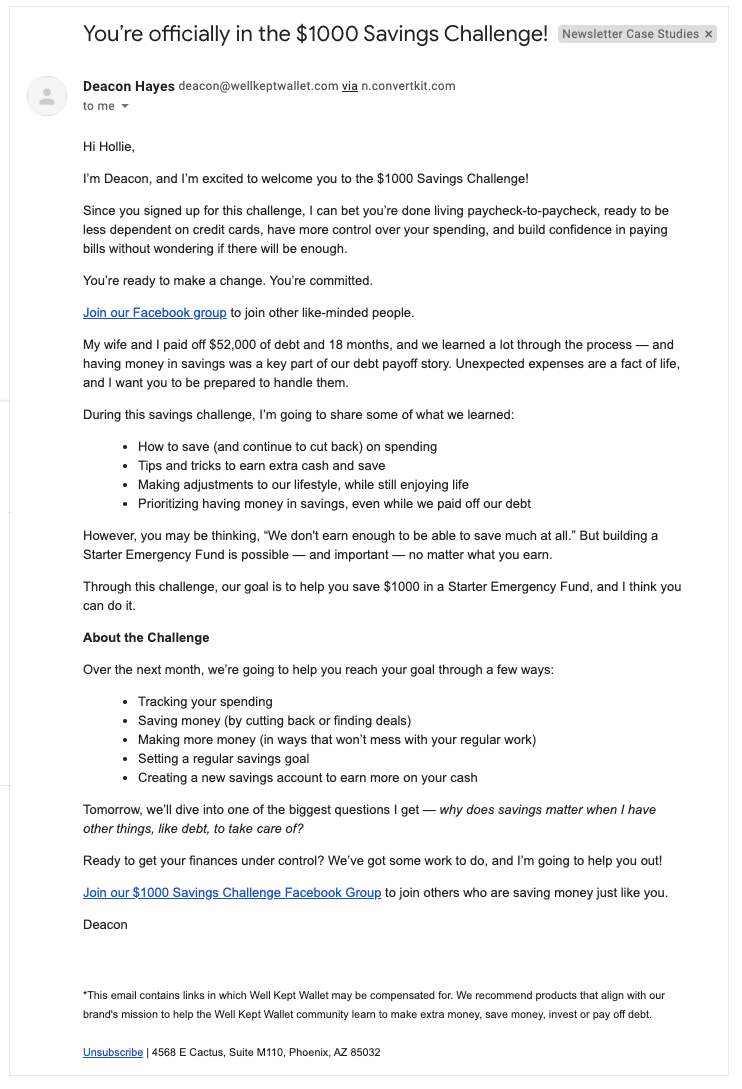 The Well Kept Wallet welcome email – what makes it a winning example?
Many bloggers offer free content to get website visitors to sign up to their mailing list. But Deacon has gone with a different tactic. He's tapped into the powerful psychology of competition in human nature. And he's done that by inviting people to a challenge that will ultimately benefit them.
People are motivated by the right level of challenge – anything that's not deemed totally impossible but also not a walk in the park. It's known as the Goldilocks Principle. And if it means gaining something in the process, well, it's even more motivating.
Saving $1000 might sound difficult to anyone living paycheck to paycheck. But Well Kept Wallet is here to show you how to do it. And that alone is incentive enough to join the mailing list.
What makes this challenge more enticing to readers is that it's not a solo endeavour. They're invited to join a Facebook group, which creates a sense of community. And that taps into the human desire of belonging, a psychological need identified in Maslow's 'Hierarchy of Needs'.
Combine a good challenge with a dose of community spirit and you've got a winning formula that will keep subscribers engaged from the moment they sign up to your mailing list.
And, in this case, also extends your reach. You've successfully gained a new subscriber. But by directing them to your social media channels, you could also gain a new follower. Which gives you another channel through which to communicate with your audience.
Judging by the fact that there are only two links included in this email, and they both lead to the same place, it's clear that the goal is to get subscribers signed up to the Facebook group. And it's the perfect time to ask – subscribers are at their most engaged and receptive to your message when they first sign up.
Takeaway tips
Motivate new subscribers to join with a challenge – give readers a reason to sign up with a challenge that will benefit them once they've completed the challenge. If you can motivate them to change their life, you're already providing value and will build stronger relationships with your audience because of it.
Create a sense of community – tap into your readers' psychological needs and provide them with a sense of belonging. Find out what unites your readers and use that to bring people together.
Be clear on your goal – cut through the noise and focus on one main goal for your welcome email. Whether that's getting new subscribers to follow you on social media or downloading a specific piece of content.
3. Marriage, Kids and Money
What began as a hobby in 2016 for husband and father of two, Andy Hill, has since morphed into an award-winning blog, podcast and YouTube channel combo. Yet the goal of Marriage, Kids and Money remains the same – to help young families get out of debt and live their best possible life.
And that help is delivered via email for those that want it.
Like the other two examples we've looked at, the mailing list opt-in form is prominent on the homepage. And also requires a name, along with an email.
Why ask for a name?
It not only enables you to build a more complete picture of each new subscriber. It also means you can personalise future email campaigns.
One other email marketing best practice this blogger adopts is the use of double opt-in. Before receiving the official welcome email, new subscribers need to confirm their subscription. Once that step is out of the way, the welcome email arrives.
The Marriage, Kids and Money welcome email – what makes it a winning example?
It's a personalisation technique used by all three finance bloggers featured in this article but we're going to give it the airtime it deserves here.
What are we talking about?
First name personalisation, of course. As soon as the reader opens the email they're greeted personally by Andy Hill. And it helps create a sense of connection from the get go. This type of personalisation is easy to do yet surprisingly effective – some studies have shown that using a subscriber's name can increase clicks by as much as 50%.
The tone of the email is conversational with lots of the pronouns "you" and "we". It's another great way of developing that connection between the reader and the author. And as we know, if a subscriber feels connected to your brand then they're more likely to engage with your emails.
For this particular email, the engagement that's being chased is a video view. Instead of a link to a PDF or some other downloadable written content, Andy has consolidated his best advice into 10 simple steps to paying off your mortgage early. And it's delivered in a 10-minute YouTube video where as a new subscriber you get to see more of the man behind the blog.
Including video in your emails has a few benefits. Firstly, you can often say more in a video than you can in an email. Secondly, people prefer video – studies show that 54% of consumers want to see more video content from brands. And thirdly, you can direct new subscribers to a different channel and possibly gain a new follower there too.
By including your best or most popular social media content, you give yourself an opportunity to increase your reach on that channel. Which improves the performance of your wider marketing strategy.
Takeaway tips
Include the subscriber's name to make your email more personalised – ask for a name at time of sign up so you can greet subscribers with their name in every email.
Use video in your welcome email – if you have a YouTube channel, share your best video content with new subscribers. Give them a summary of what you're all about and how you can help them take control of their finances. And do it in video format so that they get to see the person behind the writing.
Showcase the best of your other channels – include your most popular content from social media so you can link to it from your welcome email. When new subscribers land on your social media pages, there's a good chance they'll follow you on these channels too.
Final thoughts
So there you have it – three examples of popular finance bloggers and their exemplary welcome emails. Now it's time to apply some of these best practices yourself.
Start by thinking about what you want to achieve with your welcome email. If you've promised content in return for an email address, delivering that content to new subscribers is the number one goal.
But then consider whether you want to direct them to your most important social media channel. Or other valuable content on your blog.
Think outside the box and create a challenge or mini community around your content. Give people an incentive to subscribe.
Use personalisation to make you seem more human and the reader feel less like a number on your mailing list.
Inspire your readers and get them looking forward to receiving more of your emails. Not sure what else to send them after your welcome email? Check out this round-up of six types of email every blogger should send to their email list.
And remember that your welcome email is a reader's first impression of you. Make it count.
If you found this article useful, we'd love to hear from you in the comments section below. And we always appreciate a social share.
---